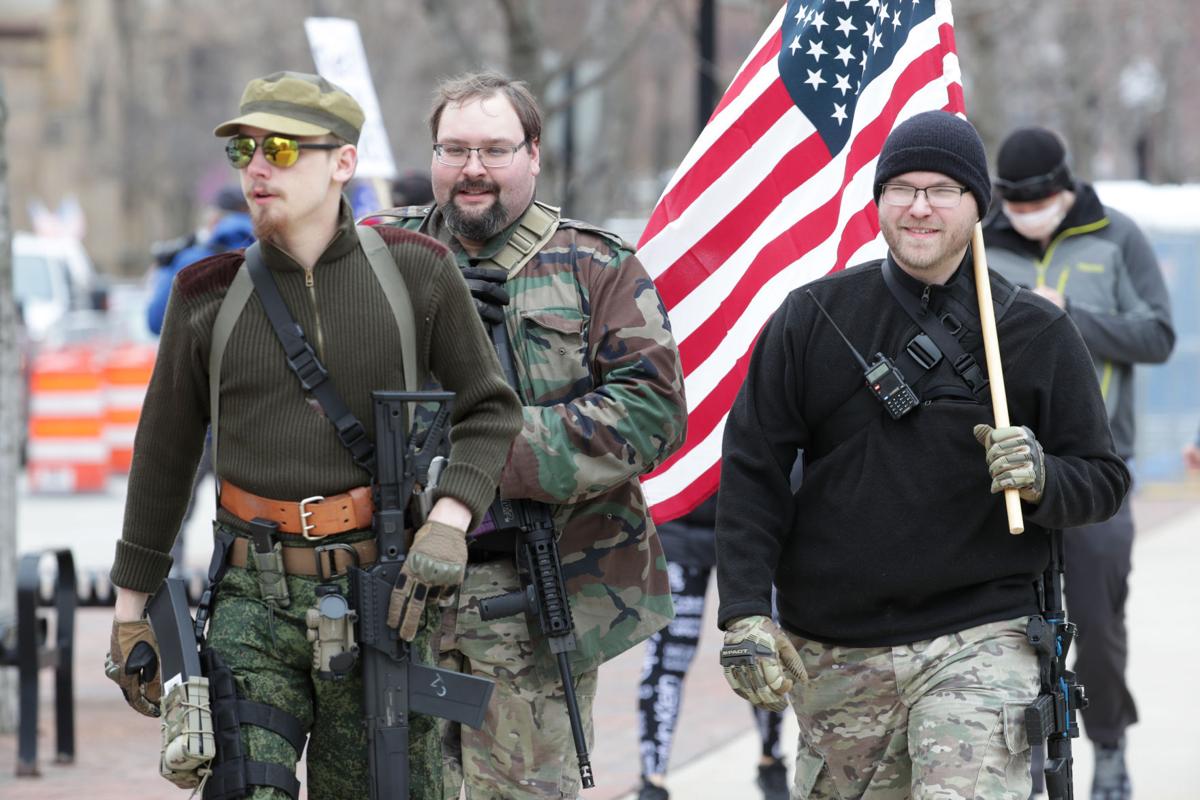 With reports already surfacing of armed supporters of President Donald Trump appearing at early voting sites around the country, Wisconsin law enforcement officials are preparing for the potential for militia members and others showing up armed at polling places.
A report released last Wednesday by the Armed Conflict Location & Event Data Project, a political violence mapping initiative, and MilitaWatch listed five states — Wisconsin, Michigan, Pennsylvania, Georgia and Oregon — as having the highest risk of elections-related militia activity. Wisconsin was included for factors that include the killing on Aug. 23 of two protesters in Kenosha by armed vigilante Kyle Rittenhouse, the friendly relationship between armed groups and Kenosha officers on display during protests that night, and backlash from state militias to the state's coronavirus restrictions.
Other states have proactive measures in place. The Michigan secretary of state, who oversees elections, has banned guns at polling places, and according to the Coalition to Stop Gun violence, 11 states have bans written into state law.
Wisconsin is not one of them.
So far, the first week of early voting in Wisconsin appears to have been incident-free, and officials are hoping the situation will stay that way. But they're preparing for potential problems.
How much should voters worry about the presence of armed vigilantes at the polls?
"I'm confident that people in Wisconsin are going to be able to vote safely and without people having their right to vote impeded by people at the polling places," State Attorney General Josh Kaul said last week.
But he added: "That being said, I'm certainly aware of the president's rhetoric about encouraging his supporters to go to polling places and watch, and falsely suggesting that there is widespread fraud."
People can't carry guns into schools, which host many of the state's polling places. Anyone carrying a gun also has to stay at least 1,000 feet from school grounds, which offers a buffer between voters and people who are armed. But everywhere else, people with guns can be 100 feet from a polling place, which could place them in close proximity with voters queued up in long, socially distanced lines.
Guns are also prohibited at polling sites within other public buildings if the ban is posted. But people can carry them into non-public buildings, such as churches, senior centers, Elks Club lodges or other polling places where gun bans aren't posted.
Can cities, towns and village ban guns at polling places?
Local gun regulations are prohibited by state law. But there are measures local jurisdictions can take. For instance, Green Bay has banned guns from all polling places, but did so by ordering those sites to post signs prohibiting guns at the entrance of all voting sites.
What is the state doing to prepare?
Kaul said the Department of Justice will issue standards for carrying firearms and what constitutes voter intimidation to local law enforcement agencies before Election Day.
He said his department is providing intelligence to local law enforcement agencies about threats, including information about any organized effort to interfere with voting. DOJ lawyers are also prepared to assist the state Elections Commission and local prosecutors if any issues come up. Also, DOJ's Division of Law Enforcement Services is prepared to help local law enforcement deal with issues.
What are Madison and Dane County officials doing?
Acting Madison Police Chief Vic Wahl said the department will beef up staff to respond to any issues, either related to ongoing protests in the city or the presence of firearms at the polls.
"We always provide officers with some pre-election day briefing/information," he said in an email, "but given the current climate our staffing and preparation is greater than prior election years."
Dane County Sheriff spokesperson Elise Schaffer said the department has a plan for responding to issues, but didn't elaborate.
"We don't expect there to be problems," she said, "but we are prepared if incidents occur."
In an email, Dane County District Attorney Ismael Ozanne said: "I have been speaking with the Dane County Chiefs, the Sheriff, the County Clerk, as well as working with the FBI, and Wisconsin Elections Commission. I have attended a webinar on Preventing & Responding to Illegal Armed Voter Intimidation. I will continue to work with our partners to be ready to respond if needed."
What if someone's carrying a firearm at the polls, but makes no threatening gestures?
"If there is somebody who is, for example, holding a long gun and standing in front of a polling place and loitering there, and they're not serving a purpose other than intimidating voters, that is a situation in which contacting law enforcement officers is appropriate and it would be appropriate for them to take action," Kaul said. "So partly it depends on the circumstances."
Attorney Lester Pines, who plans to be available to assist with potential legal issues arising on Election Day, said the presence of guns at polling places is inherently intimidating.
"Someone shows up armed and standing around, what's their purpose? To protect people who aren't asking for their protection?" he said. "No, it's to intimidate them."
What penalties can be imposed when the presence of firearms disrupts the election process?
"If you are using force or threatening to use force in a fashion that prevents somebody from voting, that's a felony in Wisconsin," Kaul said. "Likewise, if you cause somebody to be in a state of duress that prevents them from voting, that's a felony, so it should be investigated and potentially prosecuted as a felony if that happens."
At the very least, Pines said, displaying a firearm at a voting site can bring a charge of disorderly conduct.
"The question is, what is the individual's purpose in standing with a gun near people who are in line to vote?" he said. "I would assert that that person's purpose is to create a disorder."
What can election officials do if they encounter problems?
"Wisconsin law gives a lot of authority to election inspectors, the folks who work in polling places, to take action to make sure that the voting process goes smoothly," Kaul said. "Those actions can include removing people from polling locations or having law enforcement come to remove those individuals."
What should voters do if they feel threatened by people carrying firearms?
"I would advise people to not allow armed people to intimidate them and to seek police intervention to get them to move away," said Pines. "That's the position I would take, and if necessary I would go to court to seek a restraining order against their behavior."