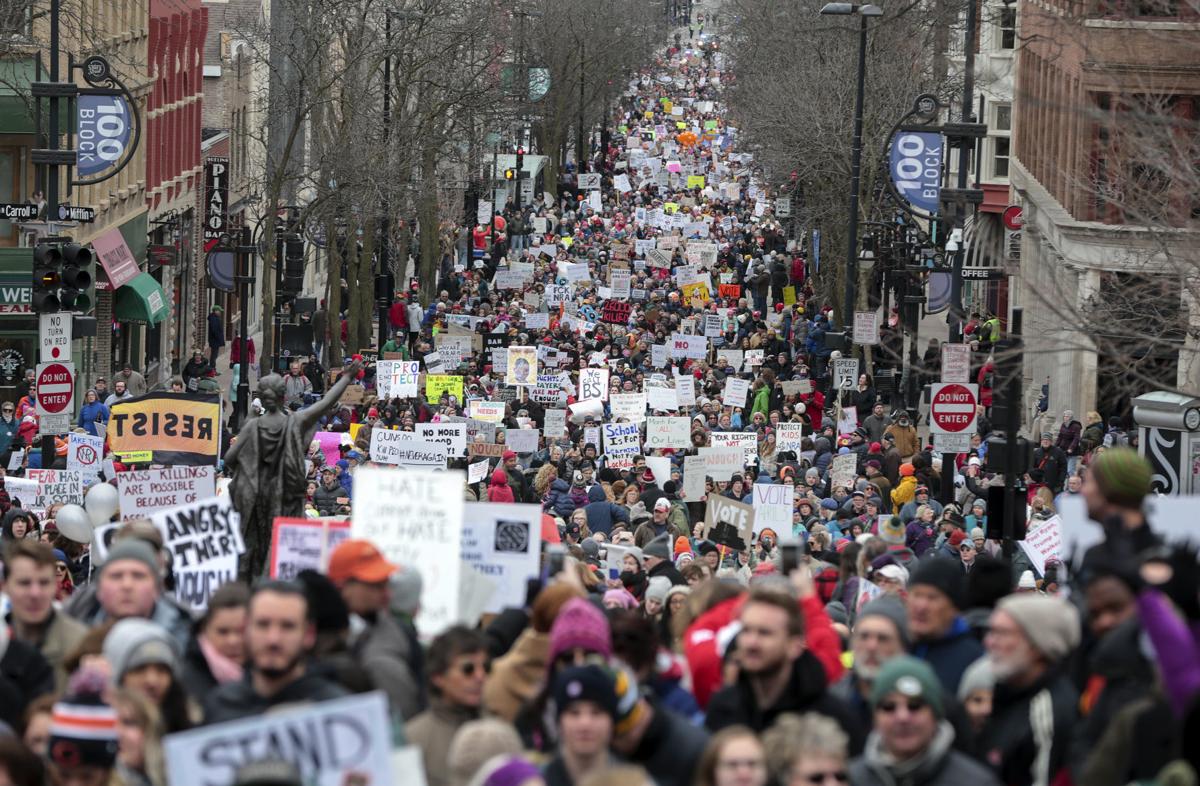 The right and the left are set to collide Saturday at dueling protests at the state Capitol.
The conservative group Wisconsin Patriots Alliance announced last month plans to rally for gun rights at the Capitol Saturday at noon, and soon after a coalition of liberal groups led by the Madison chapter of the International Socialist Organization announced their intention to gather for a "Unite Against Fascism" rally starting a half-hour earlier at 11:30 a.m.
The "We the People Rally" is being hosted by the Wisconsin Patriots Alliance. It will take place on the northwest steps of the state Capitol, while the left-wing counter-protesters obtained a street permit to gather at the top of State Street, right across the street.
Both sides say they want to avoid confrontation.
"We're encouraging people to not engage in discourse with agitated protesters on the other side," said Thomas Leager, the organizer of the gun-rights event. "We want a peaceful rally."
Frank Emspak, a spokesman for the liberal coalition, said he expects several hundred, maybe 1,000, participants to show up on what promises to be a chilly day, with light snow predicted. 
"We want to show that the vast majority of our fellow Wisconsinites support a society where all are respected and condemn those who preach hate and division," he said.
Leager expects about 160 gun-rights advocates to show up.
"It should be interesting," he said. 
He said the rally was prompted by the proliferation of proposals in the U.S. to enact so-called "red flag" laws, a gun violence prevention policy that allows police or family members to petition a court for the temporary removal of firearms from people who may be a danger to themselves or others. Newly elected Wisconsin Attorney General Josh Kaul, a Democrat, called for such a law during his inaugural address this week. 
Leager mounted a failed campaign for a Madison state Assembly seat as a Libertarian last year, but was denied a place on the ballot because of a lack of valid signatures. He hosts an online radio show, The Freeman Report, on which he promotes gun rights and constitutional rights. 
In April, Leager organized a rally under the name of another right-wing group, the National Constitutional Coalition of Patriotic Americans, part of a coordinated day of protests across the U.S. That rally was in response to the pro-gun control March for Our Lives rally, which drew about 2,500 people  two weeks earlier. Leager's event drew about 200, some of them openly carrying guns.
Those attending Saturday's event also plan to bring firearms.
"I'm likely going to be bringing my AR," reads one post on the rally's Facebook page, referring to the AR-15 semi-automatic rifle, "but if it's not that kind of rally, I'll just bring my side arm."
"Everybody's going to open carry," Leager said. "We just encourage people to open carry as laws allow so that they carry safely."
Emspak said he was unaware of the group's plans.
"We anticipate that we'll be speaking about issues of human rights and against hate and division," he said. "I don't see why anybody would have to be armed."
He said his group is urging a peaceful demonstration "to show that people really don't like the ideas of homophobia and racism that is associated with the other group."
Leager had a concise response.
"I'm gay," he said. "Gay, bisexual, whatever you want to call it."
He counters charges of racism and bigotry, saying that he wants to work with disenfranchised groups, including the Jewish and Islamic communities, "because those are the groups that most need to have their Second Amendment rights protected because they most need the right to self defense."
He said the aim is to protect rights for all citizens, regardless of race, religion or sexual orientation. 
"Everybody I know in our groups are tolerant of everybody," he said. "Our big focus is on natural rights, constitutional rights."
Each side has lined up a roster of speakers.
The "We the People" rally has tabbed: Joshua Thieme of the 3 Percent Patriots; Mo Reese Delk, billed as a black conservative and media personality; Matthew Westrich, described as a concerned citizen and taxpayer; Earl Arrowwood of Guns Across America; Larrina Chandler, a historical novelist; and Leager.
Emspak said the counter-protesters are still putting together a speaking roster. But it will include Madison Mayor Paul Soglin and Norm Stockwell, publisher of The Progressive.
Emspak said liberal coalition members met twice over the past two weekends to plan the event, with last weekend's meeting drawing about 60 people.
"At that meeting, with all those people, we came to the conclusion that the people of Madison should gather at the square, at a different spot, and make it clear that many of us abhor the message from the 3 percent and the Freemen," he said.
Share your opinion on this topic by sending a letter to the editor to tctvoice@madison.com. Include your full name, hometown and phone number. Your name and town will be published. The phone number is for verification purposes only. Please keep your letter to 250 words or less.
Get Government & Politics updates in your inbox!
Stay up-to-date on the latest in local and national government and political topics with our newsletter.