Though the Madison area's hotel room inventory has steadily grown in the past nine years, 2017 saw the greatest increase in rooms since 2008, according to data from the Greater Madison Convention & Visitors Bureau.
"We have seen healthy growth in hotel rooms throughout the market in the last 12-18 months," Greater Madison Convention & Visitors Bureau president Deb Archer said.
Last year, 401 rooms were added to the greater Madison region, which includes Fitchburg, Verona and Middleton, bringing the total to 9,821. The previous greatest increase was in 2008 when 364 rooms were added.
Archer said the demand for hotel rooms has grown over the years based on annual events such as the World Dairy Expo, Midwest Horse Fair, Ironman triathlon, Epic Systems events, high school athletic tournaments and University of Wisconsin-Madison events. New events including the CrossFit Games are also putting pressure on the area's hotel industry.
She said there is not an "ideal" number of rooms needed in a destination and that it is the amenities, location and type of hotels that are important.
"What's most important are hotels that address our destination's clientele, have amenities guests are looking for and are located near amenities visitors are looking for, like convention and event venues, restaurants, retail, etc.," Archer said.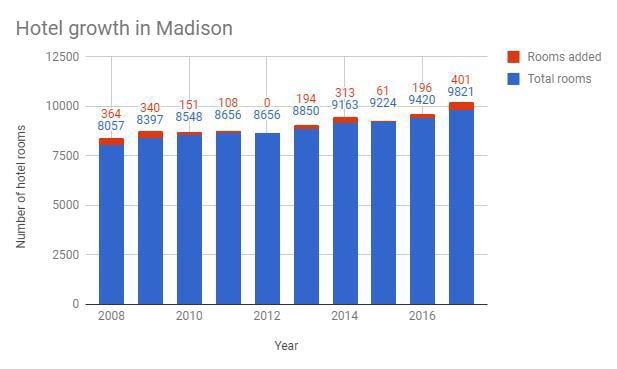 Downtown Madison Inc. president Jason Ilstrup, formerly the general manager of HotelRed, said the growth in 2017 signals a healthy economy in Madison and a need for more.
"I think that the market can take some more rooms," Ilstrup said. 
Downtown's AC Hotel, Hyatt Place in Verona and the Staybridge Suites in Fitchburg opened in 2017.
A Missouri-based hotel company called Drury Southwest has plans to build a 197-room hotel where Madison Area Technical College's downtown campus is located. Drury and Hovde Development were previously redeveloping the one-block parcel together, but Hovde has since dropped out of the project.