When voters elected Patty Schactner to represent Wisconsin's 10th Senate District in January, some wondered if it was the first ripple of a Democratic wave.
When she was sworn in last month, Schachtner didn't upset the partisan balance of the Senate. But she did become the seventh woman in the body's Democratic caucus at a time when Senate Republicans have the smallest number of women since the late 1980s.
Of the 14 Democrats in the state Senate, seven are women. At the same time, just two members of the Republicans' 18-person majority are women — and one is on her way out as she mounts a campaign for U.S. Senate.
The Wisconsin Assembly fares better than the Senate in terms of Republican women: nine women account for 14 percent of the chamber's 63-member Republican majority, compared to 14 women, or 40 percent of the Democrats' 35-member minority.
Among women state legislators nationally, about 61 percent are Democrats, while about 38 percent are Republicans. The political climate of 2018 is not likely to narrow the gap, experts say.
"I think it's super healthy. I think it's reflective of our communities, reflective of our workplaces," said Senate Minority Leader Jennifer Shilling, D-La Crosse, of the Democratic caucus.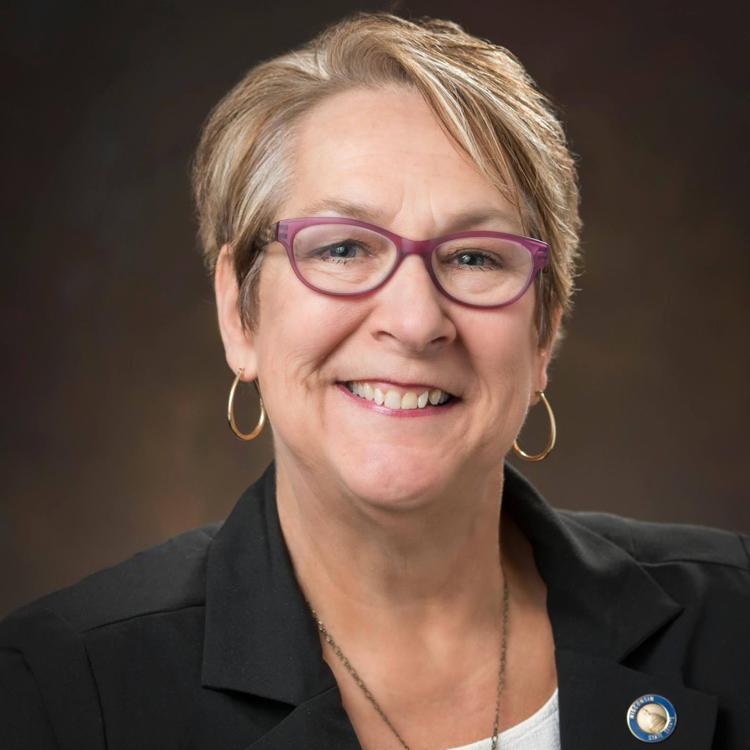 Meanwhile, Sen. Alberta Darling, R-River Hills, recalls when she was among six or seven Republican women in the Senate. If none are elected in November, Darling will be the only one left by the end of the year, making women just 5 percent of the Republican Senate caucus to the Democrats' 50 percent.
"We're trying to recruit some good women," Darling said, "and we'll see how that goes."
At the national level, women are running for office in record numbers — overwhelmingly as Democrats. According to an analysis by the Center for American Women and Politics at Rutgers University, more than 680 women — about 70 percent Democrats — are either running or expected to run for the U.S. Senate, House, governor, lieutenant governor or other statewide elected positions this year. The organization will start tracking state legislative candidates after primary elections are held.
In Wisconsin, interest in programs that train women to run for office and engage in political advocacy has surged since President Donald Trump was elected in 2016. Erin Forrest, executive director of Emerge Wisconsin, said enrollment in the program that prepares Democratic women to run for office tripled last year. The Wisconsin Women's Network Policy Institute, which trains women to advocate on issues that affect them, offered an accelerated version of its course this month to meet demand for the program.
"(Women are) finding their voice because they want their elected officials to look like them," Shilling said.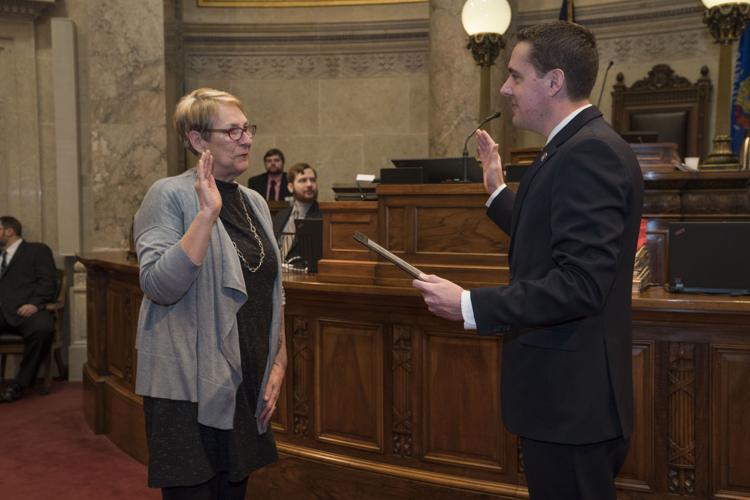 Like many women who run for office, Schachtner was asked to put her name on the ballot. And like many women who are asked to run for office, she didn't think she was qualified.
A 2013 study by Jennifer Lawless of American University and Richard Fox of Loyola Marymount University found that, among college students, men are twice as likely to have considered running for office at some point in their lives.
Women are also less likely than men to have been encouraged to run, and less likely to do so without encouragement.
Other studies by Lawless and Fox have found that men are almost 60 percent more likely than women to see themselves as "very qualified" to run for office, while women are more than twice as likely as men to consider themselves "not at all qualified." But research also shows that women are just as likely as men are to win their races.
"If you want more women, you have to actively recruit women," Forrest said.
"I certainly thought I didn't have the skills to be in government, based on the fact that I don't have a bachelor's degree. My secondary education is all through technical college," Schachtner said. "Not having that piece of paper saying I have that was an obstacle. I did (eventually) give myself enough credit to realize that my lived experience and what I had in my brain was just as valuable. I think that's how I connected with people."
While the support of friends and professional acquaintances helped Schachtner as she considered a campaign, it was her children who ultimately led her to run.
"(My husband and I) spent our whole life raising them to take chances when opportunities come, and for me not to at least try would be against everything that we taught them. For us, it was always better to try and fail than to fail (to try)," Schachtner said.
Once Schachtner entered the race, she didn't give much thought to gender dynamics. Yes, she was running against men, but she felt her experience was "meaty enough" to set her apart. A former EMT and town supervisor, Schachtner is now the St. Croix County medical examiner and serves on the Somerset School Board.
And although the rush of women organizing protests and running for office immediately followed Trump's election in 2016, Schachtner said she never talked about the president during her campaign a year later. For that matter, she said, she didn't talk much about Gov. Scott Walker, either. She kept it local.
She credits her win to her history of community involvement.
"I always was out there and serving people, and never once did I say, 'What party are you from?' So my reputation was more neutral, based on the people that I serve through my professional career," she said. "I think that was a huge factor in that — you can pick apart people's personal lives and do whatever, but at the end of the day we have people in our county, in our district, in our state, in the United States, that serve people every day that don't think they're good enough to be in public service. I think it's the people that do the work that need to be the guiding force."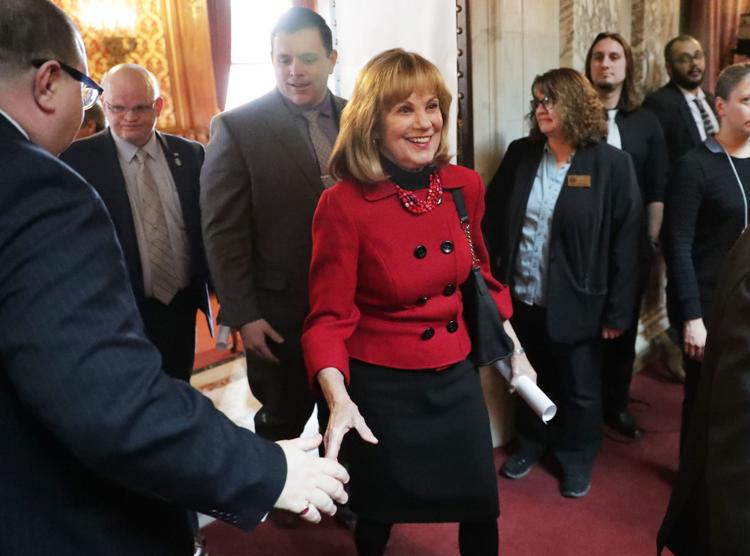 Darling, the longest-serving woman in state Senate history, was the first woman to serve as the Senate co-chair of the Legislature's powerful Joint Finance Committee. She has led the budget-writing panel since 2011, first with now-Assembly Speaker Robin Vos, R-Rochester, and since 2013 with Rep. John Nygren, R-Marinette.
While she believes women and men bring different skill sets to the table, she hasn't viewed her gender as a barrier to achieving her goals.
Aides to state Sen. Leah Vukmir, R-Brookfield, did not respond to requests for comment for this article. Vukmir is one of two Republicans seeking to challenge Democratic U.S. Sen. Tammy Baldwin in November. State Rep. Dale Kooyenga, R-Brookfield, and Democrat Julie Henszey are running for the seat Vukmir will leave open.
Like most Republicans, Vukmir tends to reject "identity politics."
"I've never been one to look at being a female legislator as being different," Vukmir said during a December 2017 event in Madison. "I think the minute you do that you're admitting a glass ceiling, and once you admit that, you're claiming victimhood."
Sen. Janis Ringhand, D-Evansville, said she's never been treated with anything but respect by the men with whom she serves in the Senate.
"I consider myself pretty fortunate that way, that I have never felt like men were looking down on me or trying to pick on me," Ringhand said. "But I'm also used to holding my own. I grew up with four brothers."
Having more women at the table makes for a more respectful work environment, Shilling said.
Shilling, who was first elected to the Senate with former Sen. Jessica King, D-Oshkosh, in the 2011 recall elections, remembers being told how much the dynamic changed in the Democratic caucus when they joined it, bringing the number of women from three to five.
"It starts with just sexism in the workplace. It starts with the rolling of eyes in a committee meeting, the talking over her in caucus, the interrupting. A woman may put an idea out there and a man amplifies it and everyone agrees with the man," Shilling said. "I have tried to become very conscious in my role as the Senate leader about how discussion goes in our caucus."
Sen. Janet Bewley, D-Ashland, said she feels "a balance" when the Democratic caucus meets. It's not just the gender balance, but the fact that each member has a unique background and brings something different to the table. It feels representative of Wisconsin, she said.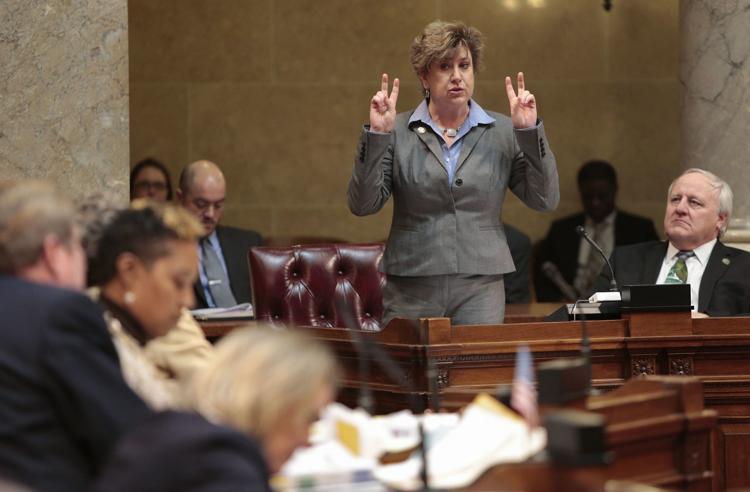 Sen. LaTonya Johnson, D-Milwaukee, who is one of two African-American women in the state Senate, said it feels good not only to see women in the Senate, but to see women in leadership positions. But something neither party has done well, she said, is recruiting people of color to run for office.
"When people look at their legislative body or their political body, period, they want to see a representation that looks like their community or their environment," Johnson said. "And I just refuse to believe that Milwaukee County is the only place that can elect minorities, or Madison."
Johnson said the barriers to running for office are the same for women and people of color: money, resources and support. But the extra hurdles for African-American women are pronounced.
"Running as an African-American woman is totally different from running as a Caucasian woman," Johnson said. "For example, as an African-American woman my hair is naturally curly. It's a curly Afro. Could I go to the doors in my community with that curly Afro in the summertime and ask people for their vote? And the answer is probably not, and win my seat."
Once she was elected to the Senate, Johnson said, one of the first meetings she had was with a group of African-American leaders who wanted to give her some advice.
"They wanted to give me lessons on how not to be an angry black woman, or how not to look like an angry black woman," Johnson said. "I'm entitled to be angry sometimes, and who gives a shit if I am? That's just the reality."
Although both parties bill themselves as inclusive and Democrats are seen as closely aligned with African-American voters, Johnson said people of color are still less likely to be supported as candidates than their white counterparts.
Women of color account for 24 percent of all the women serving in state Legislatures, and just 6 percent of all state lawmakers in the country, according to the Center for American Women and Politics. They account for about 13 percent of the women serving in the Wisconsin Legislature, but just 1.7 percent of all Wisconsin lawmakers.
"When you talk about politics, both parties, Republicans and Democrats, we always say that there's room for you in our tent no matter who you are, how you look, your lifestyle, your socioeconomic status. And I believe that we mean that. But our politicians don't always reflect that," Johnson said.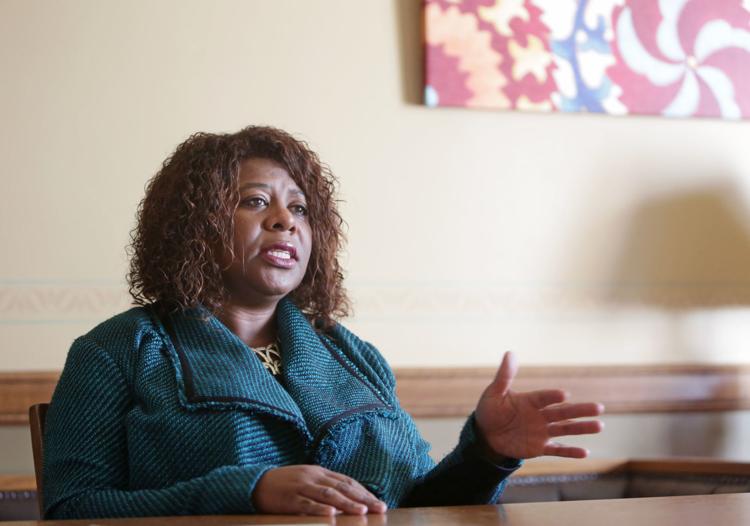 Running for office can be draining — emotionally, physically and financially. Women are more likely than men to see the electoral environment as biased against them and are more risk-averse than their male counterparts, according to Lawless and Fox's research.
"I think running for office is a tough thing right now because of the cost, the special interest groups, the nastiness of it," Darling said. "I think that maybe 10 years ago, the environment was very different, there was a lot more bipartisan work. It was more friendship-based. Now it's very divisive."
Despite those challenges, Darling said, it's worth it.
"It's a way to make a difference," she said, adding that being an effective legislator is about building relationships. And despite the perceived divisions between the two parties, the majority of votes taken in both chambers of the Legislature are bipartisan.
An additional layer of frustration exists for Democrats, who haven't held the majority in either chamber for years.
"As frustrating and as angry and as hurt as I am sometimes in this building, I will always say that it's worth it because you have an opportunity to have an opinion, and to have a vote on bills and on legislation that are going to impact people's lives, on a daily basis," Johnson said. "Things may not always go your way, that's a given. But just to be able to have that opportunity to have a say at all, I think is worth it."
Republicans and Democrats both dispute the idea that some issues are "women's issues," albeit for different reasons.
Democrats tend to say issues key to the party's platform — abortion rights and pay equity, for instance — shouldn't only be portrayed as issues for women. Republicans generally argue issues aren't defined by gender — they're pocketbook issues, which resonate with everyone.
But most women in elected office agree that they approach the job differently than their male colleagues.
Women are particularly skilled at team-building and reaching solutions, Darling said. They bring a calm, compromise-driven approach to issues, Ringhand added, and they're big-picture-oriented, Bewley said. Johnson put it this way: women are doers.
Johnson, who has partnered with Republicans to pass legislation aimed at curbing child abuse and sex trafficking, said women aren't deterred by issues that are deemed controversial or difficult.
"It doesn't matter if a particular issue or subject is hard. Women are used to hard. That's the story of our life. So there's no fear when it comes to tackling those more difficult issues," Johnson said. "We don't tend to let our egos get in our way. That's not even a matter of discussion. We're focus-driven."
In elections held last year, it's not just that women ran in record numbers — they also won. In Virginia's House of Delegates elections last fall, 30 percent of the women who ran as challengers won their races, said Debbie Walsh, director of the Center for American Women and Politics.
In Wisconsin's Emerge program, even adding a second training class wasn't enough to meet the demand, Forrest said. But women aren't only running for office; they're also signing up to learn how to advocate for issues that matter to them. Vicky Selkowe, who runs the Wisconsin Women's Network Policy Institute, said the applicant pool for the program tripled last year. Classes are capped at 25 participants, and the most recent class included women from ages 24 to 64 of different racial and geographic backgrounds.
"I think more and more women are hungry for the tools to be able to be successful and respected in the workplace, regardless of their career," Shilling said.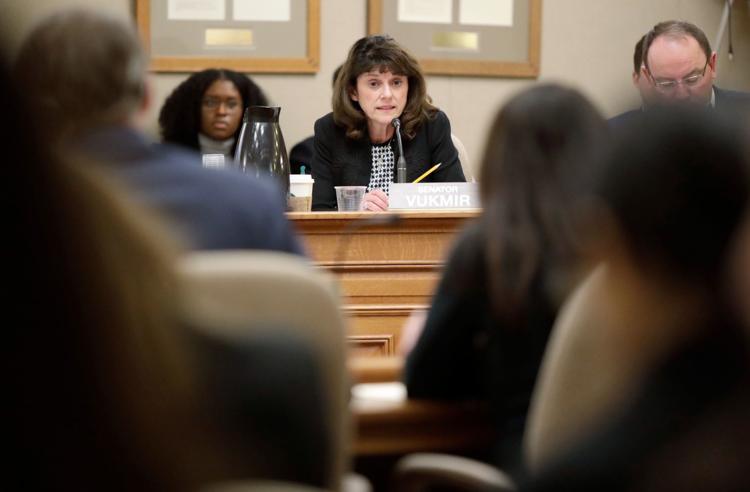 Republican women are falling behind their Democratic counterparts nationwide due to a lack of financial resources dedicated to supporting them, said Dianne Bystrom, director of the Carrie Chapman Catt Center for Women and Politics at Iowa State University.
Groups like EMILY's List, which supports Democratic women in favor of abortion rights, have a larger footprint than their counterparts on the right. But it's not only political action committees that give Democratic women an advantage.
"Democratic women donors are more likely to prioritize gender over ideology in supporting women candidates. In addition to that, they are more likely than men to give equally to challengers and incumbents," Bystrom said. "Republican donors, both male and female, place ideology ahead of gender. So they give to candidates based more on a very conservative ideology."
The result: moderate Republican women find it increasingly difficult to run within a party that has grown more conservative and that emphasizes ideology over gender.
This stems from fundamental philosophical differences between the two parties, Walsh said. Republicans eschew identity politics, while Democrats believe that in order to represent certain groups in government, members of those groups must be present.
It's not that Republicans are opposed to electing women, Walsh said — they just don't prioritize it the way Democrats do.
Nationally, the only elected offices in which Republican women outnumber Democratic women are state executive offices, where 61 percent of elected women are Republicans, Bystrom said.
Even when Republicans do well at the polls — like in the 2010 midterm elections — not enough women are on the ballot to take advantage of the lift the party gets in representation, Walsh said.
A spokesperson for Right Women Right Now, a training and recruitment program for conservative women housed within the Republican State Leadership Committee, was not available to speak before deadline for this article. According to the program's website, Right Women Right Now recruited 690 women to run in the 2016-16 election cycle, with 163 elected or appointed.
"This question about women's political parity and getting to a place where women are represented equally — neither party is there yet, but it never will happen if it's dependent all on one party doing that work," Walsh said. "It has to be more energy, effort, commitment on the Republican side to recruiting and supporting women in winnable races."
Movements like #MeToo and #TimesUp, devoted to fighting sexual harassment and abuse, are "keeping the energy and the motivation there front and center," Walsh said.
"Well, 'encouraging' is a nice word," Johnson said when asked about the current political environment. "I would say it's really pissing people off and it's making them decide to run … But I think that the more and more people see regular people get elected, the more they think that they can do it, too."
Most women in the Senate, when asked, offered the same advice to women who are considering a run for office: think about why you want to do it, make sure you have a support system and go for it.
Eventually, Shilling said, she wants to reach a point where it is no longer newsworthy to see the "first woman" to hold a particular position, and instead people only notice that a woman was the most qualified person for the job.
Women in office need to do more than "pass the torch," Shilling said — they need to "light other women's torches."
"If (gender parity) is something you care about, there's not a one-election-cycle solution to it," Forrest said. "It's going to take a lot to get from 20 or 25 percent to half or more of elected officials …  The sort of fundamental change that that is can't happen in a year. But it can happen."
Get Election 2020 & Politics updates in your inbox!
Keep up on the latest in national and local politics as Election 2020 comes into focus.