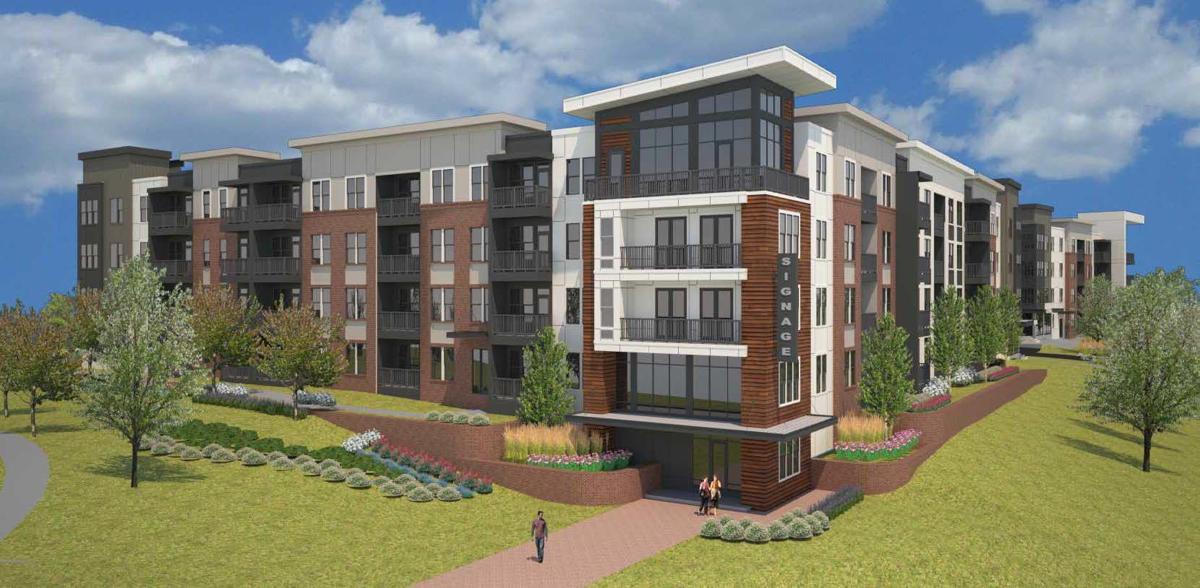 Construction has begun on Elevate, a four-story, 270-unit luxury apartment building at 5022 American Parkway that will be one of the only luxury apartment complexes in the developing area.
Elevate will include 260 underground and 109 surface parking lot spaces as well as retail commercial space, although no vendor has been announced for that space as of yet. The units will be a mix of studio, one-and two-bedroom apartments. All of the units will feature kitchens with white quartz counters, tiled backsplash and modern cabinetry; cultured marble bathroom sinks with an integral wave bowl and subway tile design for the tub and shower surrounds; Ecobee smart thermostats, 9-foot ceilings, and full-size washers and dryers. Many of the units will also feature balconies and some will have walk-in closets.
The emphasis on luxury and amenities fits with the rapidly-developing area, according to Anthony Rossi, Sr,. who is the managing partner of M&R Development, the co-developer of the project with Campbell Capital Group, LLC. 
"That's the whole point," Rossi said. "There's a heck of a lot of jobs out there and in fields that don't seem to be shrinking. American Family Insurance and UW Health are out there. Those are not things that are going to go away. Those are well-paying jobs."
Thus the focus on luxury apartments.
"It absolutely was the reason we made it luxury," Rossi said. "The trick in any community like this is to be able to deliver a good area project within the rental range of the area. That takes a lot of planning, which we've done. We think we can step it up. We think the rental market will come along with us."
Elevate is expected to appeal to people working around American Family's building as well as a UW Health clinic that is currently under construction. Rossi hopes that Elevate will shorten the commute times for folks who work in that area and who want to live in an upscale environment.
"As statistics show, everyone appreciates a shorter commute time, especially when you can walk to work, so we expect Elevate will be a welcome addition to the area, which is seeing a rise in job growth."
Elevate will also feature a two-story clubhouse that will include an outdoor pool, grilling station, fire pit and lounge seating. The clubhouse will include an entertainment kitchen, 24-hour coffee bar, fitness center with cardio and weights, a yoga room, a pet washing station, business centers and a self-service package room with 24-hour access. The building will also feature a complimentary bike sharing station, which Rossi said is a staple of buildings at all of their properties.
"The City of Madison wants everyone to have bike racks, so we provided for it," he said. "We do offer free bike sharing at every project we've been doing, even in downtown Chicago. We offer about twenty bikes and there's no charge for that."
M&R Development has built luxury properties all over Illinois and, earlier this year, also broke ground on a 236-unit luxury apartment building on Lake Michigan in St. Francis, approximately five miles from downtown Milwaukee.
Rossi said that M&R Development may seek to do future Madison projects as well. In order to gain approval for the project, Rossi said that they, in partnership with Campbell Capital LLC, went through the process of neighborhood meetings and the City of Madison approval process (which usually features Urban Design Commission and Plan Commission), as well as gaining approval from American Family, who owns the area.
"I can't think of anything unusual we ran into," he said. "It was fine. There's always some minor bumps in the road when you're doing a project, but it was fine. The city of Madison was relatively easier to work with. I've worked in a lot tougher communities! We just started a similar project in St. Frances on the lake, so the Wisconsin market is fairly attractive."
RMK Management, who manages properties in Minnesota, Illinois and Indiana will be managing the property.
Get Election 2020 & Politics updates in your inbox!
Keep up on the latest in national and local politics as Election 2020 comes into focus.