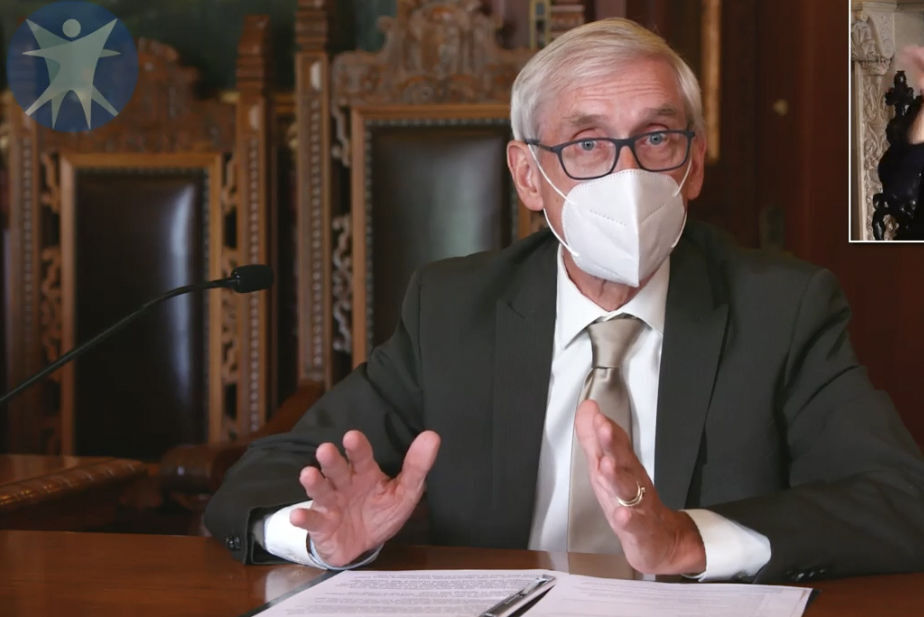 Gov. Tony Evers wants to temporarily bar evictions and foreclosures and continue waiving the one-week waiting period for unemployment benefits in his new COVID-19 relief proposal, which, if acted on, would be the first legislative move to curb the coronavirus crisis in Wisconsin since April.
The bill draft, unveiled Tuesday, would also suspend school report cards and standardized testing for the current school year, give workers in the health care industry the ability to claim worker's compensation if they contract COVID-19 from their job, require insurers to cover testing and treatment, as well as the administration of any COVID-19 vaccination through the end of 2021, and more.
Over half a year has passed since the state's first and only COVID-19 relief bill cleared both chambers of the Legislature and received Evers' signature in the spring, legislation that suspended the state's one-week waiting period for unemployment benefits until Feb. 7, 2021, and allowed Wisconsin to capture millions in federal dollars to buoy its welfare program, among other things. 
The intervening months have been marred by legislative inaction and regular court battles largely brought by Republicans and their allies challenging Evers' authority to respond to the coronavirus pandemic as cases and hospitalizations have spiked heading into the fall. 
Tuesday's events spotlighted the strained relationship between Evers and Republican legislative leaders that has underpinned much of the state's response — or lack thereof — to the COVID-19 crisis.
After receiving Evers' bill draft Monday night, Assembly Speaker Robin Vos called a news conference Tuesday afternoon "about new legislative initiatives to help slow the spread of COVID-19 and assist Wisconsinites during these challenging times," per the notice. The announcement spurred Evers' office, which hadn't received feedback from Vos about the draft language, to release its preliminary legislation to reporters, as well as a copy of the email sent to the Legislature's top Republicans the day before. 
Speaking to reporters in the Assembly chamber two hours later, Vos (repeatedly saying he wasn't "going to negotiate in the public"), said Evers' draft legislation showed he had "doubled down on more of the same" proposals. 
The Rochester Republican urged the state to embrace policies such as extending the Wisconsin National Guard's testing program, increasing the amount of contract tracing and rapid testing, create incentives for unemployed individuals to become contact tracers, direct more resources to health care providers and bolster flexibility for licensure requirements, among other things.
Those ideas have not taken the form of legislation, however, and Vos said he sought "to talk about broad concepts."  
"Many of the things that Gov. Evers put on the table, not bad ideas, but they were things that we had already done in the spring. So from my perspective, what we have been doing so far has not been anywhere near enough," he said.
As Speaker, Vos has the ability to convene the Legislature in extraordinary session at any time to pass further legislation, though he hasn't done so. 
Assuming a compromise is reached on the legislation, Vos said he was open to convening his chamber in a December lame-duck session to act on it, though it's unclear for now where the Senate stands on that possibility. 
Evers last week teased his COVID legislation in a primetime address, but didn't share details of what would be included at the time. He had also renewed his call for Wisconsinites to stay at home, releasing an executive order saying as much, though it didn't feature any additional restrictions limiting gatherings or business activity.
The new legislation seeks to build on some of the same areas covered in the first COVID bill, again seeking to suspend standardized testing in schools and extend the timeline for allowing the unemployed to immediately claim benefits (rather than waiting a week) til Jan. 1, 2022. It also aims to bring back some measures that expired in May, such as the state's coronavirus eviction ban. Under the bill, the Department of Health Services would be able to issue an order prohibiting evictions and foreclosures for any period before Jan. 1, 2022. 
Evers' office Monday night sent its bill draft to Vos and Republican Senate Majority Leader Devin LeMahieu, of Oostburg, according to a draft of the email that a spokeswoman for the governor shared with reporters Tuesday. She said Vos' office had still not formally responded to the email, where an Evers staffer had offered to walk through the legislation and answer questions on it Wednesday.
"Following that briefing, it is our expectation your offices will have the needed conversations with your caucuses and leaders will come ready to discuss and finalize the bill with the Governor on Friday," legislative liaison Zach Madden wrote in his email. "On Friday, we would like to know what the two leaders are or are not supportive of and any other ideas you would like to see included in the legislation."
An aide to LeMahieu didn't immediately return a request for comment.
Evers' bill didn't include a fiscal note, but a separate overview accompanying the legislation outlined $466 million in funding dedicated to COVID-19 testing, contact tracing, testing supplies, surge capacity support for hospitals and more that the administration said would be needed to maintain the current level of response efforts in the state through April 1, 2021 — assuming the federal government doesn't pass additional COVID relief measures. 
The handout notes that to date, the state's response efforts have been funded almost completely through federal CARES Act dollars, though the stream is scheduled to end Dec. 30.
Sign-up here for the Campaign Notes newsletter to get important Wisconsin politics updates in your inbox each Thursday, now through Election Day.