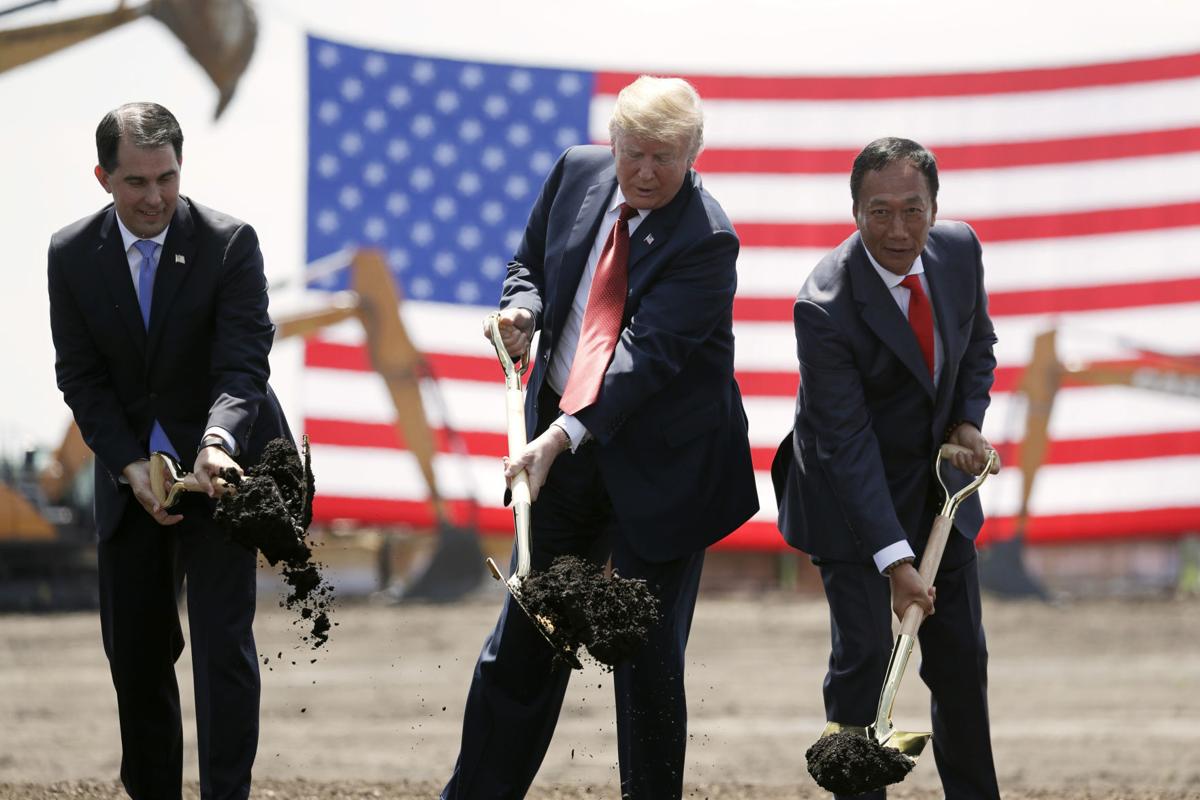 Gov. Tony Evers has reached a new agreement with Foxconn over the corporation's Mount Pleasant site that an executive for the Taiwanese tech company said aims to "lower taxpayer liability."
The agreement, announced Monday, included no information about the framework of an amended deal, which would need approval from the Wisconsin Economic Development Corporation Board. The board is scheduled to meet Tuesday afternoon.
Details of the agreement, including new hiring and capital investment thresholds, were not available Monday morning.
"I've said all along that my goal as governor would be to find an agreement that works for Wisconsin taxpayers while providing the support Foxconn needs to be successful here in our state," Evers said in a statement.
Foxconn has sought for over two years to revise its deal with the state, struck under former Gov. Scott Walker's administration in 2017. The more than $4 billion original agreement, including state and local tax credits, represents the largest government subsidy to a foreign company in the nation's history.
While Foxconn had originally pledged to build a Gen 10.5 LCD manufacturing factory that would employ 13,000 people as part of the state's $2.85 billion deal, those plans have been walked back several times, and it's currently unclear what exactly the company is planning to build, what it aims to manufacture or how many people it seeks to employ.
Evers in spring 2019, just a few months into his first term, said the state was renegotiating the tax incentive deal. But those negotiations stalled in intervening years. More recently, in fall 2020, the administration warned the company wouldn't be able to receive state tax credits until a new contract is drafted.
"In response to unforeseeable economic conditions, Foxconn began formal negotiations with a desire to lower taxpayer liability in exchange for the flexibility to pursue business opportunities the meet market demand," Foxconn Vice Chair Jay Lee said in the statement.
Minority Leader Gordon Hintz, a WEDC Board member, said he received details surrounding the agreement ahead of Tuesday's meeting but declined to share specifics.
"I'm encouraged but I have questions on how certain scenarios play out: What if this happens, what if that happens, how does that impact the local development project?" the Oshkosh Democrat said.
Past efforts to push Foxconn to strike a new deal with the state have sought "more accurate details of the proposed project, such as its size, scope, anticipated capital investment, and job creation," as cited in an October letter to Lee from WEDC Secretary and CEO Melissa Hughes.
Records obtained by the Milwaukee Journal Sentinel and Wisconsin State Journal in December showed Foxconn was willing to take fewer tax credits "in exchange for a flexible business environment in Wisconsin." The outlets reported the company wanted the new deal to show that the company reacts "to customer demands and market conditions that at times dictate what we manufacture." 
It's unclear to what extent a revised state deal could impact other agreements the company has made with local officials, universities and others.
At UW-Madison, where Foxconn had in 2018 committed to helping fund an engineering building and research on campus as part of a five-year agreement, spokesman John Lucas said there's "nothing new to share on our end" in that realm.