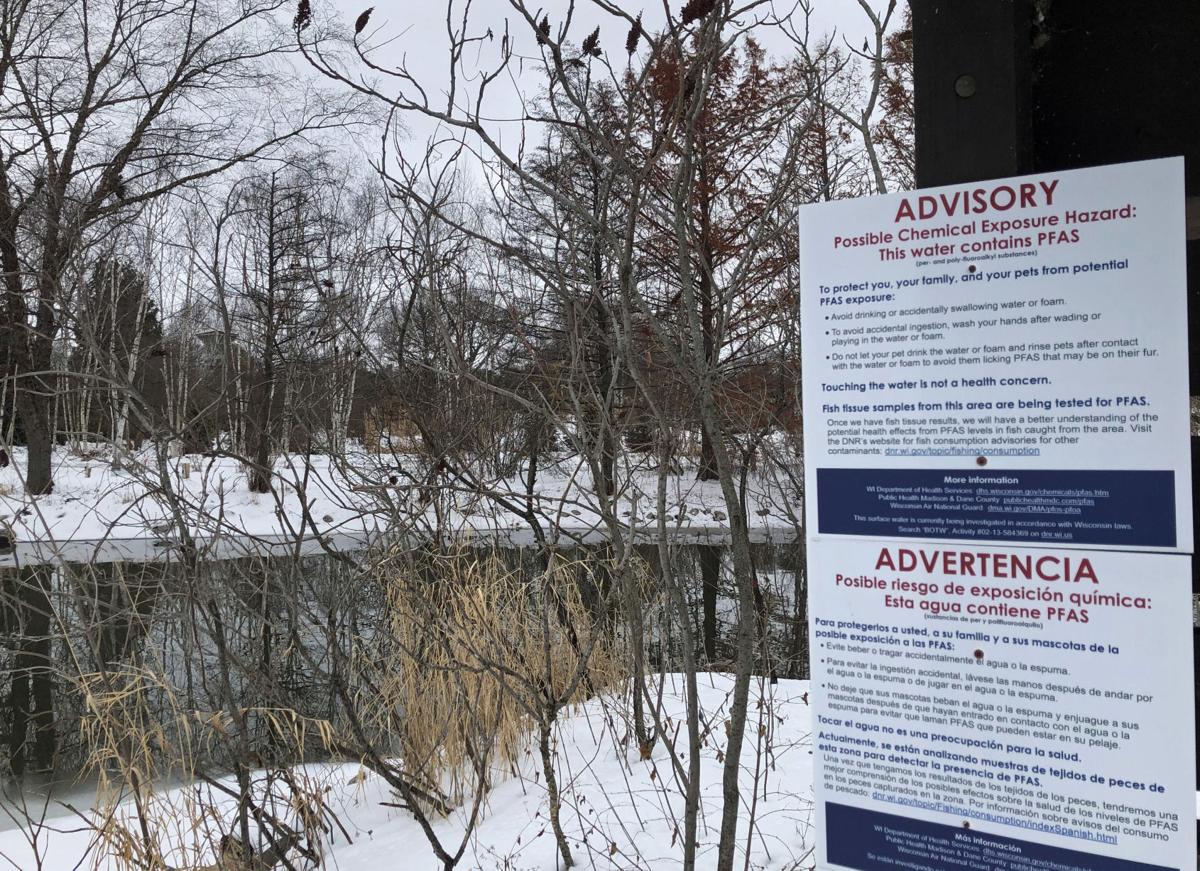 Gov. Tony Evers is looking to boost state funds to address and monitor PFAS contamination across Wisconsin in his budget, targeting so-called "forever chemicals" that have been found in all five of Madison's lakes.
The plan, based on recommendations from Evers' PFAS Coordinating Council, includes allocating $20 million in general purpose revenue over the next two years to create a municipal grant program to test for PFAS at the local level, funding nearly a dozen new positions within the Department of Natural Resources dedicated to combating the chemicals and more.
PFAS, a group of chemicals found in firefighting foams and household products such as nonstick items and some packaging, have been linked to cancer, reproductive problems and a host of other health issues, and don't break down easily in the environment. They've drawn greater attention in recent years given their notable detection in Madison and Marinette through groundwater and drinking water tests.
Noting that history, Clean Wisconsin lobbyist Carly Michiels praised Evers' PFAS budget proposals as "really great to see" after the bipartisan efforts made last year and the year before.
"To see this amount of investment and prioritization in dealing with PFAS is the issue for me that stuck out the most," she said.
Included in Evers' budget plan is $2.1 million in segregated revenue for statewide PFAS monitoring and testing over the next two years, as well as the creation and enforcement of various environmental standards for the chemicals.
The Department of Natural Resources is currently in the process of developing standards for two PFAS compounds, PFOAs and PFOS, and the agency is poised to do some limited municipal system sample collection as part of its rulemaking process thanks to federal funding officials secured. 
But it remains to be seen to what extent the budget provisions will be welcomed by the Republican-led Legislature, especially given the departure of the Assembly GOP caucus' highest-ranking advocate for PFAS measures, former Rep. John Nygren, of Marinette.
Republican Sen. Eric Wimberger, whose district includes Nygren's former seat, said he was hopeful his colleagues would still be open to efforts to combat PFAS, noting in an interview Monday the issue is "pretty multi-regional."
"I think the Republican caucuses have the right mindset to understand where society is and where it can go and come up with practical solutions that are not counterproductive," the freshman legislator from Green Bay said.
In Madison, first-term Rep. Samba Baldeh, a Democrat, said in a statement last week: "I hope all legislators recognize the gravity of this problem. If they do not, it may be that their water supply has not yet been tested."
While Wimberger said he appreciated Evers' budget highlighting PFAS, he stopped short of endorsing the measures, saying he didn't yet know "what needs to be done."
Pointing to the proposed grants and cleanup remedies, Wimberger said he has "a visceral opposition to just granting money out without knowing what the problem is and how much it's going to take," though he also acknowledged it would require "probably a lot to actually take care of the problem."
Beyond PFAS, the governor is again looking to up permitting fees for large-scale farming operations, known as concentrated animal feeding operations, or CAFOs, which face regulations aiming to prevent the discharge of manure and process wastewater into the state's waterways.
While he sought a $315 increase two years ago, Evers is now proposing a $200 upper, which would raise the $345 annual fee for water pollutant discharge elimination system permit holders to $545, money that's used to regulate the operations. He also wants to require CAFO owners to pay $3,270 once every five years to operate their farm — something he also unsuccessfully floated in his last budget.
While environmental groups applauded the moves, Dairy Business Association's John Holevoet said in an emailed statement that "fee increases, without other programmatic and staffing improvements, will not fix the fundamental problems."
"Let's talk about broader changes to improve the program for everyone," he added. "The program may need additional resources, but that should only be part of the solutions being offered."
Other provisions in Evers' Department of Natural Resources budget include:
Extending the state's land acquisition program, called the Knowles-Nelson Stewardship Program, by another 10 years. First beginning in 1989, the program is typically funded on a decade-long cycle, though in the last budget it was only approved to continue for two fiscal years.
Providing $1 million in segregated revenue to fund grants for the purchase of deer carcass disposal sites to combat chronic wasting disease, or CWD, a fatal wildlife disease that affects deer, elk and other animals. Evers would also allocate $100,000 total for CWD education efforts for hunters.
Allowing all fourth graders to have free admission to Wisconsin's state parks, similar to the federal Every Kid Outdoors program that gives fourth graders and their families free access to federal lands and waters.