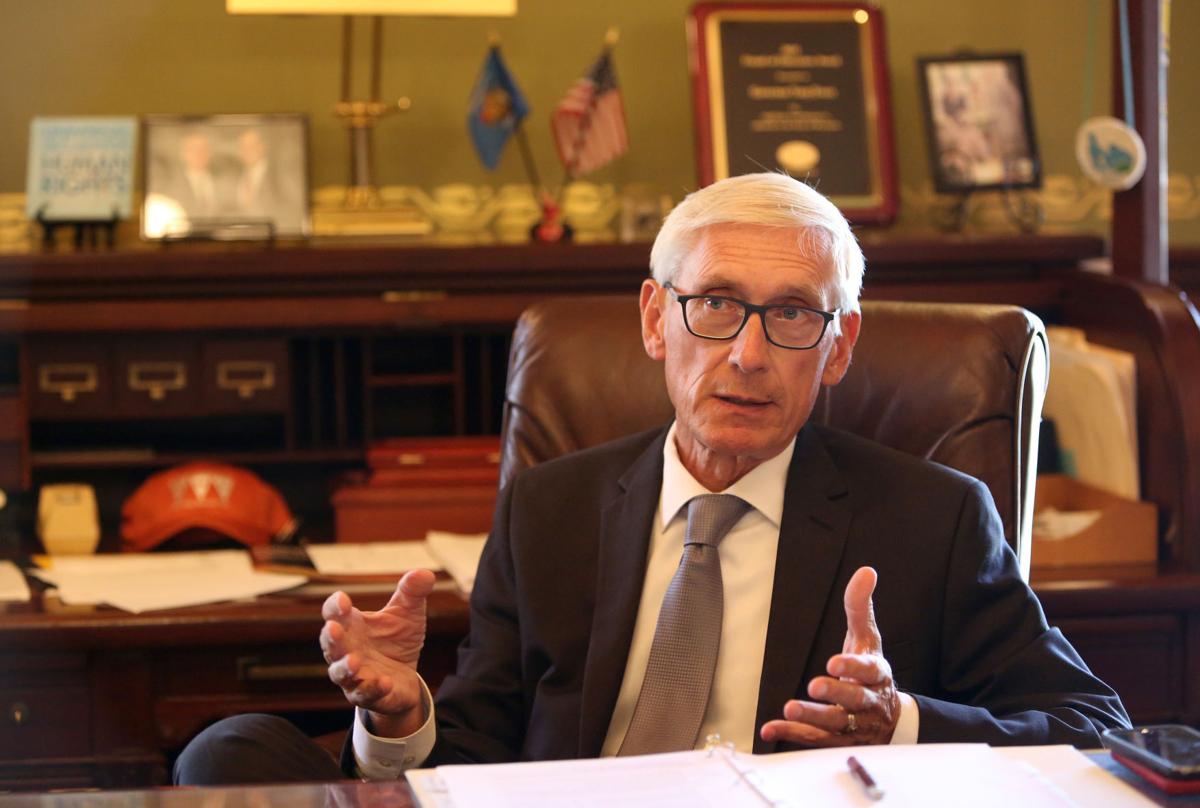 After two years in office, Gov. Tony Evers said he's looking ahead to 2021 as an opportunity to act on many of the same priorities he first campaigned on: road funding, health care and education.
Though circumstances have changed significantly between the 2018 gubernatorial election and now ("it's going to be difficult and different," the first-term Democratic executive acknowledged in a year-end interview), Evers pledged he'd seek to continue focusing on those three areas — even as the state is left grappling with the ongoing fallout from the COVID pandemic.
That fallout is likely to shape the state's upcoming two-year budget cycle, which is sure to be full of tough spending decisions. In spite of that, Evers said he's hopeful the state will make progress on key issue areas his administration and residents want to focus on, including overhauling the state's approach to criminal justice.
"We still have expectations and so do the people of Wisconsin that we continue to focus on the important issues, and to also talk about criminal justice reform and clean water," Evers said. "Those issues just haven't gone away and making the assumption that we're in tough economic times that we can't make some progress, I dispute that. We're going to have a budget and conversation that I think people will find reasonable."
The budget is crucial for Evers, particularly if he decides to run for re-election (he hasn't yet said whether he will). The measures included in the final plan could serve as the basis for his bid for a second term.
But the process of enacting the plan could be marred by the "most arduous budget deliberations in recent memory" as the state faces a potential gap of hundreds of millions of dollars, making it possibly "the toughest budget challenge" in a decade, a recent Wisconsin Policy Forum report showed.
The current backdrop could make it difficult for Evers to make the case for moving forward on overhauling the state's criminal justice system, something he's repeatedly pushed for. He campaigned on cutting the state's prison population in half and pushed in his last budget for reducing the recidivism rate, bolstering job skill opportunities for inmates and more.
In 2021, he said he wants to focus on ensuring that those in the criminal justice system "get the training they need to be productive citizens when they get out," ensure the processes around probation, parole and supervision are fair so individuals "aren't tossed back into prison for very minor things," and expand expungement.
He also wants to ensure the state takes the steps it needs to to shore-up replacement facilities for Wisconsin's youth prisons in northern Wisconsin, Lincoln Hills and Copper Lake. The prisons are supposed to be closed by summer 2021, but the timeline was thrown into doubt earlier this year when the Legislature's powerful budget committee pared down dollars for county-run replacement centers and declined to fund two state-run sites for more severe youth offenders.
"We have to do something different than what actually was in (Act) 185," Evers said, referring to the law that closed Lincoln Hills and Copper Lake. "So we'll be proposing some things. It is my hope that we spend a fair amount of time fixing the juvenile system, which I think we've already had a good start at that, but we have to look at the whole system."
Beyond criminal justice, Evers said he is planning to propose upgrading the state's system for processing unemployment claims in his next budget. If approved, it would bring needed updates to an outdated system that has long struggled to keep up when job losses jumped, a reality that the Milwaukee Journal Sentinel reported was known by at least three administrations and hundreds of lawmakers.
Evers and the Department of Workforce Development have faced scrutiny over the amount of time it's taken to work through a backlog of unemployment claims since the COVID-19 crisis took hold in March. A recent agency audit found it took officials weeks or months to start working to resolve unemployment claims for Wisconsin residents in some cases.
Even if a new system is approved in the next budget, it would take at least a couple more years before it's put in place. Evers said in the meantime, the agency would continue its partnership with Google Cloud to clear outstanding claims and also work to keep the system together "with duct tape" while implementing additional improvements. 
The governor in September asked then-Workforce Development Secretary Caleb Frostman to resign, saying in a statement at the time that it's "unacceptable that Wisconsinites continue to wait for the support they need during these challenging times." Since then, former No. 2 at the Department of Corrections, Amy Pechacek, has stepped in as interim director.
As Evers has placed blame on the state's antiquated unemployment infrastructure, legislative Republicans have criticized the agency — and Evers — for failing to expand staff quickly enough and not requiring employees to work overtime to respond to the influx of claims.
Asked if Evers' office should have done more to oversee DWD's work during the initial months of the pandemic, Evers said it wasn't a matter of oversight but rather the reality that a crush of weekly unemployment claims had overwhelmed the system.
"You want to make sure that people that are struggling get the resources they need and we did everything we could to make that happen," he said.
Evers said he's planning to "very quickly" announce the next permanent DWD secretary — a role he said needs to be filled by someone who is a good leader and problem solver that has the support of those they work with.
Sign-up here for the Campaign Notes newsletter to get important Wisconsin politics updates in your inbox each Thursday, now through Election Day.