Gov. Tony Evers is urging lawmakers to overhaul the state's approach to youth justice, reinstate collective bargaining powers for some public employees, pump hundreds of millions into education priorities and adopt a state-based health insurance exchange as part of his $91 billion budget proposal.
He's also bringing back a number of provisions that failed to gain traction two years ago in the Republican-controlled Legislature, including enacting a minimum wage hike, freezing enrollment in the state's school voucher programs and rolling back a tax credit for manufacturers.
The first-term Democratic governor in his second budget address Tuesday night, delivered virtually due to concerns stemming from COVID-19, urged the state to face "the problems this pandemic brought to the forefront" and "commit right now to putting people first."
"As both a state and a country, we find ourselves with a decision to make," he said. "When this pandemic is over, we could go back to the way things always were and always have been, or we can take this moment to demand the future we dream."
Republican leaders swiftly denounced what they labeled as "poison pills" in the plan, though they stopped short of saying they'd rewrite the entire framework and start from the base budget as they did previously.
"He's not serious about governing; he's serious about politics," said Speaker Robin Vos, R-Rochester. "This to me looks like it's nothing more than a liberal Democrat from Madison's wishlist to his donors and his potential voters as he seeks re-election."
Some of those nonstarters for Republicans include ideas Evers teased in the lead-up to his budget address that GOP lawmakers had previously thrown cold water: accepting federal Medicaid expansion dollars, which leaders refer to as "expanding welfare" and fully legalizing recreational marijuana.
Also notable about the sweeping plan is what's not included this time around. There's no gas tax increase, after Evers unsuccessfully sought to raise it by 8 cents two years ago. Still, he's looking to both cut and raise further taxes for others.
The budget announcement kicks-off a months-long process by which lawmakers and Evers will work to pass and finalize a spending plan before the end of the fiscal year this summer. Bolstered by rosier-than-expected revenue projections from the nonpartisan Legislative Fiscal Bureau at the end of January, the proposal could also serve as part of the foundation for Evers' potential re-election campaign, though he hasn't yet announced whether he will be ruining for a second four-year term.
Criminal justice
With Wisconsin barreling toward a deadline of July 1, 2021, to close its two youth prisons, Evers is looking to rework the state's plan to replace those facilities as part of a broader effort to overhaul the justice system.
Under Act 185, Lincoln Hills and Copper Lake in northern Wisconsin are supposed to be shuttered and replaced with a mix of "Type 1" facilities for more severe juvenile offenders and county-run residential care centers. The effort has hit a series of roadblocks in recent years, with blown deadlines and a lack of funding from the Legislature to seal the deal.
Though Evers still wants to close the prisons, his budget wouldn't stipulate a timeline for doing so. Further, it would completely phase out the use of replacement "Type 1" facilities for more severe juvenile offenders, instead focusing on community-based services, while changing the procedures by which those youth are sentenced, getting rid of the "serious juvenile offender" designation that determines placement, and upping the age of adult jurisdiction to 18.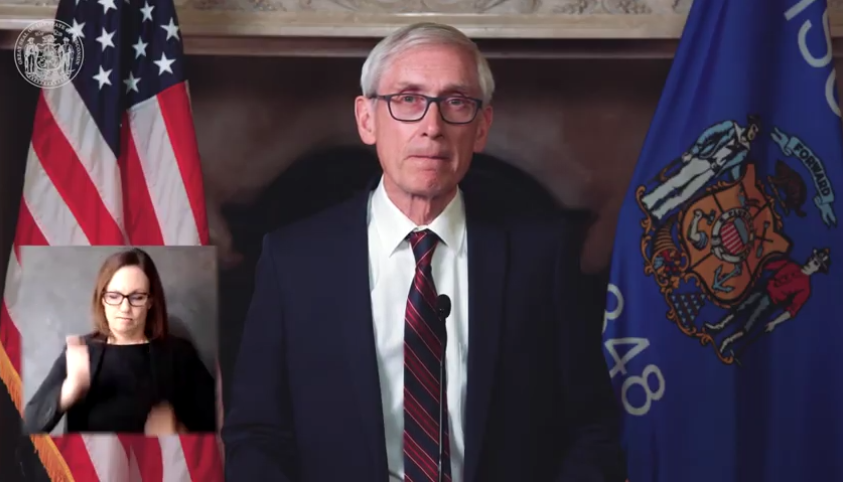 Rather than "Type 1" facilities, Evers wants the state to operate the same residential care centers, under the same regulatory framework, that counties would.
Calling the two-tiered correctional system "outdated," Evers said it needs to be replaced to "make sure that our kids get the same evidence-based treatment and behavioral support no matter what part of the state they're from."
"By focusing only on physical buildings and not on holistic change throughout the system, Act 185 was always going to fall short," he said. "That's why in this budget, I am going to propose that we truly overhaul our juvenile justice system by focusing on best practices and a community-based approach to facilities."
Beyond youth justice, Evers is also looking to expand the earned release program, allow a sentencing court to reduce the term of a person's extended supervision if certain conditions are met, increase the pool of those who can have their criminal record expunged, nix the felony penalty for bail jumping and more.
He also wants to put $15 million more into the state's treatment and diversion program, which funds a total of 57 treatment courts and 29 diversion programs in 53 counties, according to the governor's office.
Education
Given Evers' standing as a former state schools superintendent and lifelong educator, all eyes were on his plan for both K-12 and higher education.
Coming off of a budget cycle in which Evers wanted an extra $1.4 billion in funding for K-12, with nearly half of that going toward an increase in special education, the governor this time around has proposed spending $1.6 billion more over the next two years.
Evers' budget would again look to halt the growth of the state's four private choice programs beginning in 2022, while funneling $709 million into special education funding, upping the reimbursement rate from just below 30% to 50% in the second year of the budget.
An extra $612 million over the next two years would go toward a general aid increase, funneled through the state's equalization aid formula, in an effort to help school districts with lower property wealth avoid going to referendum to raise their own property taxes to fund certain services. 
Other measures would raise current revenue limits on a per-pupil basis, similar to what Evers proposed in his first budget, and let districts choose the larger of their 2019 or 2020 pupil counts for calculating their revenue limit — a move Evers is seeking to provide flexibility to schools where student enrollment has been in flux due to COVID.
In higher education, Evers is looking to direct $191 million more in general purpose revenue toward the University of Wisconsin System over the next two years, including funding to backfill the continued tuition freeze implemented by former Gov. Scott Walker.
That proposed increase, representing the biggest in over a decade, was championed by interim UW System President Tommy Thompson, the former Republican governor.
"The budget shows that the Governor recognizes the value we can deliver to all Wisconsinites, as we have during the COVID-19 pandemic," he said in a statement.
Other provisions would expand a program to all UW System schools that began at UW-Madison called "Bucky's Tuition Promise," under which in-state students who meet a certain income threshold are able to receive free tuition (which would amount to around $39 million over the biennium); offer resident tuition rates to certain undocumented students and others; and direct $20 million each year for unrestricted general aid to the system.
Workforce
A decade after the fight over Act 10, which effectively ended collective bargaining for public-sector unions, Evers is looking to roll back parts of that law in his budget.
Specifically, Evers' plan would establish collective bargaining rights for state and local frontline employees, though those who don't meet that definition (listed in the budget materials as someone "with regular job duties that include interacting with members of the public or large populations, or directly involves the maintenance of public works") would still be subject to the requirements laid out in Act 10.
The proposal would target another portion of Act 10: the annual recertification vote unions hold in which a majority of all members — rather than just those who are present — must vote "yes." The budget would remove the annual requirement, as well as the stipulation that a majority of all members must agree to certify.
Republican Rep. Mark Born, the co-chair of the Legislature's powerful budget committee, dismissed the changes, saying: "Act 10 is really settled law in Wisconsin."
Evers is again aiming to increase the minimum wage, a plan mirrored from his last budget proposal. Under his framework, the floor would rise from $7.25 to $8.60 with the budget's enactment, then jump to $9.40 around Jan. 1, 2023, and up to $10.15 around Jan. 1, 2024, after which it would be tied to the consumer price index. A task force would also be created to study options for setting a statewide $15 minimum wage.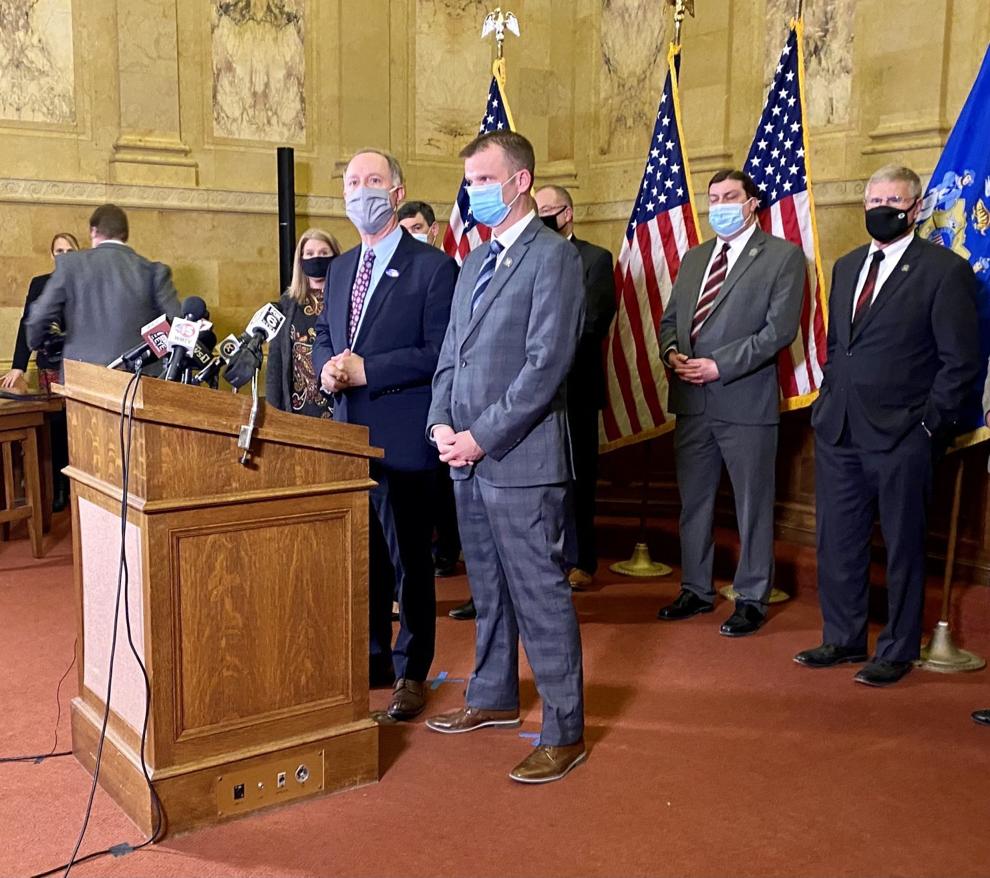 He also wants to reinstate the prevailing wage for state and local projects, something that was repealed under Walker; nix so-called "right to work" legislation, which prevents businesses from entering contracts with unions requiring all workers to pay union fees; and allow state and local governments to require contractors to reach project labor agreements with unions on publicly-funded projects. Those are all measures Evers included in his last budget.
Evers would also use nearly $80 million to update the state's antiquated unemployment insurance system. He previously called for a special session on modernizing it, but legislative Republicans, who have been critical of Evers' handling of the influx of unemployment claims over the course of the COVID-19 crisis, declined to act.
Health care
That includes one measure to establish a state-based exchange under the Affordable Care Act, also known as Obamacare. The language would establish a marketplace on a federal platform for plan year 2023, while the transition to a fully state-based one would occur in 2024.
Separately, the budget would direct $1.8 million to fund a study surrounding developing a state-administered public option health care plan, where individuals could buy-into what essentially amounts to a BadgerCare system. Under the provision, such a plan could be offered no later than 2025, though the timeline could be moved up to 2022 if the ACA is struck down.
A few other states are experimenting with public options, including Washington and Colorado. It's unclear who could qualify under a Wisconsin plan, if one is pursued, or whether the option would be designed as public-private partnership, whereby private insurance could administer the plans rather than being entirely state-run.
Further, Evers is looking to give $4.5 million to organizations seeking to improve Black women's wellness, cover doula services through Medicaid and more as part of a continued "healthy women, healthy babies" initiative, something he prioritized in his first budget.
He also wants to raise the age to purchase tobacco and vapor products from 18 to 21, prohibit the use of vapor products indoors and on school grounds and direct $2 million toward a public health campaign related to the use of those products.
Taxes
Evers would create a nonrefundable credit for caregivers, equaling 50% of qualifying expenses incurred and capped at $500 per year, part of a series of taxing measures his office says will amount to $450 million in tax relief for low and middle-income individuals.
Working families with one child would see a 12% increase in the Earned Income Tax Credit, meaning they could claim 16% of he federal credit. For those with two children, the rate would rise from 11% to 25%. More moderate increases were proposed in Evers' last budget.
Evers is again looking to expand the Homestead Credit by increasing the eligible household income level to $30,000 annually in 2021, in addition to tying it to inflation starting in 2023. The measure is also similar to one he proposed two years ago.
Other proposals include a new nonrefundable child and dependent care credit; the creation of first-time home buyer savings accounts that would allow individuals to subtract $5,000 in annual contributions to accounts from their state income and more.
On the flip side, Evers is again looking to curb the manufacturing and agriculture tax credit, update state tax practices to conform with federal tax code changes and limit the capital gains tax credit to taxpayers with under $400,000 for individuals and $533,000 for joint filers.