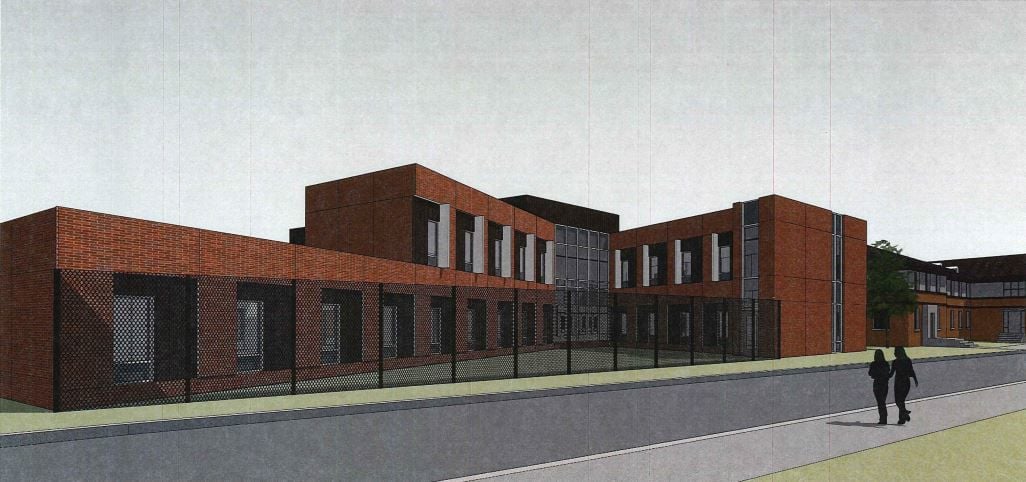 As the 2019-2020 legislative session draws to a close, the expansion of Mendota Juvenile Treatment Center, one part of Wisconsin's multi-pronged approach to overhauling its youth criminal justice system, remains in limbo.  
While Gov. Tony Evers and lawmakers in the two-year budget approved using $59 million in bonding to fund a 64-bed expansion of the site on Madison's north side, the plan still needs approval from the state's powerful budget panel to go forward with construction. 
The project was submitted to the panel in mid-October, but the committee this week only acted on the other two components of the statewide plan to shutter Lincoln Hills and Copper Lake — though legislators' decisions likely delayed the July 1, 2021 timeline for closing the state's two youth prisons. 
The Joint Finance Committee Wednesday approved a slimmed-down plan to fund county-run sites to replace the Irma facilities (in Brown, Dane, Milwaukee and Racine counties), but opted not to move forward on state-run locations for more severe youth offenders.
But Mendota's exclusion from the committee's calendar this week didn't go unnoticed, as Department of Corrections Secretary Kevin Carr told reporters Wednesday that "the failure to move on that project is also very concerning to our administration."
Local officials are also concerned. Dane County Juvenile Court Administrator John Bauman said without the committee moving forward on the Mendota expansion, there could be youth placed in the county's facility down the line with "significant mental health issues that have no place to go." 
Under the expansion plan, he said Wednesday there "should be capacity to meet the mental health needs of kids and not have them just linger in a correctional facility that isn't specifically designed for that purpose."
"There's really going to be a need to expand the capacity sooner or later and that really should run about the same time as all of this," he added, referring to the timing of the county-run facilities. 
The Mendota project would allow the center to more than quadruple in size (from 24,600 square feet to around 102,500) through two additions to the existing structure, according to a description of the project submitted to the city in August. 
The additions would expand the center from its current 29 beds to 93 and for the first time ever, accept up to 20 girls. Now, only boys are able to stay at the site, and they can only get there through a Department of Corrections placement after first being sent to Lincoln Hills, Mendota Mental Health Institute director Greg Van Ryborek said. 
But after the expansion is complete, Van Ryborek said, counties around the state would be able to partner with the Department of Health Services to create admissions criteria and send youth to the center. 
"We have an opportunity right now in our state through Act 185 to make things better, to create a system that includes county involvement, state involvement and to have an elastic in and out, inpatient and outpatient, where there is a need," he said. 
"This is actually very serious and we are right on the cusp of doing it now and it is very important toward doing the right thing for people."
Created in 1995 and overseen by DHS, Mendota Juvenile Treatment Center currently serves teenage boys transferred there from the state's juvenile corrections system who display "highly disruptive behavior and failure to respond to standard treatment," per DHS' website.  
While the Joint Finance Committee has yet to sign off on the expansion, DHS Deputy Secretary Julie Willems Van Dijk noted the state has already invested several million dollars into developing a site design and separately taken steps to prepare for construction to ensure "it won't be long before we're ready to break ground" once a vote happens.
The original timeline for finishing the expansion was September 2022, more than a year after Lincoln Hills and Copper Lake are set to close. But Van Ryborek said an updated projection "really depends when the final decisions are made" by Joint Finance. 
At the local level, the project received conditional use approval from the city in mid-October, and the zoning administrator said that because it's a state project, it wouldn't need any additional building or construction permits from local leaders. 
Willems Van Dijk said DHS has been "working very closely" with Evers' office and lawmakers on "all elements of Act 185," the 2018 law closing the state's youth prisons and added "we're confident" the Mendota expansion would be part of that. 
"This is a really big shift in how our state is approaching juvenile corrections so I think it's something our legislators are taking their time and studying very carefully to take the best action possible," she said. 
The Joint Finance Committee is expected to meet again on Monday. But spokesmen for co-chairs Sen. Alberta Darling and Rep. John Nygren didn't return requests for comment about whether the Mendota expansion would make the agenda. 
Share your opinion on this topic by sending a letter to the editor to tctvoice@madison.com. Include your full name, hometown and phone number. Your name and town will be published. The phone number is for verification purposes only. Please keep your letter to 250 words or less.