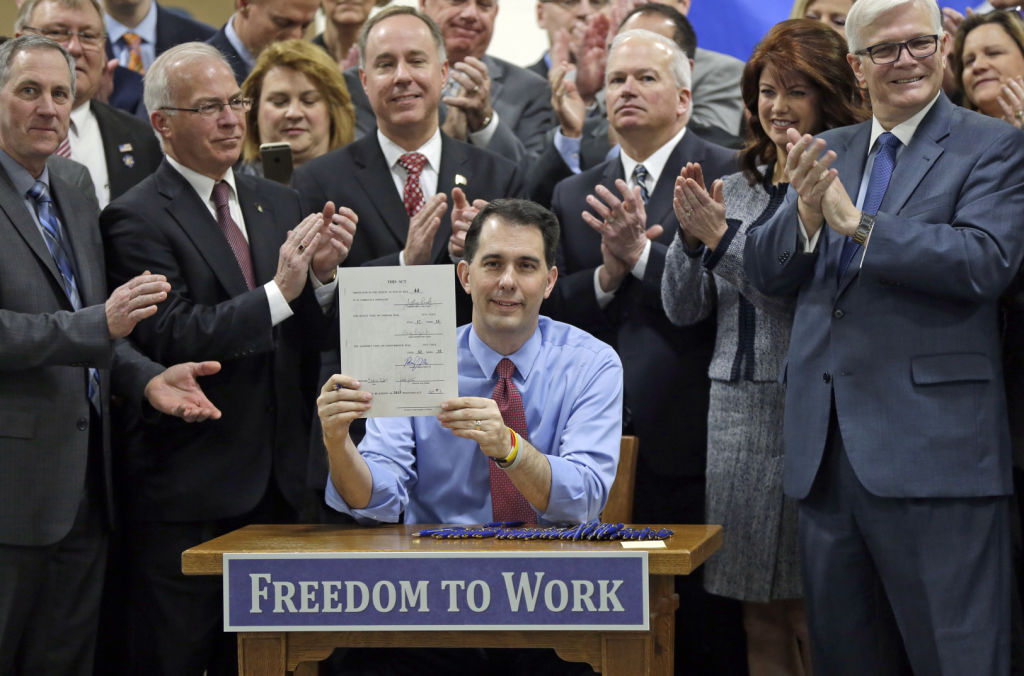 With Gov. Scott Walker's signature, Wisconsin on Monday became the nation's 25th right-to-work state.
The Republican governor and likely presidential candidate signed the bill, passed almost entirely on party lines, just a little more than two weeks after it was introduced.  
But for the last several years, Walker had called right-to-work a "distraction," and said several times he wouldn't let such legislation reach his desk. As recently as September 2014, he said, "I'm not supporting it in this session."
Even before signing the bill, as it sailed through the Legislature, Walker touted right-to-work in fundraising appeals.
"Governor Scott Walker will sign legislation to make Wisconsin a 'Right to Work' state, prohibiting employees from being forced to join a union against their will. It's the right thing to do for job creators and employees alike," read an email sent by Friends of Scott Walker. "But you know how it is: It threatens the power the Big Government Labor Bosses crave and they are going to come after him with everything they've got."
Addressing business leaders last week, Walker said a right-to-work law would give Wisconsin "one more tool" to attract businesses and spur job growth.
At Wisconsin Manufacturers & Commerce's annual business day in Madison, Walker said "the reason why we brought that up" is because looking at rankings provided by publications like Chief Executive magazine and speaking with site selectors — particularly those in manufacturing — "one of the things that's always on their checklist is where you stand in terms of freedom to work legislation."
His use of the word "we" was a departure from the way he's referred to right-to-work in the past, signaling more of a role in the push than he has previously suggested. But on Monday, signing the bill at the Badger Meter factory in Brown Deer, he said it wouldn't have happened without Fitzgerald and Assembly Speaker Robin Vos, R-Rochester.
"This legislation puts power back in the hands of Wisconsin workers, by allowing the freedom to choose whether they want to join a union and pay union dues," Walker said in a statement. "This also gives Wisconsin one more tool to encourage job creators, like those here at Badger Meter, to continue investing and expanding in our state. Freedom to Work, along with our investments in worker training, and our work to lower the tax burden, will lead to more freedom and prosperity for all of Wisconsin."
Walker said on Monday, "the leadership drove the train on this," according to media reports.
"Worker freedom is now a reality in Wisconsin. No worker will be forced to join a union or pay dues as a condition of employment," Vos said in a statement. "I would like to thank Governor Walker for signing the right-to-work bill so quickly. I look forward to seeing the positive impact that right to work will have on Wisconsin workers and our economic future."
Right-to-work laws prevent businesses from entering contracts with unions requiring all workers to pay union fees.
Opponents say right-to-work legislation drives down wages and weakens workers' rights, while supporters say it would bolster the state's economy, attract jobs to Wisconsin and strengthen workplace freedom.
The bill's passage overturns more than 50 years of Wisconsin labor law. Republicans say it ends a reign of oppression by labor, while Democrats say it undoes the state's history of labor peace.
While many business owners in the construction industry told lawmakers the law would harm their operations, Badger Meter president and CEO Rich Meeusen broke from that argument and argued in favor of it.
"How fitting that Gov. Walker chose to sign the bill at the business of a millionaire campaign contributor who threatened to send the jobs of hard-working skilled Wisconsin workers to another country unless the system was tilted further in his favor," said Mike Browne, deputy director of the liberal group One Wisconsin Now, in a statement.
"By signing right-to-work into law, Gov. Walker continues his crusade on the hard-working, middle-class families of Wisconsin," said Wisconsin AFL-CIO president Phil Neuenfeldt in a statement. "From refusing to expand BadgerCare for the sick, to enacting tax cuts for the rich, gutting education and eroding collective bargaining rights  — Gov. Walker has shown a true disregard for Wisconsin families who work hard every day to put food on the table and a roof over their head. How can anyone who isn't a special interest bankrolling politicians' campaigns get ahead in Scott Walker's Wisconsin?"
Walker made a national name for himself in 2011 with the passage of Act 10, his signature legislation that eliminated collective bargaining rights for most public employees. 
After the massive protests and unrest that ensued, Walker said in 2012 that right-to-work legislation was "not going to get to (his) desk."
"I'm going to do everything in my power to make sure it isn't there because my focal point (is) private sector unions have overwhelmingly come to the table to be my partner in economic development," Walker then said.
Share your opinion on this topic by sending a letter to the editor to tctvoice@madison.com. Include your full name, hometown and phone number. Your name and town will be published. The phone number is for verification purposes only. Please keep your letter to 250 words or less.