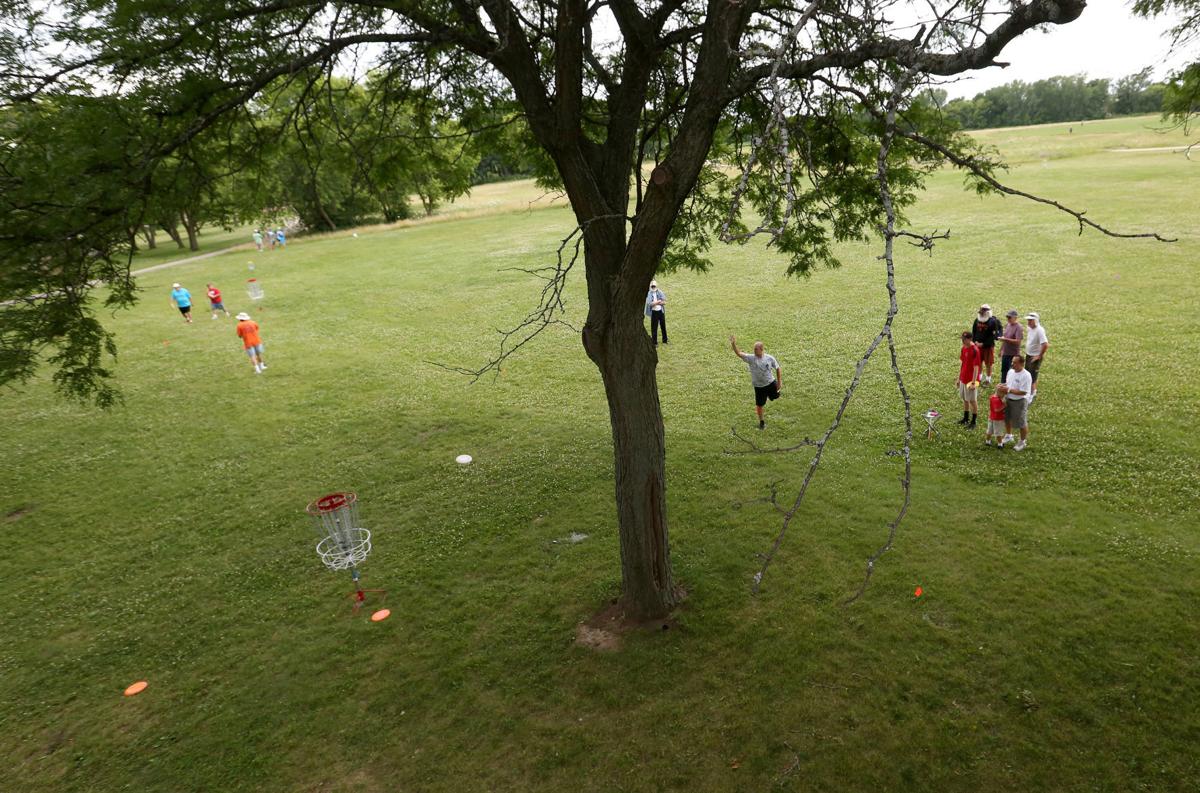 Child care services. Food preparation space. Gardening areas. 
Though not traditionally affiliated with public libraries, such programs are what east side residents are calling for in the proposed Reindahl Imagination Center — a new library that could be located in Reindahl Park. 
A study released on Tuesday synthesizes community input gathered over two years and outlines a vision for the Imagination Center. 
"We were very intentional not to call it a 'library' study," Library Director Greg Mickells said. "We really wanted the community to imagine what types of resources they would like to have access to and what it could really mean to them."   
The study builds on a 2016 library plan for strategic growth on the east side that prioritized closing gaps in library services. The 91-acre Reindahl Park, located near the intersection of East Washington Avenue and Portage Road, showed the greatest potential for serving the most people in need, while also utilizing area resources and maintaining a visible civic presence, the report said. 
Being located in a park would provide opportunities for gardening, outdoor work spaces, environmental education and enhanced Anji Play — play-based learning programming developed in China as an approach to early childhood education.  
"It's rather ambitious what we hope to achieve with this project," Mickells said. 
Library Planner Kevin Englebert said he hopes the study will serve as a launching point for more specific conversations about the recommendations. It also represents the culmination of 112 conversations Madison Public Library shared with 425 community members.  
"It is really community-based," Englebert said. "It is first and foremost what we heard from the community and what we observed over the past years."  
Englebert will present the study findings at a joint meeting of the Library Board and Board of Parks Commissioners March 11 at Olbrich Gardens, 3330 Atwood Ave., at 6:30 p.m.
Ald. Samba Baldeh, District 17, has pushed for the Imagination Center for several years. The area has a large population of children, immigrants and people of color plus a lack of community meeting space, so Baldeh hopes a future Imagination Center will promote civic engagement among those who are not traditionally represented in local government. 
"I hope the fact that we are always talking about minority groups not participating in our daily politics and our civic engagement, council and the mayor's office will find ways to engage them through this center," Baldeh said.
Funding for the proposed $17 million library was first included in the 2018 budget, including $500,000 for community outreach and the project study. Construction funding was moved up in the 2019 budget from 2021-2023 to 2020-2022. 
In 2020, Mayor Satya Rhodes-Conway moved the project to a new tool called the "Horizon List," which includes items that need additional planning before being included in the capital budget.  
Following the study, the library will begin pre-design efforts using funding remaining from the previously allocated $500,000. 
"It's not like there's going to be a building popping up anytime soon," Mickells said. "It's really going to take some additional years of study, of refinement. We'll continue to keep the community informed, and we'll continue to seek community input." 
More and more, libraries are expanding their traditional boundaries of lending books. A Wisconsin Policy Forum analysis found that library patrons' use of e-content is on the rise and attendance at library programs is increasing. 
For example, attendance at preschool storytime and individual computer assistance programs nearly quadrupled from 36,012 in 2000 to 142,709 in 2018. 
Madison's east side residents seek a place that offers not just books but services like citizenship and immigration resources, community gathering spaces, connection to the arts and literacy assistance.  
The study identified objectives that the Reindahl Imagination Center could include to meet the goals of serving as a community forum, civic innovator, holistic health advocate, cultural platform and economic engine. 
Englebert said he was surprised by the strong desire for child care.
"It's something that we don't do directly as the library, but we heard it time and time again from residents in that area that they need to spend time traveling to find child care," Englebert said.
The study found that there are 17 licensed family and group child care centers near Reindahl Park, representing 6.9% of the total number of licensed child care centers in Madison. However, the area is home to approximately 10.1% of children in Madison under the age of 5.
Those 17 centers have a capacity of 583 total child care slots serving approximately 1,310 kids who live in the four census tracts near Reindahl Park, according to the most recent American Community Survey (ACS) data. This means that there are enough licensed child care slots for approximately 44.5% of kids under age 5 in the area.
"Given the limited availability of child care in northeast Madison and the area's continued and projected growth, the city of Madison occupies a unique position to positively influence child care with the Imagination Center," the study states. 
The study recommends collaborating with an organization to establish a group child care center directly at the Imagination Center or exploring the creation of a family child care cooperative. 
"It is our belief, based on hours of community conversations, research, and years of embedded work in Madison's neighborhoods, that neighborhood challenges require imaginative solutions," the study states. 
Share your opinion on this topic by sending a letter to the editor to tctvoice@madison.com. Include your full name, hometown and phone number. Your name and town will be published. The phone number is for verification purposes only. Please keep your letter to 250 words or less.