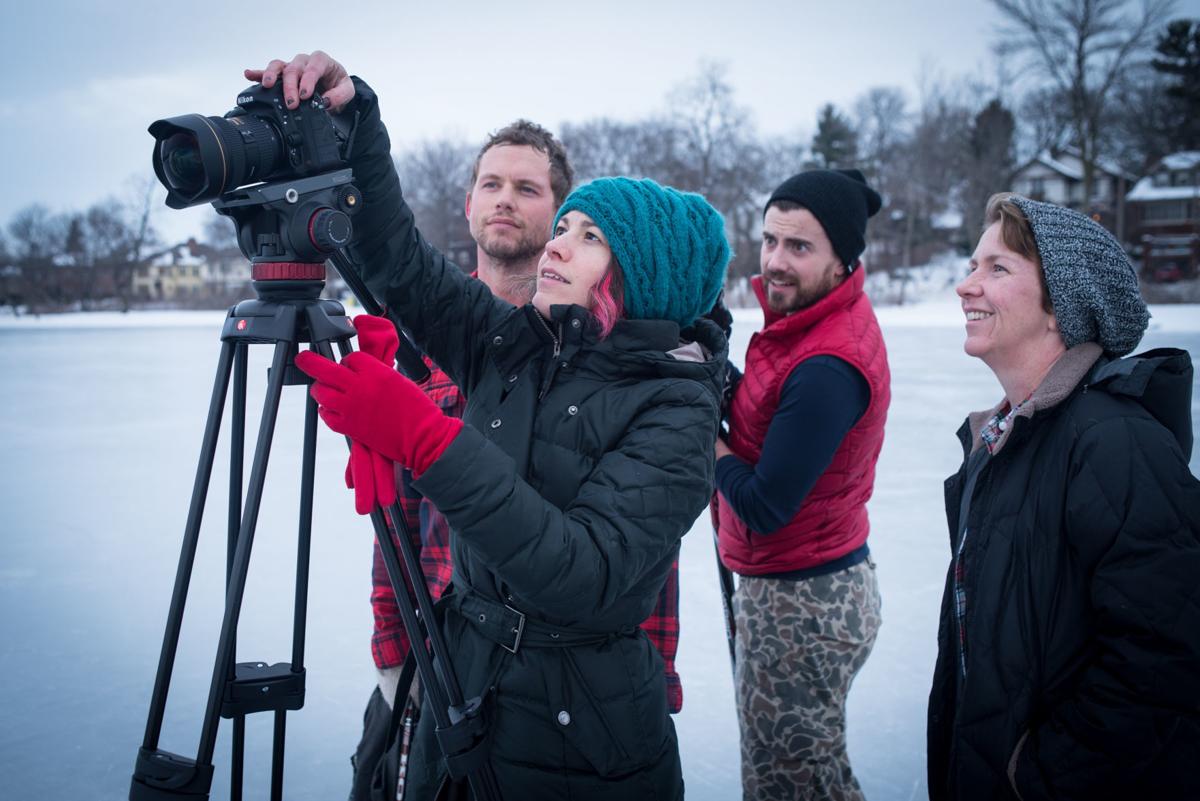 "As a kid I was really happy and bubbly, but a lot of that came from me knowing that I needed to be that way. I had a single mom and I remember thinking early on that I wanted to make things easier for her, so some of my buoyancy came from trying to help her carry the load."
That's is part of one of the stories featured on Love Wisconsin, a collection of pictures and in-depth, first-person stories about Wisconsinites from every corner of the state.
In the age of partisan division, the project is an island of positivity on the internet, its creators say. The Facebook page has a split audience — about 30 percent liberal, 40 percent conservative and 30 percent moderate — and strives to be a supportive place.
Comments on stories read: "Incredibly happy for your journey," "I'm glad you got to follow your dreams!" and "You are a warrior and a survivor."
That's exactly the kind of engagement Brijetta "Jet" Waller and Megan Monday were looking for when they founded Love Wisconsin, which runs on donations, grants, underwriting and content sponsorship. The project was built to draw people out of their self-selected silos and get them to interact with people different than them.
"If we all live our lives in this same geographic place, what other commonalities can we find?" Monday said.
Neither Waller nor Monday is originally from Wisconsin (Waller grew up in Ann Arbor and Monday bounced around the east coast), but they were drawn to the state's "neighborliness and kindness and warmth."
"Then there was a period of time when that started to come into question, I think," Waller said. "People were maybe a little more distrustful, maybe a little more fearful of each other, there was a lot more resentment."
They thought part of the problem was social media, where "people could sort of choose their own niches," Monday said, an idea that's backed up by research.
And as long-time media workers (the two worked on documentaries together), they wanted to see if they could turn media "on its head," Waller said, and reignite the love that attracted them to the state in the first place.
Thus, Love Wisconsin was born, with an emphasis on "love," which Monday called the "guiding signpost" of the brand.
Their project started as a simple endeavor: asking Wisconsinites to tell their stories in the first-person, which are posted online accompanied by their pictures.
Unlike sites like Humans of New York, the Love Wisconsin stories are often multi-post tales that span a subject's lifetime. They call these "Wisconsin Generations," but also offer a smattering of other story styles, like "Wish for WI," where kids narrate their hopes for the future and "#wiscostyle," offering how-tos on old-fashioneds and supper clubs.
For "Wisconsin Generations," Waller and Monday ask the storyteller where they would like to be photographed, preferably in a place that's meaningful to them. Interviews last anywhere from an hour and a half to three hours.
Sometimes Waller and Monday end up going on impromptu adventures with their subjects. For a recent trip that brought them to a Somali community in Barron in northwest Wisconsin, they had arranged to meet their subject, Mohamud, at the library.
Mohamud showed up and said, "Let's go eat. I want to take you to a Somali restaurant."
In the restaurant, an African channel was on TV and regulars were drinking tea as Waller and Monday sat down to a traditional Somali meal. Waller thought, "I can't believe I'm in Wisconsin."
Stories like Mohamud's have allowed them to witness the state's cultural diversity. Their travels have also given them a firsthand glimpse of its natural beauty.
"The driftless area, I'd never been before," Waller said. "I was blown away that this was in Wisconsin and blown away by learning about the trout streams there and the pristine water."
Glance through Love Wisconsin's page and it's clear that the storytellers don't hold back personal details or censor their experiences. How do Waller and Monday tap into that well of emotion?
"In part, it's just the skill of sitting and being with people, and being open to what happens," Waller said.
"People just want to be heard, actually, if you give them the generosity of listening ... that's a really big gift," Monday said.
That's a very similar to a sentiment expressed by Humans of New York creator Brandon Stanton.
Stanton gets the conversation going by asking,"What is your greatest struggle right now?" For Love Wisconsin, questions vary with the subject, but they always ask about the subject's childhood. Partially because they have a "stupid ambitious" goal to tell their whole life story, Monday said, and partially because "that creates a soft space inside of them."
The childhood portions of Love Wisconsin stories are often reader's favorite, but the audience is generally engaged. Looking at the number of interactions with their Facebook posts comparative to the size of their audience (102,000) puts them in the top 5 percent globally for engagement.
Those comments often go deep into commenters' personal stories, Waller said, which made Love Wisconsin recognize there was a "hunger and interest" for deeper conversation.
In January, Love Wisconsin launched a discussion Facebook page to flesh out some of the story's more difficult topics (like incarceration, addiction, race, mental health), provide resources to learn more about those issues and let readers share their own stories.
"It's a pretty big experiment to try thoughtful, nonreactive conversation in an online space," Monday said.
But so far it, too, has been pulsing positive. The discussion page is not completely immune to internet nastiness; there have been a handful of trolls, like a commenter who posted a vomit emoji on the story of a trans man. But afterward, the lead moderator for the site, Annette Miller, turned down a suggestion to ban or block users, and encouraged participants to stay in the conversation.
"I think we all agree (at Love Wisconsin) that the way to approach feeling like you're in disagreement is actually to dig a little bit deeper in … rather than use the various tactics that we all use to shut down conversations, whether it's anger or just silence," Monday said.
But those have been isolated incidents so far, Waller said, as "most of the time it's 'God bless you,' 'Keep doing what you're doing.'"
Waller attributes that to the bravery of the storytellers and the first-person narrative; "it's very hard to argue with someone's personal experience."
Love Wisconsin is exploring the possibilities of an accompanying book and podcast. Waller and Monday have benefited from the interviews, and they want to make sure the stories are available everywhere, not just online. 
"I feel like my life is richer for knowing all those stories," Monday said. 
Get Election 2020 & Politics updates in your inbox!
Keep up on the latest in national and local politics as Election 2020 comes into focus.