Frank Productions, the Madison-based live music promotion company, is highlighting its family origins by naming a new venue after the late co-founder Sylvia Frank.
The Sylvee, Frank's nickname, will be part of a major development project in the Capitol East District on the 800 block of East Washington Avenue. Sylvia Frank, who died in 2006, and her husband Herb co-founded Frank Productions in 1964. The company is now run by their sons, Larry and Fred.
"Today's about family, and it's about Madison," said Mark Schmitz, a spokesman for the project, Thursday. "It's about the connection that we have to each other, to the city."
Schmitz is a founder and creative director of the Zebradog design firm.
The 2,500-person capacity venue is a part of the 800 Block Project, which consists of two buildings and a 600-stall parking structure at East Main and South Livingston streets. The theater will be located in the $12 million, eight-story Cosmos building along with retail and office space.
The Franks plan to break ground on the venue this spring, are tentatively scheduled to open in summer 2018 and plan to hold about 75 events per year.
"A weekly tradition is to be born, and Sylvee will be on the outside of the building forever," Schmitz said.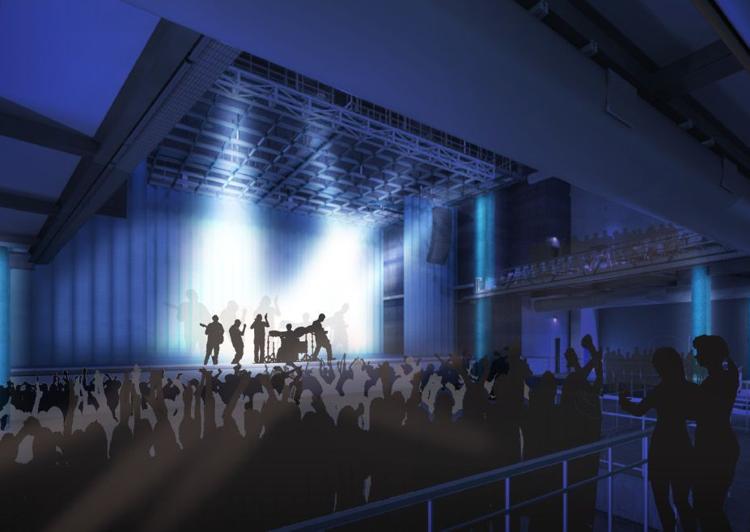 A variety of events could be held at the Sylvee, including private gatherings, due to its open design concept, Frank Productions president Charlie Goldstone said. The venue will have an entrance at East Main and South Livingston streets, a main level, a lower area closer to the stage and a balcony section.
"It's totally open, so it's completely flexible," Goldstone said.
Some critics worry the parking available will not be adequate when larger shows are booked and that the city is becoming saturated with music venues. Goldstone said the theater's design that can accommodate a variety of music genres will set the Sylvee apart.
"There's definitely an unmet demand for shows certainly at this level and at this caliber," Goldstone. "It's designed for modern touring productions."
Gebhardt Development is building the Cosmos building and leasing the office space, but Frank Productions will own and operate the concert venue.
American Family Insurance will construct and own a second building included in the 800 Block Project. That building, called the Spark, will also house the collaborative entrepreneurial center StartingBlock Madison.