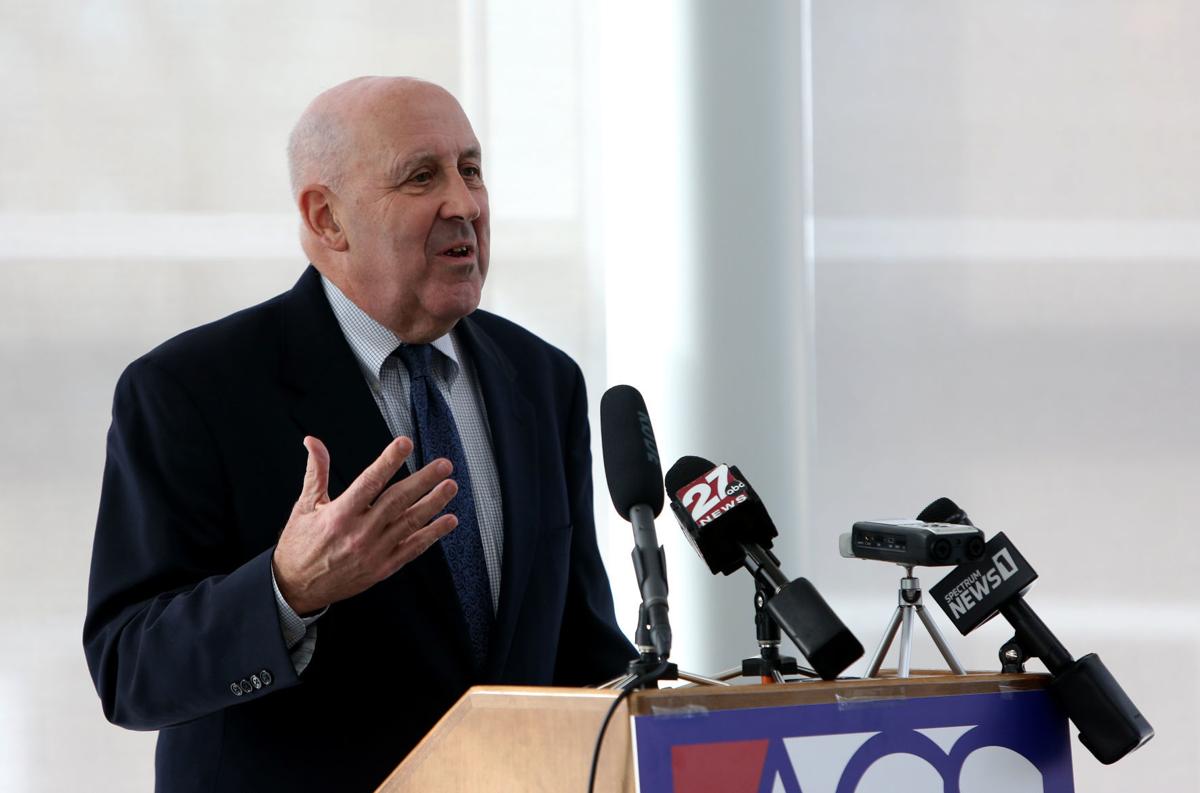 Former Democratic Gov. Jim Doyle said Tuesday that Republican bills aiming to strip the attorney general of power are unconstitutional and will end up disputed in court. 
"I don't have much doubt on where this ultimately ends up," Doyle said, while speaking to reporters at the Boardman & Clark law office in Madison. "This is not a good picture for the state of Wisconsin."
Doyle has rarely spoken publicly since he left office in 2011. His remarks come as Republican lawmakers prepare to vote on a series of bills late Tuesday that strip several key powers from the state attorney general's office and the Department of Justice, along with several other measures that give more power to lawmakers ahead of Democratic Gov.-elect Tony Evers' inauguration. 
"This is obviously and clearly a violation of separation of powers," Doyle said. The GOP has said the measures are needed to re-balance those powers and equalize them.
Doyle noted that there have been other lame-duck sessions, they're not uncommon in a transition, but said none have been like the one lawmakers are convening now. 
 "This,'we're going after your powers,' is totally different," he said. "What we've seen in Wisconsin I think the last number of weeks is completely different from anything I have seen in my experience."
The whole idea is to get Evers "off to a really bad start" Doyle said. "It's just contrary to how this has operated in many many years in Wisconsin."
When Doyle was preparing to leave office, the Democratic Legislature quickly passed labor union contracts, preempting any action by Gov. Scott Walker.  Doyle said that lame-duck session was fundamentally different and that the contracts had been agreed to months prior. 
Doyle said that even when he served as attorney general and had disagreements with former Gov. Tommy Thompson, Thompson never moved to curtail his powers.  
Throughout Tuesday, as lawmakers repeatedly delayed votes in the Assembly and Senate, others spoke out against the changes legislators were considering. 
A slew of healthcare organizations and insurers, including UW Health, SSM Health, Wisconsin Hospital Association, Wisconsin Medical Society and the Wisconsin Nurses Association signed a letter against portions of a bill that would require Medicaid recipients to hold a job. 
"We are concerned this legislation goes much further and could have unintended consequences that will impact health care delivery in Wisconsin," the groups wrote. 
The Democratic Governors Association also slammed the moves both in Wisconsin and Michigan.
"Changing the rules when you don't like the outcome is a move befitting a playground bully, not elected leaders in the world's greatest democracy," said Rhode Island Gov. Gina Raimondo. "Governors-elect Gretchen Whitmer and Tony Evers both won elections to serve as governor. Yet, Republican legislators are contradicting the will of the voters and attempting to undo the election results. That is a dangerous assault on our democracy."