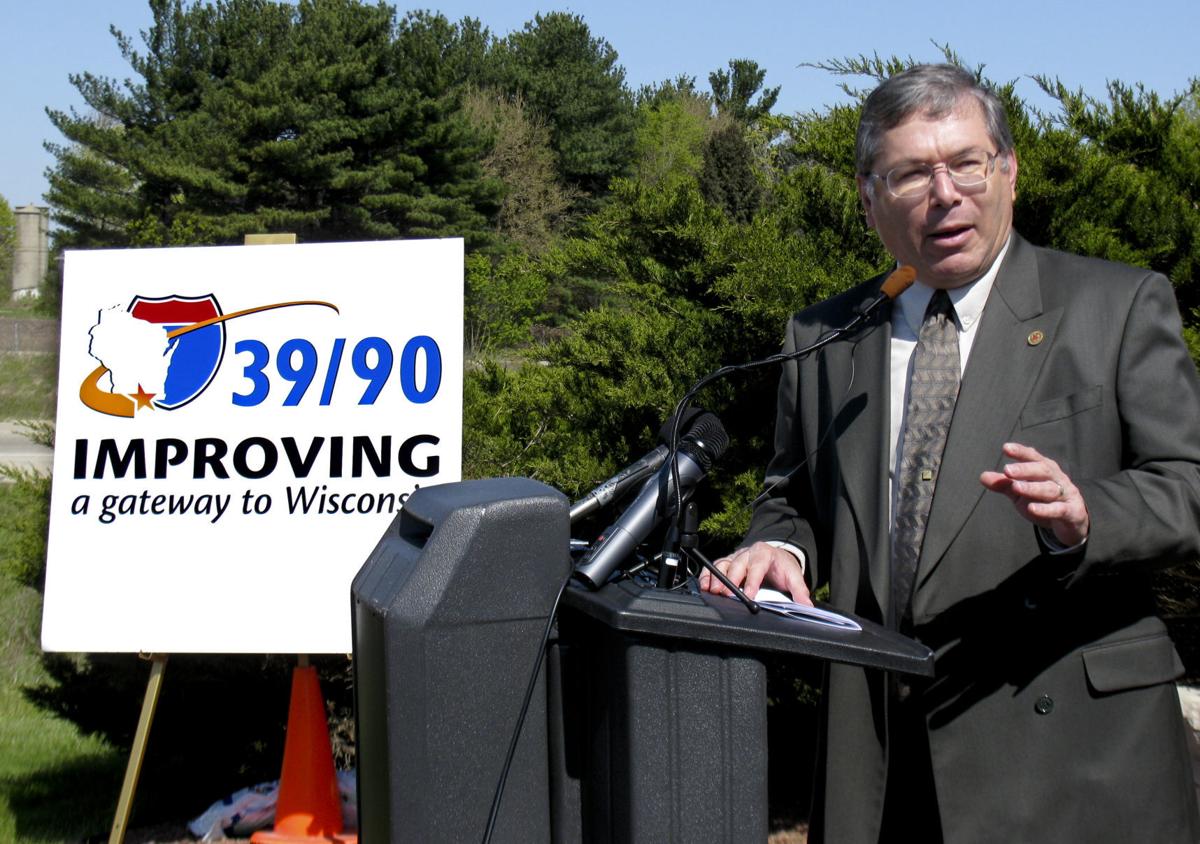 In 2014, Mark Gottlieb began to realize Gov. Scott Walker was moving away from a goal he thought they shared: fixing the state's transportation funding problem and its deteriorating roads.   
It was one year after a commission, chaired by Gottlieb, then-secretary of Wisconsin's Department of Transportation, released an 176-page report, affirming what at least two other commissions led by both Republicans and Democrats over the last decade had found: Wisconsin's highway system and local roads were rapidly deteriorating and there was not enough money to fix or maintain them.
It's the issue that ground state government to a halt last summer, delaying the budget for months. How to address the state's aging highways continues to divide Republicans statewide. 
"You have to make investments there and we're not even thinking about doing it," Gottlieb said.
The commission, championed by Walker and created through legislation signed by him, had 10 members, eight Republicans and two Democrats. Members confirmed its findings unanimously.
In his agency's subsequent budget request, Gottlieb, a Republican appointed by Walker, asked for money to respond to the commission's findings.
"It was well understood at that time by the governor and other people in the governor's office that that's what we were going to do, that we were going to propose a budget that we felt addressed these issues. That's what I thought we had been asked to do," Gottlieb said. "It took the governor less than 48 hours to reject that budget."
It was a decision inconsistent with Walker's earlier statements about the need to generate more money for roads, and began a pattern of failing to address the state's transportation needs, said Gottlieb and several other Republicans and transportation groups who have tracked the issue. Instead, Walker has put off a long-term transportation funding solution by borrowing more money and delaying projects while roads worsen, they said.
Such a public rebuke of Walker from a former cabinet member is rare. Gottlieb, 61, resigned as DOT secretary in December 2016 after a six-year tenure, a departure he said came as he realized he no longer shared Walker's approach to addressing the state's transportation needs. He is frustrated by what he says is a disingenuous portrayal of the facts on transportation and troubled that the state is neglecting crucial road improvements.
A transportation engineer by trade, Gottlieb lives in Port Washington and is now retired. He has worked on public road projects on the local and state level for more than two decades, served in the Assembly for eight years and is the former mayor of Port Washington.
In 2016, when the DOT was preparing its next budget, Walker largely ignored the commission's findings again, this time releasing a letter publicly directing DOT what to put in its own budget request.
"Develop a budget request with specific priorities in mind," Walker wrote in the June 2016 letter. "Proposed spending on mega projects in Southeastern Wisconsin should be minimized."
"As I saw it, the letter in 2016 was the governor's way of saying that he did not want the department to submit another budget request that contained a comprehensive solution," Gottlieb said. "I think it was done because they didn't want a repeat of what was done in 2014. They didn't want the department to submit a budget that seriously dealt with this issue."
"They wanted the department to submit a budget that pretended if we just went along like we were going along, everything would be fine," he said. "That is not the budget I would have submitted based upon my judgement of what was needed."
Prescribing a specific cabinet agency's budget request is atypical, Gottlieb and others familiar with the process say. It's a move Gottlieb said shows how the DOT, once a relatively apolitical agency, has become increasingly politicized under Walker.
"We got to a place where the facts were being ignored in favor of political spin," Gottlieb said.
Now Gottlieb has been criticized by some conservatives who say he oversaw an irresponsible culture of waste and excess at the DOT. Gottlieb's critics point to an audit report that highlighted department inefficiencies and showed dozens of projects that went over budget.
Gottlieb disputes the audit findings, noting the overruns occurred on projects planned before he became secretary. He said he stewarded public money well and implemented new ways to use it more efficiently. He pointed to several bipartisan studies and nonpartisan Legislative Fiscal Bureau reports that have repeatedly called attention to problems with how the state is financing transportation.
The criticism comes at a time when Walker, speaking at the Republican Party state convention Saturday, did not emphasize transportation as a key part of his re-election platform.
And on Monday, Walker sent a letter directing state agencies to prepare spending plans for 2019-21 with no increases in revenue for most programs, including transportation. The move is in contrast to what Republican legislative leaders, including Senate Majority Leader Scott Fitzgerald and Assembly Speaker Robin Vos, have said: the state needs to raise more money to adequately address roads.
Gottlieb wants an honest discussion about the facts, something he said is not happening as Walker campaigns for another term.
"It is easy enough to evaluate statements about how much the state is investing or not investing by looking at historical budget data," Gottlieb said. "We are not investing."
When Gottlieb discusses Wisconsin's transportation situation, he frequently returns to the reports of several state commissions that have studied the issue. There have been at least three since 2000.
Their collective findings are crucial because they lie at the crux of the transportation debate: Are the state's roads rapidly deteriorating? And if so, how is the state going to pay for it as its transportation revenue remains flat and the interest on its debt continues to climb?
The results of the commissions are clear in their acknowledgement of a problem Walker no longer recognizes: the state's roads are in trouble and fixing them is going to cost more and more the longer the state waits, according to the 2013 Transportation Finance and Policy Commission report.
"We can spend what revenues we have more efficiently and effectively by setting these priorities and living within our means," Walker wrote in the 2016 letter to Gottlieb on the budget.
Gottlieb stands by the work of the commissions and said Walker's decision not to increase investment or raise revenue is "a failure, a lack of willingness to acknowledge the consequences of that decision."
"That is my opinion, and I think that opinion is backed up by a lot of really good data and all I hear from the other side of the argument is, 'We don't agree with you,'" Gottlieb said. "Then show me."
Consider, Gottlieb said, the Transportation Finance and Policy Commission's 2013 analysis, in which commissioners wrote that Wisconsin has "increasing transportation needs and decreasing revenues" to meet them.
In order to maintain a "safe and efficient system," the commissioners said the state should invest $479.5 million more on an annual basis through 2023 in its state and local highway program, public transit and rail, harbors and airports.
"These recommendations are not a wish list — they essentially fund programs to maintain condition and congestion levels that exist today through 2023," commissioners wrote to Walker at the time.
If no increase in investments were to be made by raising more revenue, the commission forecasted that the percentage of the state highway system that would fall into poor or worse condition would more than double, from 20 percent in 2013 to 42 percent in 2023.
Delays of planned projects would ultimately cost the state more money, a finding Walker; his current DOT secretary, Dave Ross, who previously served as secretary of the Department of Safety and Professional Services; and conservative allies, including Americans for Prosperity and the MacIver Institute, now dispute.
Gottlieb also stands by reports written under his tenure at DOT, including the 2016 Fund Solvency Report, released just before he left the agency.
That report details efficiencies and best practices that were implemented at DOT since 2011, saving about $1.5 billion.
It pegs transportation revenue growth to increase a total of 3.8 percent from 2018 through 2027, or less than a half of a percent each year.
That lack of growth is clearly a problem, Gottlieb said.
Walker's spending on roads
According to his spokeswoman Amy Hasenberg, Walker "has budgeted $3 billion more in actual dollars into transportation than his predecessor. Local road aids are the highest ever."
Much of Walker's "actual" dollars were borrowed dollars, according to LFB figures. And although local road aids have increased, they have come at the expense of total state highway spending, which, according to LFB figures, is the lowest it has been in 10 years.
Total highway funding has been on a steady decline during Walker's tenure, from $3.11 billion in the 2013-15 budget to $2.79 billion in 2015-17 to $2.54 billion in 2017-19, according LFB reports. Money allocated for the highway improvement program is down 8.8 percent from the last two-year budget, according to the LFB.
"Gov. Walker is also committed to balancing our infrastructure investments with the taxpayer's ability to pay, which is why he will never support a revenue increase for roads without an equal or greater decrease in taxes elsewhere," Hasenberg said.
The tax cuts Walker has championed, including eliminating the state's portion of the property tax, the child tax rebate and sales tax holiday, have not triggered an increase in transportation spending.
Some Republicans think it should and have advocated for an increase in the gas tax or a tolling system. Whether the state needs more money for transportation and how that money should be raised divided the state Senate last year and will be a marquee legislative fight in the next budget process.
"Don't they claim to have cut taxes by billions of dollars? Taxes have been cut but there has been no corresponding increase in transportation revenue," Gottlieb said. "This administration has prioritized not raising fuel taxes over maintaining the transportation system, and they need to accept the consequences of that decision."
Hasenberg also noted that Walker fully repaid the $1.4 billion Gov. Jim Doyle transferred from the state transportation fund. But Walker did much of that through borrowing, according to figures from the LFB.
Walker's office did not respond to specific questions about Gottlieb's concerns.
In a May 4 news release, Walker said "improved fiscal management," resulting in $25 million in newfound savings he said the DOT found, will allow several projects to move ahead of schedule. The DOT said the savings were left over from the accounts of some construction projects.
"Encumbered funds are held and by closing these accounts after projects are completed, we are able to utilize unexpended funds within these accounts," said DOT spokeswoman Rebecca Kikkert.
Gottlieb said Walker's approach to Milwaukee's highways are a prime example of Walker's negligence toward infrastructure investment. Walker has cut funding from those projects in his most recent budget, and has said he will not spend more money there in order to fund projects in other parts of the state.
Case study: I-94 in Milwaukee
The highways surrounding Milwaukee are some of the busiest and most congested roads in the state, according to DOT reports.
Interstate 94 particularly concerns transportation funding advocates who say project delays during Walker's term will result in a more expensive and dilapidated highway system the longer the state waits to finish it. The state has already spent more than $20 million on studies to finish the project.
Lawmakers did not advance a bill introduced in the waning days of the session this spring that would have provided more funding to finish funding to finish I-94. The DOT has instead allocated more of its transportation budget to fund road improvements near the site of the Foxconn plant near the borders of Racine and Kenosha counties. Those improvements will divert nearly $90 million from other projects statewide, likely resulting in delays, according to the LFB.
During his time as governor, Walker has cited a lawsuit from local residents as the chief reason to back out of finishing the I-94 project.
When he was Milwaukee County executive, he took the opposite approach.
In a Feb. 28, 2006, article in the Milwaukee Journal Sentinel, Walker said expanding Milwaukee's freeways was critical.
Opposing freeway expansion would threaten to "shut down the regional economy... to appease a small group of people," Walker said at the time.
Three years later, as he was preparing his gubernatorial bid, Walker again advocated for completion of the Milwaukee area's highway projects.
"I don't have a document, but many of us recall talk by the DOT years ago that after the Marquette Interchange, would come the Zoo Interchange," Walker wrote in an email to the Journal Sentinel, according to a November 2009 article. "I think politics, the governor (Jim Doyle) not wanting to battle the mayor and some aldermen, combined with the big hole in the fund, led to this big problem. Again, politics got in the way of good policy."
Six years into his term as governor, Walker's rhetoric flipped.
Finishing I-94 between the Marquette and Zoo interchanges will wait as other road projects take precedence, he said at a listening session in Ashland in 2016.
"We are not spending another penny down there for the next several years," Walker said, according to a December 2016 story in the Ashland Daily Press.
At that event, Walker said that under his plan, local governments would "get as much as they would get from the Legislature if they raised the gas tax. The difference is I'm not using that additional money to fund another billion or billion-and-a-half dollars worth of projects in the Milwaukee area," according to the story.
For an aging state freeway system engineered and built in the 1960s, and one that serves as the state's main transit corridor for commercial traffic, Gottlieb finds Walker's calculation unsatisfactory.
Walker has not been a leader on finding a solution to funding all road projects long-term, Gottlieb said, and as Walker has put more money toward local roads, the state's southeast freeway system suffers.
"We're not doing anything right now to do that, nothing. Not to plan for it, nothing. We're just pretending it's all good," Gottlieb said. "We're in that situation where this southeast freeway system has to be dealt with."
In 2016, Walker replaced Gottlieb and his deputies with Ross and two deputies from the Public Service Commission.
Gottlieb shook his head at the move.
"Of these three people, they had a combined total of zero days experience in transportation. Try to find any time in the past when that has been true," Gottlieb said. "It is very a complex agency and to install a set of top leaders who have no experience in that industry I think was a mistake."
One longtime observer of state transportation issues and a former Department of Administration official, George Mitchell, said he is alarmed at DOT's current trajectory. Mitchell is also a school choice advocate and has donated more than $15,000 to Walker, according to the Wisconsin Democracy Campaign.
"I came at this with a pro-Scott Walker history. I was a supporter of Scott going back to the 90s and through all of his campaigns," Mitchell said. "It seemed to me you had this fundamental function of state government that clearly was not being performed as measured by a growing percentage of roads in poor condition, and as measured by repeated delays in the timetable for rebuilding the freeways."
"It's going to cost more whenever they get around to doing it, and all of which countered what the governor himself said earlier in his term," said Mitchell, who has also written columns criticizing Ross and the DOT.
Since Gottlieb left, the DOT has begun to shift its priorities, delaying projects it once said were of critical importance, or dropping them all together, including the Madison Beltline project, which surrounds the state's fastest growing urban area. The state has already spent $9 million on studies for the project, according to the DOT.
The agency has not updated a key spending report, "Transportation Budget Trends," from its last two budgets. The reports are posted on DOT's website and have been produced for decades.
Without them, "it's essentially impossible now to do what used to be easy to track historical and current trends in terms of revenue and expenditure by category," Mitchell said.
Mitchell asked DOT deputy secretary Bob Seitz for a current copy of the report in March, according to emails Mitchell gave to the Cap Times. In the email exchange, Seitz said, "They are not documents we keep up and I will not task someone to research a previous secretary's statements. "
When asked by a reporter last week about whether the reports are still being created, Seitz said in an email that a report is being developed for the 2019-21 budget. The report will examine budget trends from fiscal year 2000 through fiscal year 2019 and will be released in July, he said.
In the meantime, as Walker campaigns for another term and Republicans aim to retain control of state government, Wisconsin's roads worsen, Mitchell said.
The state's elected officials will have a bigger transportation issue to confront in 2019 and beyond, he said.
"Whether it's under Gov. Walker or under a different governor, the problem they faced last time is going to be there and worse," Mitchell said. "The state is now in a big fix because of the failure of a Republican-controlled government to honestly confront the problem and deal with it, and that goes to the executive branch in the east wing."