Madison's new police chief should have experience as a high-ranking leader, but still remember what it was like to work in a squad car. He should support officers, but also listen to the community and understand how to navigate nuanced political processes. And she should defend the department without being defensive.
As the Police and Fire Commission conducts a search for the next leader of the Madison Police Department, community members, activists and police officers are pushing their own visions of what the city's top law enforcement official should be.
There's no perfect candidate when everyone has their own idea, but listening to a wide variety of perspectives and navigating competing and conflicting views is exactly what a chief's job is, former Madison Police Chief Noble Wray said.
"This is the business of a police chief — the ultimate balancer in local government," Wray said.
It's an unusually challenging time to start the job. Public perception of police performance has declined since 2016, according to a July 9 Pew Research Center report. The selected person, anticipated to be named in early 2021, will be starting their job during a pandemic that has made policing more difficult and tightened the local budget and amid a national reckoning with racism.  
Madison is also implementing civilian review mechanisms — an independent monitor and civilian review board — meant to bring additional accountability over police. The new systems provide challenges and opportunities for a new police chief.
The announcement for the open position, which attracted 43 people and comes with a salary between $130,255 and $175,844, says that the next chief should be a leader "who can create a police culture that prioritizes racial and social justice and who can build and sustain public trust in the Police Department in all of Madison's communities." The chief needs to have a 4-year college degree and three years of managerial experience in local law enforcement.
Additional specialized leadership education is desirable, according to the job announcement. The successful candidate must also be able to obtain certification as a police officer from the state.
Meeting expectations for a new chief is a "tough ask," said Keith Findley, a UW-Madison law professor who co-chaired a resident-led ad hoc committee that studied the MPD. The panel was formed after an officer shot and killed Black teenager Tony Robinson in 2015.
"The chief needs to be someone who has the trust and confidence of the community but also officers within the department," Findley said. "It has to be someone who's willing and not afraid to move those officers to embrace change and to help the department and the officers on staff to understand and recognize ways that change can help them do a better job engaging with the community."
Madison police officer Greg Rossetti, who joined the MPD in 1998, said a new chief will have to combine the attributes of a street cop, politician, priest and social activist and be ready to jump into the position.
"(They're) going to have to hit the ground running because you've got a rank and file that's kind of bewildered. You've got a city that's not used to violence seeing a lot of violence," Rossetti said. "You've got partners like the schools, like the mental health people, neighborhoods: They know that things need to change, but they're not quite sure which direction to take it, and the police could be a good partner now."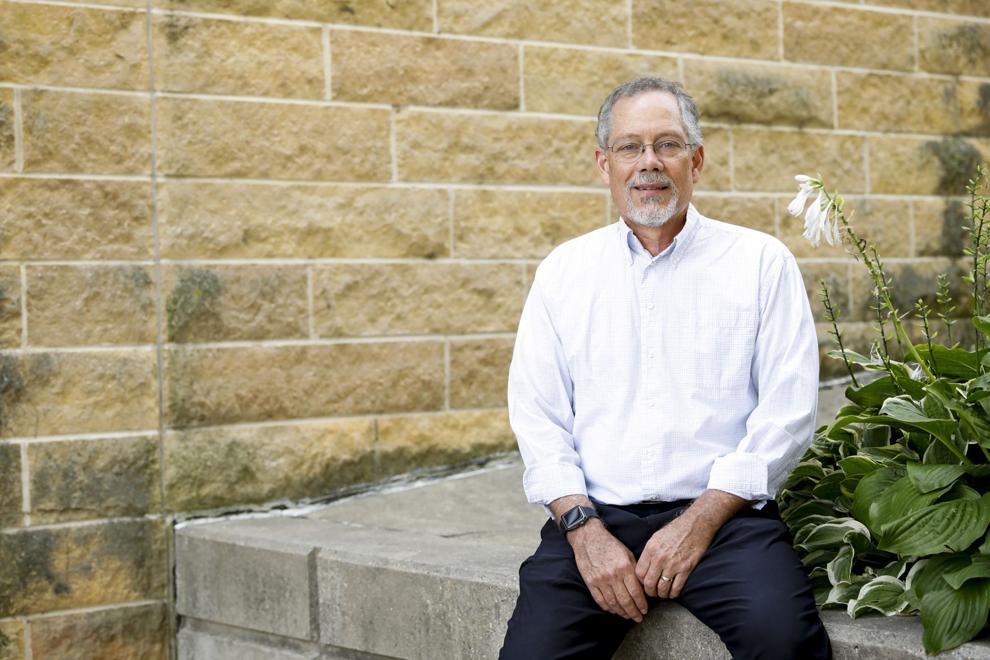 Someone to 'reconcile communities'
Madison has been without a permanent police chief for a year. The former top cop, Mike Koval, abruptly announced his retirement on Sept. 29, 2019, in a blog post that surprised many, including Mayor Satya Rhodes-Conway. 
Since then, acting Chief Vic Wahl has led the department through the coronavirus pandemic and unprecedented protests and demonstrations over police brutality. Wahl said he is not interested in the permanent police chief position, calling the job "remarkably challenging in the best times." He noted a number of police chief vacancies across the country as an indication of how stressful these positions are in mid- to large-sized cities. 
Wahl said the city should look for someone who has a "progressive, forward-looking perspective" on policing and enough experience to gain credibility internally and externally. The candidate should be data-driven and not prone to rash decisions. Also, the chief will need to have "people skills" when interacting with officers, MPD staff and community members.
"It's the job of the chief to listen to the community and to listen to people that don't like us," Wahl said. "Being willing to engage and listen and communicate is important and that's something that the next chief will have to do."
But the PFC is not expected to name a new chief until early 2021, according to Police Executive Research Forum executive search consultant Rebecca Neuburger. The PFC, which has statutory authority to hire police chiefs, is working with the consulting firm to conduct a search process.
Rhodes-Conway emphasized that the new chief should be an excellent communicator, experienced in trauma-informed methods and well-versed in community policing, a strategy that Madison is famous for.
"I'm looking for somebody who understands the importance of working with the community and that gets that they are the police chief for the entire community," Rhodes-Conway said. 
Neuburger said the 43 candidates who submitted applications by the Sept. 14 deadline were more than she expected. She said the candidates are from all over the country with varying levels of experience.
Neuburger said unlike in past searchers, where some candidates seek to move to a bigger department or attain career advancement, she said people see "opportunity in this very challenging moment."
"Policing is being asked to change and it seems to me that people who are applying for these positions now get that and want to rise to the occasion," Neuburger said.
Next steps include "aggressive candidate vetting" before PERF provides PFC members with the full list of candidates in mid-October and its recommendations for those who merit an interview. A first round of interviews will take place in mid-November and finalist interviews are expected to take place in early December.
Neither PERF nor the PFC could predict just how the Minneapolis police killing of George Floyd, and the subsequent calls to defund police might affect the search or the number of applicants.
"There's an element of uncharted territory that we're all going to be working through together," Neuburger said in July.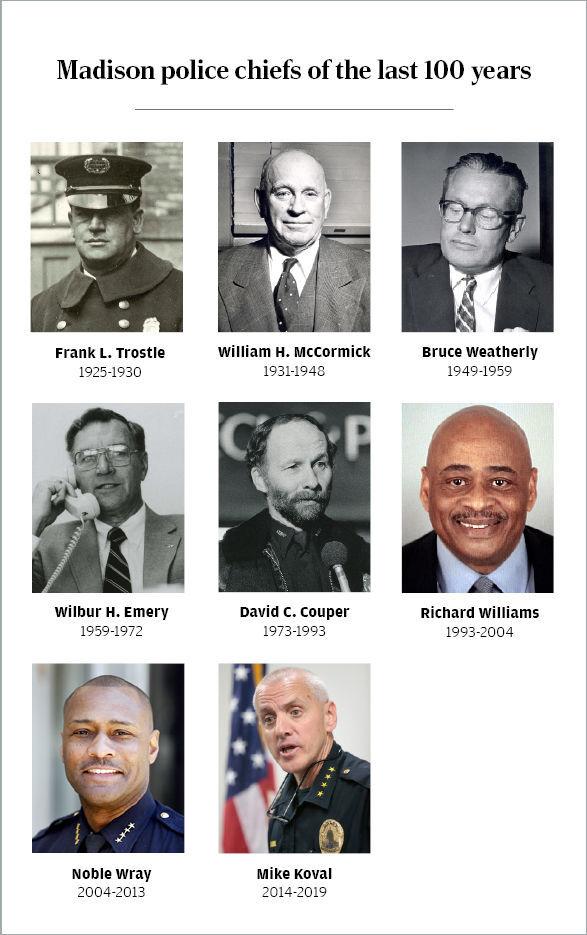 Building bridges
PERF is currently working with Madison and Louisville on their chief searches. These are the first searches the firm has conducted since Floyd's death. Over the past couple months, police chiefs in Atlanta, Louisville, Milwaukee and Portland, Oregon, have resigned, been fired or demoted.
After years of local police departments serving as an "agency of last resort" — tasked with responding to everything from car accidents to mental health crises and homelessness — Dean Esserman, a senior counselor at the National Police Foundation, said cities across the country are reflecting on the role police play in their communities. 
Regardless of the location or the extent to which some communities may be reimagining how their departments serve them, Esserman said some characteristics are timeless.
"What I've observed is that, first and foremost, a community is looking for a police chief that they can believe in. They're looking for trust and legitimacy," Esserman said. "Someone who is a person of integrity."
Second, he said communities are looking for someone who can lead a department and be a part of the community — and not set apart. He believes a chief can only do the job well if they're in it for the long haul. 
"It takes years to build trust and days to lose it," Esserman said. "You need to achieve a commitment to stay for a while because if you're going to build trust, you need to sustain it."
Esserman said the debate for a community first is what they want in their police department before deciding what they want in that department's leader.
"Are they looking for a change agent or are they looking for someone to build, change, maintain?" Esserman said.
Madison's police department is known for being a historically progressive police department and the cradle of community policing. MPD is "ahead of the curve," according to a comprehensive outside consultant's report of the department in 2017.  
Findley said Madison should have a chief who is deeply committed to diversity and willing to repair distrust that has developed with these communities. The new chief should also be responsive to concerns of people of color and inclusive in working with those community members.
"One of the big challenges that the police in Madison face right now is a deterioration of trust in some of Madison's more marginalized communities," Findley said. "We have to have a chief who's really attentive to building those relationships, while at the same time, of course, it has to be someone who's capable of serving the entire community of people from all demographic groups."
Ayomi Obuseh, a youth activist who led summer protests against police brutality in downtown Madison, said she feels that there's a "loss of hope" among her peers. She wants to see a police chief who will commit to action.
"To begin creating any type of bridge, you'll have to show action on your part," Obuseh said. "There has to be some efforts made, some of our demands being met, to begin a conversation."
Obuseh said this includes a commitment to implementing the 177 recommendations from the resident-led ad hoc committee and listening to community demands, such as firing officer Matt Kenny. Kenny shot and killed Robinson, who was unarmed, in 2015 and was later cleared of wrongdoing by Dane County District Attorney Ismael Ozanne and the MPD via an internal investigation.
The police chief doesn't have the authority to fire an officer. That power rests with the PFC.
Obuseh said she wants a chief who advocates for officers to be a part of the community through events like town halls. If police officers know the community well, she said it would minimize the "fear of a threat" when communicating with a person of color.
"I would want to see somebody that is heavily involved in the community, someone that has a diverse background, someone of color, preferably," she said.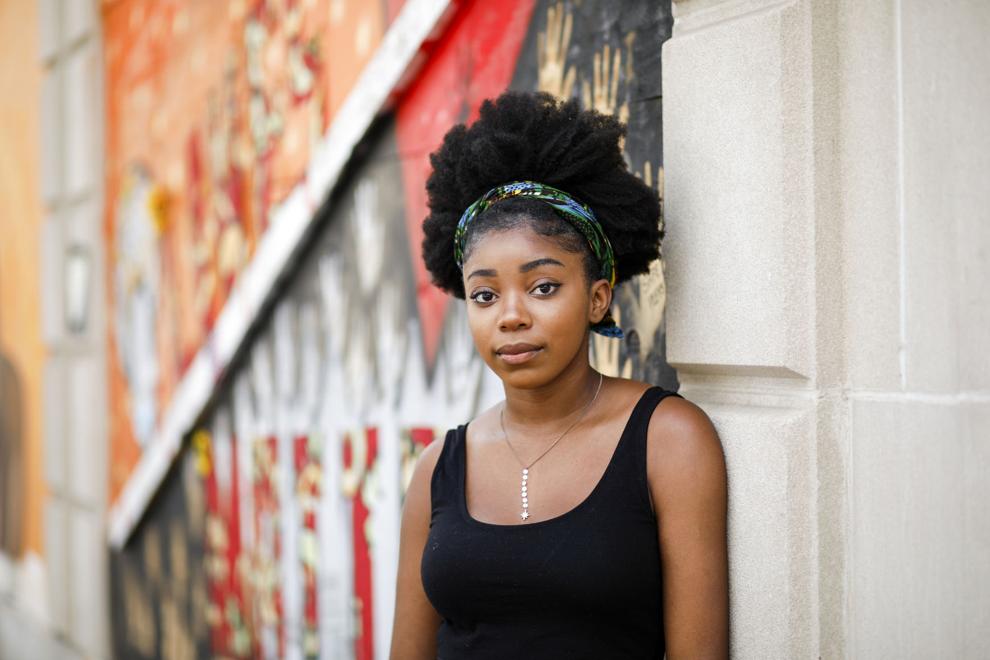 Hearing from Madison 
Commissioners have heard specific characteristics and actions that Madison residents want in and from a new police chief through a public input process that has included emails, surveys, virtual town halls and conversations hosted by the Local Voices Network. 
These have included someone with years of policing experience to someone from the community without a policing background, a commitment to demilitarizing the MPD and support for increasing non-police services and interventions.
Some call for a chief who will pledge to shift funding from traditional policing activities to community-based services like restorative courts and emergency response teams of medical and crisis workers. Others request a commitment to current MPD programs like the C.O.R.E. (Community Outreach and Resource Education) team, Madison Addiction Recovery Initiative and Amigos en Azul (Friends in Blue).
Another hoped for a chief who would not be afraid to praise, defend or discipline officers when necessary. Some prioritize knowledge of the department and would like to see candidates from within the MPD. 
While some believe in reforming police, others are calling for an end to the institution altogether. M Adams, executive director of local nonprofit Freedom Inc., believes communities need control over their own safety and that funding should be funneled from policing into communities.
Citing statistics showing Black people are disproportionately arrested by police, Adams said that won't end by "just hoping that there's a nicer or new person to be in charge" because the function of policing is the same. 
"What we have to do is end this existing relationship and this existing iteration of policing," Adams said.
On recent reform initiatives in Madison — the independent monitor and civilian review board — Adams said they could signal a move toward democratic control of public safety if the community truly has real power. 
"If not, I think they're just sort of wasting our time and resources," Adams said.
At a Sept. 14 meeting, the PFC discussed the variety of views they have heard throughout the search process. Some commissioners requested additional input from the community to inform their work, especially as the pandemic has made it harder to hear from those who are most affected by policing.
"It's always difficult to get the most marginalized people to be able to split their attention between their urgent needs and things like this," Commissioner Jacquelyn Boggess said. "They are the most impacted by the police and the institution of the police in whatever way that is. Whether it's wonderful or terrible, they are the most impacted."
Wray, the former Madison chief, said the new department head will have to engage and actively listen to community members in formal and informal ways. Also, the person should have a clear understanding of their own biases and the role they play in institutional racism.
A chief should also ensure officers are living out the ethics and values of the department, be competent and possess a character that builds trust. Wray said if someone is willing to listen, demonstrate empathy and "take different perspectives and come up with a way to move forward," that person could be a great chief."
Wray retired in 2013 from the MPD and has taken on a high-profile role as a consultant for the state Department of Justice and the Kenosha County District Attorney's Office as officials wrap up their investigation into the shooting of Jacob Blake.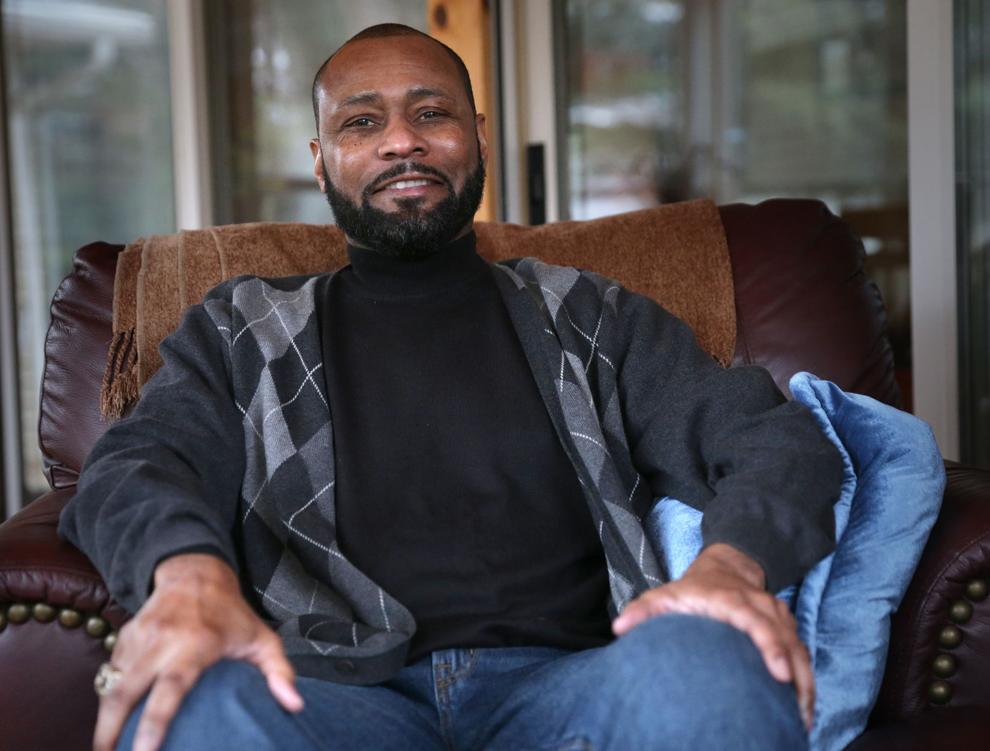 Another tightrope
As Madisonians project their ideal qualities onto a future chief, Wahl cautioned against unrealistic expectations.
"You've got to navigate an almost impossible task of trying to reconcile communities: the voice of the officers, elected officials, and try to be all things to all people. You can't really do that, but it's what is expected sometimes," Wahl said.
Meanwhile, officers are also considering what kind of person they can envision as a boss.
Rossetti wants to see a chief who knows policing and remembers the job of a patrol officer well in addition to having a wider background, possibly in social work or education.
He also has some advice for whoever gets the job.
"The first day the new chief comes, he or she should go into the neighborhoods, stay off the isthmus, stay away from the political," Rossetti said, to better understand concerns of working class residents.
Officer Gracia Rodriguez, who graduated from the MPD training academy in 2017, is looking for someone who is a leader, compassionate, understanding and cares about the department's officers. The Allied Drive neighborhood officer said a chief should prioritize building a team dynamic among officers before looking to the community.
"If you don't have that connection, then nothing is going to get done," Rodriguez said.
Officers want a chief who will support them, not yield to political pressures and, ultimately, stand up for them. Kelly Powers, president of the Madison Professional Police Officers Association, said this means confronting tough decisions that come up with local government officials.
Powers, who has worked for the MPD for 14 years, said the chief's biggest obstacle will be navigating relationships with the City Council and mayor while also boosting the department's morale.
"A happy police department is an effective police department, and one with poor morale is one that has a very difficult time getting things done," Powers said. "Because of the political climate we're sort of in a situation where morale is low, and it makes for sort of this systemic environment where if you don't believe that you're going to be supported by a chief or by local government, it's difficult to maintain."
In a memo to the PFC, Powers wrote on behalf of the union that a chief who can "provide clear assurances" to its memberships that their voices will be heard is critical given the unprecedented pandemic and protesting in Madison over the summer.
Also, Powers said MPD officers want a chief who will challenge "unfounded negative rhetoric regarding our agency, such as the public assertions of some that claim police brutality by the Madison Police Department is rampant."
"Our members recognize that the ability to do this is crucial to preserving the department's integrity and the morale of the officers that serve it, and that it requires a chief that is credible, direct, factual, and diplomatic," Powers said in the memo.
Balancing the concerns of the community and MPD officers is "one of the many tightropes" a chief must walk, Wahl said. Looking inward can't come at the expense of excluding community input while listening to residents also can't disregard officers' concerns. 
"You won't be effective if the department doesn't have confidence in your ability as a chief or confidence that you're going to be fair and impartial, so it's a difficult balance because sometimes there aren't objective truths," Wahl said.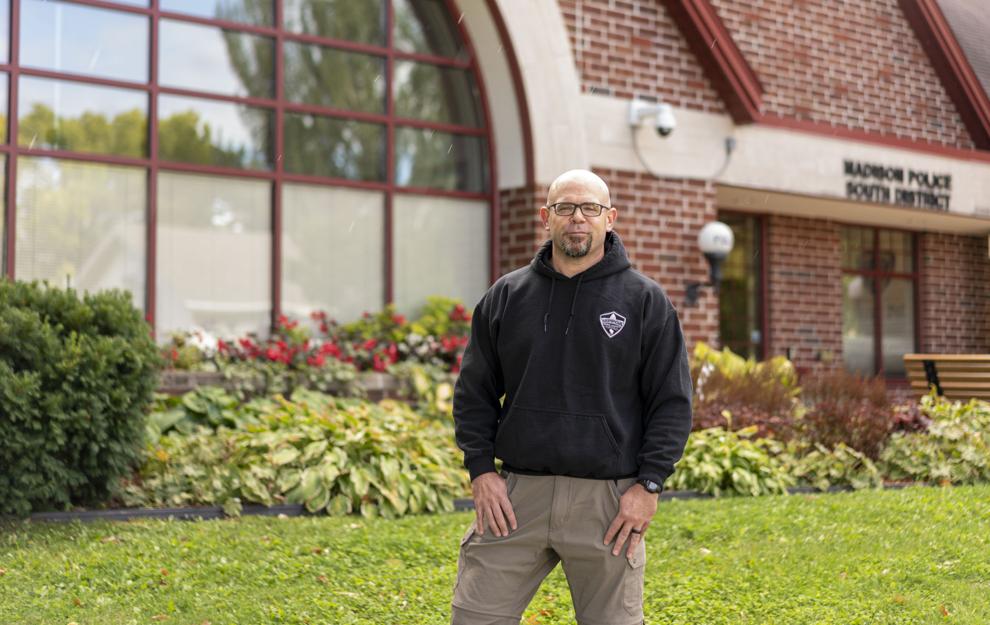 Opportunities and challenges
In Findley's view, Madison is facing a "bold new experiment" — where the chief would play a critical role — in its recently adopted civilian review mechanisms.
"The challenge will be for the chief to find ways to work with the monitor, to work with the civilian oversight board, to work with community members, to make this new system work," Findley said. 
But Findley also sees opportunities.
The monitor and board aim to be solutions to the divide between the department and some of Madison's communities that are most affected by policing, but are often the most distrustful. Findley said he hopes the new chief will see the independent monitor and oversight board as a gift.
"It provides a unique and new opportunity for engagement with those communities and for building trust and building relationships, and for listening, and for considering changes to repair broken relationships," Findley said.
The rest of the recommendations from the ad hoc committee, which serve as a strategic plan, provide another opportunity, Wray said.
"I believe that there's a great hunger to support and help a chief," he said.
For all the challenges facing the MPD, Wahl said the MPD offers a solid foundation on which the next chief can build. It's "far from a department 'in crisis,'" as the 2017 report pointed out.
"That piece of things I think would be very attractive to a new chief coming in because you have so much to work with," Wahl said. "We give a new chief a lot of ability to move forward and do a lot of really interesting things."
Share your opinion on this topic by sending a letter to the editor to tctvoice@madison.com. Include your full name, hometown and phone number. Your name and town will be published. The phone number is for verification purposes only. Please keep your letter to 250 words or less.