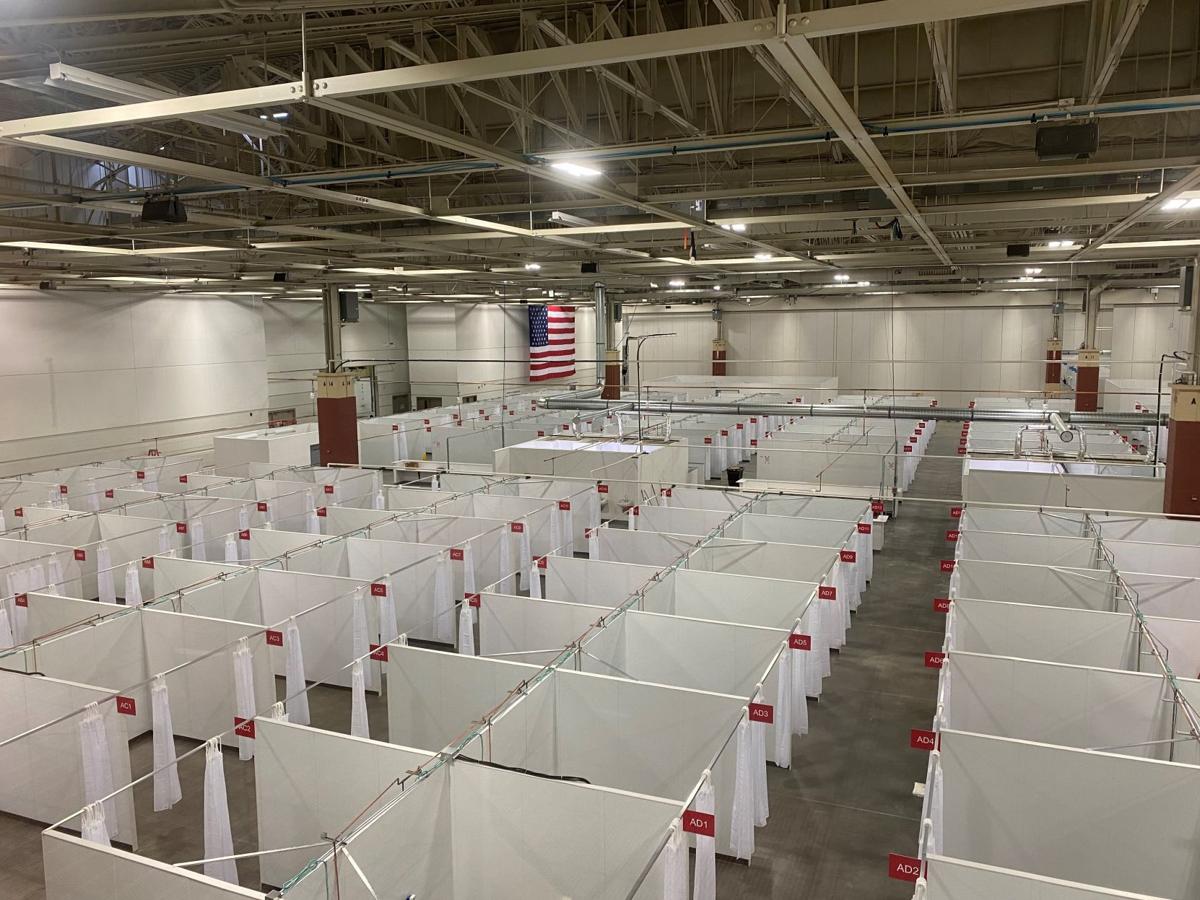 The number of hospitalized COVID-19 patients crept over 1,000 in Wisconsin for the first time Wednesday, and this week some of them are likely to be taken to a newly opened field hospital designed to take overflow from strained hospitals across the state.
Officials said the 530-bed care facility built in April just outside Milwaukee, but never utilized, was prepared to take its first 50 patients on Wednesday, but as of Wednesday afternoon, none had been admitted.
Deb Standridge, CEO of the Alternate Care Facility, said hospitals had been in contact with staff at the facility to arrange for patients to be transferred there as early as Thursday. To be admitted, the patients must meet criteria that includes being in the late stages of care, but not acutely ill. The hospital will take patients between the ages of 18 and 70.
"We've been fielding calls all morning, all afternoon to this time from area hospital and health systems," Standridge said.
Wisconsin Department of Health Services Deputy Secretary Julie Willems Van Dijk said the facility was opened because the state's overall health care system is "in crisis."
"Many of our ICUs are strained," she said. "And every region of our state has one or more hospitals reporting current and imminent staff shortages."
The Wisconsin Hospital Association on Wednesday reported a record 1,017 COVID-19 inpatients in the state, 58 more than Tuesday.
The state reported Wednesday that another 28 people had died from COVID-19 and 3,107 more contracted the disease, short of the record 3,279 cases and 34 deaths reported Tuesday.
Fifty-seven of the state's 72 counties are now considered to have "very high" disease activity, with a rate of more than 350 cases per 100,000 people. The remainder are at a "high" activity level.
As the numbers surpassed 3,000 for the third time in last seven days, a Sawyer County judge Wednesday issued a temporary injunction against Gov. Tony Evers' order limiting crowds in bars, restaurants and other indoor public spaces.
Sawyer County Circuit Judge John Yackel temporarily blocked Evers' order, which went into effect a week ago, that limited crowds at public places to 25% capacity. Yackel set a hearing for Monday on whether to make the injunction permanent.
Yackel was appointed to the Lincoln County Circuit Court by former Gov. Scott Walker in 2012, lost his bid for reelection in 2013, and won the Sawyer County seat in 2015.
The lawsuit against the order was filed by the Wisconsin Tavern League, the Flambeau Forest Inn and the Sawyer County Tavern League.
The injunction leaves jurisdictions without their own orders with no limitations on social interaction at a time with when the virus spread is worsening by the week. On Wednesday the seven-day average for new COVID-19 cases was 2,840, the highest yet.
Scientists and public officials fear that the injunction will hasten the spread of the virus.
"The limits were put in place because we have very high incidence of COVID-19 right now across much of the state," said UW epidemiologist Ajay Sethi. "It is a dangerous time to be in a crowded, indoor environment with people not in your household. If the injunction causes more opportunities for people to be in these situations, we will see continued acceleration of transmission."
Gov. Tony Evers in recent days has stepped up his criticism of inaction by Republican lawmakers, who haven't met to address the coronavirus crisis in six months.
On Monday, the Democratic governor sent a letter to Republican legislative leaders urging them to work with him to devise a plan to combat the COVID-19 spread. On Tuesday he said he hadn't gotten a response.
On Monday, a legislative committee met, but the objective of the meeting was to undo the social gathering limit. The Joint Committee for Review of Administrative Rules sought to force the Evers administration to submit the public health order into a form of an administrative rule, which would give the committee a chance to vote it down.
Ryan Nilsestuen, Evers' chief legal counsel, called it a "pointless exercise in order to make a political point."
Currently, the only statewide measure in effect to curb the near exponential spread of the coronavirus is a mask order, which is being challenged in court.
Evers issued the order in July, then extended it in September. The conservative Wisconsin Institute for Law and Liberty challenged him in court, losing the first round last week. In his ruling, St. Croix County Circuit Judge R. Michael Waterman, a 2015 Walker appointee, said if the Legislature wants to ax the mandate, it can do it with legislation. WILL pledged to appeal the ruling.
Also concerning for officials is President Donald Trump's plan to his visit Janesville on Saturday. The president, recently diagnosed with COVID-19 but reportedly recovered, is known for holding events where few attendees wear masks or practice social distancing. The rally is scheduled to take place at the local airport, in a county where officials estimated 958 active cases on Wednesday.
Officials point to such gatherings as one of the main factors fueling the spread, and some worry that the elimination of statewide orders will make matters worse.
"It sends a mixed message that fuels the pandemic fatigue that people are already feeling," Sethi said.