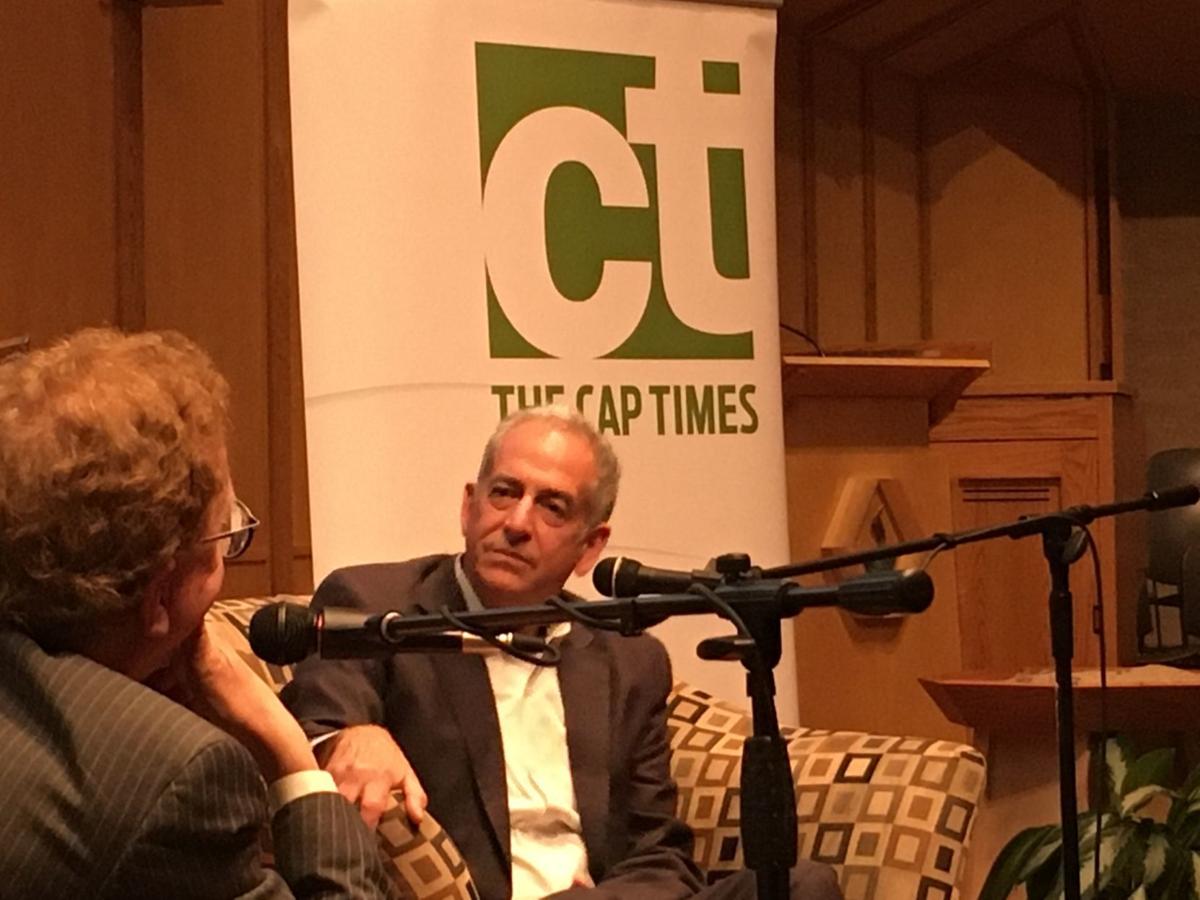 Former U.S. Sen. Russ Feingold has no plans to run for office again. But if a future President Elizabeth Warren offered him a Supreme Court seat?
"I'm always into public service, and if you have a Supreme Court seat to hand me …" he said Sunday before an audience of about 400 at the First Unitarian Society near the University of Wisconsin-Madison campus during a discussion with Cap Times associate editor John Nichols.
Feingold has been busy since the 2010 race he lost to current U.S. Sen. Ron Johnson in a Republican wave that turned Congress from blue to red. He stayed active in politics with a progressive PAC, authored a book and served as a special envoy to the Congo at a time of deep political and military unrest. He ran and lost again to Johnson in 2016 in the Republican wave that swept Donald Trump into the White House, and now serves as an ambassador for the Campaign for Nature, an organization that works to raise awareness about land preservation as 1 million species face the threat of extinction.
He also remains focused on politics, and he's ready to work with whoever becomes the Democratic nominee to get Trump out of office, even if that nominee is a billionaire who goes against Feingold's well-publicized efforts while in Congress to enact campaign finance reform, an effort that was eventually doomed by the 2010 Citizen's United Supreme Court ruling.
He said it's "heartbreaking" to see former New York Mayor Michael Bloomberg's attempt to win the nomination by spending vast amounts of his own money.
"I fundamentally believe if one person can put that much money into their own campaign, or give it to somebody else, it's fundamentally and inherently corrupt," he said. "But if I had to go for Michael Bloomberg over Donald Trump I would in a New York minute, as they say."
He's still torn between his preferred nominees, former Senate colleagues Elizabeth Warren and Bernie Sanders.
"I've been saying for months that if I had a ballot in front of me I'd vote for Elizabeth," he said.
But Sanders, he said, appears to have tapped into a progressive nerve.
"I believe that Bernie Sanders is potentially creating a miracle of turnout," he said.
And turnout, he said, is the likely formula for beating Trump.
"Yes you should try to convince people that voted for Trump," he said. "But I have a little trouble understanding people who voted for Trump. And there are so many people from diverse backgrounds and others who, if they feel that the political process is open to them, they will vote."
He brushed aside concerns that Sanders' identification as a socialist will drag down his campaign.
"I think we need to go to the wise words of Mick Mulvaney: 'Get over it,'" he said. "He's a socialist. So what?"
Nichols pointed out that the Democratic National Convention this year will be held in Milwaukee, a city run by socialists for 50 years in the last century.
"Not just run by socialists," Feingold said, "but was known as the best-run city in the United States of America."
Also in Sanders' favor, Feingold said, is a renewed vigor since he suffered a heart attack last fall.
"It's the oddest thing, because I served with Bernie, and he was not the most fun guy," he said. "Ever since this heart attack, he seems very loose."
Feingold, seen in his day as part of a progressive group of newcomers in Congress, has embraced the  rise of an outspoken progressive wing of the U.S. House, most prominently Alexandria Ocasio-Cortez.
"It's heartening, and it's probably frightening for those on the right," he said. "Because this generation is going to make an enormous difference going forward, and I'm thrilled about it."
Republicans, he said, are waking up to the fact that demographics are working against them with growing numbers of young, diverse voters, and "even gerrymandering's not going to work anymore."
"They're just hanging on by their fingernails right now," he said. "They lost all the statewide races, and yet because of cheating they're able to keep the majority in the state Legislature. That's not going to last."
But he cautioned that a potential winning Democratic ticket will have to have a game plan, and that plan needs to include turning back the rightward tilt of the judiciary.
"You have to be prepared to win and know what to do right away," he said. "Because that may well happen, and we can't squander the time. One of the most important things is to get the new Democratic administration to immediately focus on judges."