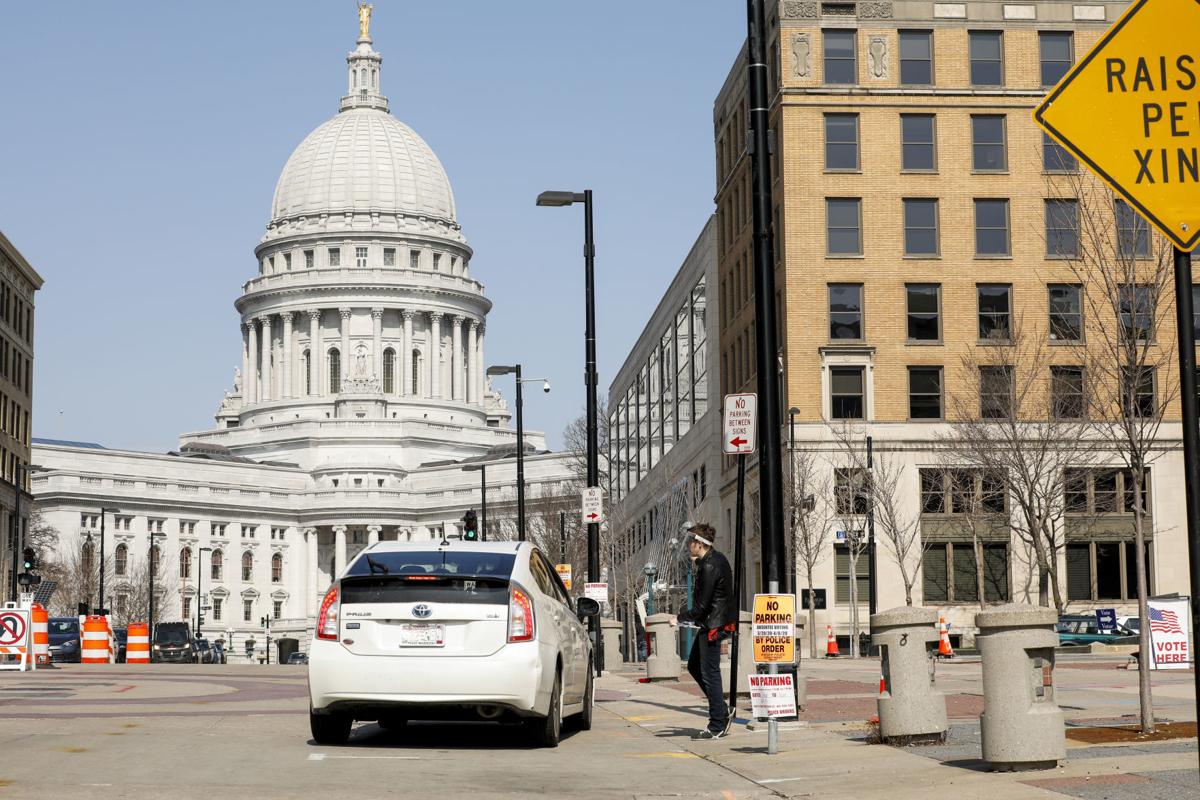 For an election conducted during a global pandemic that has claimed the lives of nearly 100 people across Wisconsin, local officials say success is relative.
Madison was able to operate 66 polling places, and 249 Wisconsin National Guard members were compelled to fill in for poll workers across Dane County who decided not to work on Election Day. Unlike in other parts of the state where voters waited for hours, people in the county were able to vote quickly.
"That part is going well," Dane County Clerk Scott McDonell said Tuesday about four hours before polls closed.
But operating a smooth election is relative during the unprecedented coronavirus pandemic. 
"There's tens of thousands of ballots here, and certainly statewide, that aren't going to get counted through no fault of the voter and that is unacceptable in a democracy," McDonell said. "If the voter didn't make a mistake, you don't penalize the voter and that's exactly what is going on here."
Madison City Clerk Maribeth Witzel-Behl said knowing that people were unable to vote, either in person or with an absentee ballot, is "disheartening."
"It's been incredibly frustrating," Witzel-Behl said. "For those voters, the perspective would be that this election did not go well at all because they have been disenfranchised." 
Local clerks faced tremendous pressure in never-before-seen circumstances. Witzel-Behl said clerks working full time in the office have been juggling the job of issuing thousands of absentee ballots, while also answering as many phone calls from voters as possible and managing other work.
"We did everything we possibly could to get those ballots out as quickly as possible," Witzel-Behl said. "We did our very best, but we're a small office and our very best just wasn't up to the demand of what was before us for this election." 
The state won't know the results of its presidential primary, Supreme Court race and thousands of local races, including for Madison School Board and the Dane County Board of Supervisors, until next week. 
At close of polls Tuesday, Madison recorded a turnout of 50.3% of registered voters. The clerk's office reported voters cast 87,552 ballots. Of those, the clerk's office counted 61,279 absentee ballots.
In the April 2016 election, which included a presidential primary, the clerk's office saw a voter turnout of 66%.
Over the next several days, clerks will continue to receive absentee ballots, which must be postmarked by April 7 and received by 4 p.m. April 13 to count. Witzel-Behl said her office will sort the ballots by ward and assign a voting number. Then, the Board of Canvassers will convene April 13 to count the ballots and to certify the election. 
Unlike other states that delayed or altered their elections scheduled during the pandemic, Wisconsin forged ahead Tuesday with in-person voting. Attempts by some state officials to make changes beyond a short absentee extension were overturned by courts.
Due to a U.S. Supreme Court ruling later Monday, those who wanted to vote via absentee ballot in the spring general and presidential primary had to have their ballots postmarked by April 7 and received by April 13 at 4 p.m., or hand-delivered as allowed under state law by Tuesday at 8 p.m., in order for them to count. 
Meanwhile, a federal judge had previously ruled that voters would be able to return an absentee ballot without a witness signature if they sent a note to their local clerk along with their ballot. But that was overturned by a federal appeals court decision, meaning anyone who returned their absentee ballots in that short time period without a witness signature would not have them counted.
Those individuals were also unable to cast a second ballot in-person on Election Day, Wisconsin Elections Commission Administrator Meagan Wolfe said this week. 
"This never should have happened," McDonell said.  
Despite the seemingly hour-by-hour changes the day before the election, Election Day in Madison saw staffed polling places and options like curbside voting to reduce long lines and person-to-person contacts. 
Mayor Satya Rhodes-Conway said this election is "far, far, far from ideal." 
"Given what we had to work with, I think the clerk's office and all the staff that has been working on the election has done a good job and put together a relatively safe voting experience," Rhodes-Conway said. 
That positive outcome is weighed against the "thousands, if not tens of thousand of people in Madison that were potentially disenfranchised," Rhodes-Conway said. 
In Milwaukee, just five of the city's usual 180 sites were open. In Green Bay, there were only two rather than the typical 31, and in Kenosha there were 10, down from 22.  
Several poll workers expressed a commitment to civic duty, with some signing up to work the polls after the coronavirus had its hold in Dane County. 
"People are committed to civic engagement, to good government and democracy here in Madison," Rhodes-Conway said. 
She also credited Witzel-Behl and the entire clerk's office for their commitment to reducing wait times on Election Day, expanding in-person absentee voting and educating residents on how to register and vote. 
"This is a process that has been going on for years," Rhodes-Conway said. "These folks are really on the front lines of democracy and they are, even in the worst of situations, making it possible for people to vote." 
Briana Reilly contributed to the report. 
Share your opinion on this topic by sending a letter to the editor to tctvoice@madison.com. Include your full name, hometown and phone number. Your name and town will be published. The phone number is for verification purposes only. Please keep your letter to 250 words or less.