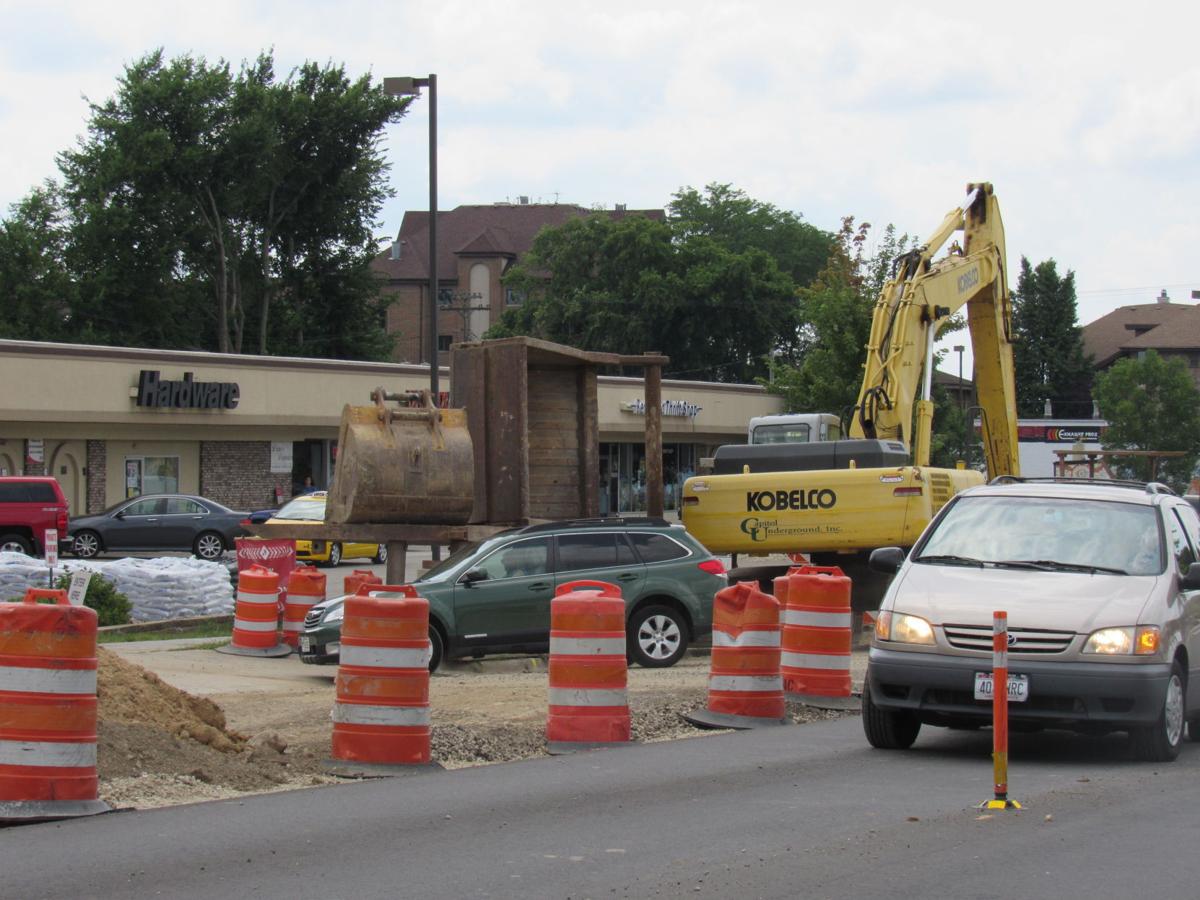 Cottage Grove and Buckeye roads on Madison's east side need to be reconstructed, but city officials disagree with their Dane County counterparts over who will be responsible for the roads in the future.
Though planning for the project has gone on for several years, a decision that would affect federal funding for the project is coming down to the wire. A regional planning organization will make a decision Wednesday on whether to transfer $4.4 million in federal funding slated for the reconstruction to other projects in the city instead.
Let's back up. What exactly is planned for these roads?
Buckeye Road from Monona Drive to Stoughton Road is planned to be reconstructed in 2019 with two travel lanes, bike lanes, a parking lane, curbs and gutters. Sidewalks will be added to the south side and reconstructed elsewhere as needed.
"The pavement is in poor condition on both streets, especially Buckeye," city engineer Rob Phillips said. "There's also some sidewalk deficiencies."
Following reconstruction in 2020, Cottage Grove Road from Interstate 39 to Sprecher Road will have four travel lanes, bike lanes, grassy medians, curbs and gutters. Sidewalks will be added to missing segments and reconstructed elsewhere as needed.
Street lighting, storm and sanitary sewers and water mains will be constructed or replaced on both roads.
But these roads run through neighborhoods in Madison. Why is Dane County involved?
Buckeye and Cottage Grove roads are also county trunk highways AB and BB, respectively. Currently, the segments of these roads within the city boundaries are primarily maintained by the county.
Madison and Dane County have agreed to share the cost of the project.
The total cost, including design and real estate fees, for Buckeye Road is estimated at $4.7 million and at $7.6 million for Cottage Grove Road. The city has requested that Dane County fund approximately $1.25 million and $1.17 million for Buckeye and Cottage Grove roads, respectively.
Approximately $4.4 million in federal funds is also available for the projects.
If the city and county agree on how to pay for the construction, then what's the problem?
The crux of disagreement between the two governmental entities is over which one will be responsible for future maintenance and services like snow plowing.
Dane County's policy is to consider a jurisdictional transfer — when responsibilities shift from the county to a city, town or village — when a roadway segment is improved to urban standards entirely within one municipality. The county could also consider transferring responsibilities when multiple jurisdictions agree to maintain a segment.
County officials argue that the policy is needed to to keep up with growth and to keep roads maintained as effectively as possible.
"We are adding county lane miles even as we transfer roads in other municipal areas," County Supervisor Jeff Pertl, District 17, said.
Dane County broadly supports transferring the roads to the city, meaning that Madison would be responsible for all future maintenance and operation costs of the roads.
However, Mayor Paul Soglin is adamantly opposed to any type of jurisdictional transfer, arguing that the roads are the county's responsibility. He also argues the county is forcing the city's hand by leveraging the reconstruction project.
"It is simply an attempt by the county to unilaterally divest from all highways in cities and villages," Soglin said in a statement July 16.
It sounds like Dane County and Madison are at an impasse. Are there other offers on the table?
Dane County has suggested several alternatives including:
Incorporating changes or supplemental financial support to the jurisdictional transfer agreement, which could include delaying implementation or providing county-funded supplemental services for a fixed period.
Splitting jurisdiction of the road, meaning the the county would forgo the jurisdictional transfer of Cottage Grove Road if the city would be in charge of Buckeye Road.
Conducting a study to determine if more city or county residents use the roads.
A group of city alders and county supervisors have also offered a joint resolution in the hopes of reaching a compromise.
"What has basically happened is the evolution of a road chicken game," Pertl said at a city Finance Committee meeting July 30. "In the end, the question is, 'Who will blink to get their way?' and that's a bad way to make public policy."
Under a substitute joint resolution, the city would be responsible for routine maintenance of Buckeye Road, including snow and ice control and pavement patching, and the county would handle Cottage Grove Road.
In addition, the city and county would begin regular negotiations toward an agreement to address the ongoing dispute over jurisdiction of county trunk highways.
Supporters of the joint resolution were hoping to receive approval from the Finance Committee to push both parties to an agreement. However, the committee tabled the decision, leaning on a regional planning organization to first make a decision on the projects' funding.
"It just feels like we're jumping too far ahead with this resolution," Ald. Sara Eskrich, District 13, said at the meeting.
The Madison Area Transportation Board meets Wednesday at 6:30 p.m. at the Water Utility, 119 E. Olin Ave. in room A-B.
The board will be deciding whether or not to move federal funds targeted for the projects with funding shortfalls, including Pleasant View Road, East Johnson Street, Atwood Avenue and McKee Road.
Does the city see a way forward?
Phillips, the city engineer, said the city is looking into asking the planning organization to approve transferring funds for Buckeye Road to other local projects. Cottage Grove Road would remain funded with federal dollars.
Both the city and county would make up the majority of the loss of funds on Buckeye Road with the savings from other projects, Phillips said.
"With the funds moved, the Madison area does not have to worry about being penalized for not using the funds," Phillips said.
Phillips said Soglin has committed to designating funds in the 2019 budget to fund the Buckeye Road project locally, which would give the city more time to work out details with Dane County.
Local funds refer to both city and county dollars.
"The city of Madison does not intend to fund the full cost of the project," Phillips said.
Looking ahead, Phillips would like to see a more comprehensive approach to how the city and county deal with jurisdictional transfer.
"I think it's wrong to do these transfers on an individual project basis, rather, they should be done on a system basis," Phillips said.
Share your opinion on this topic by sending a letter to the editor to tctvoice@madison.com. Include your full name, hometown and phone number. Your name and town will be published. The phone number is for verification purposes only. Please keep your letter to 250 words or less.