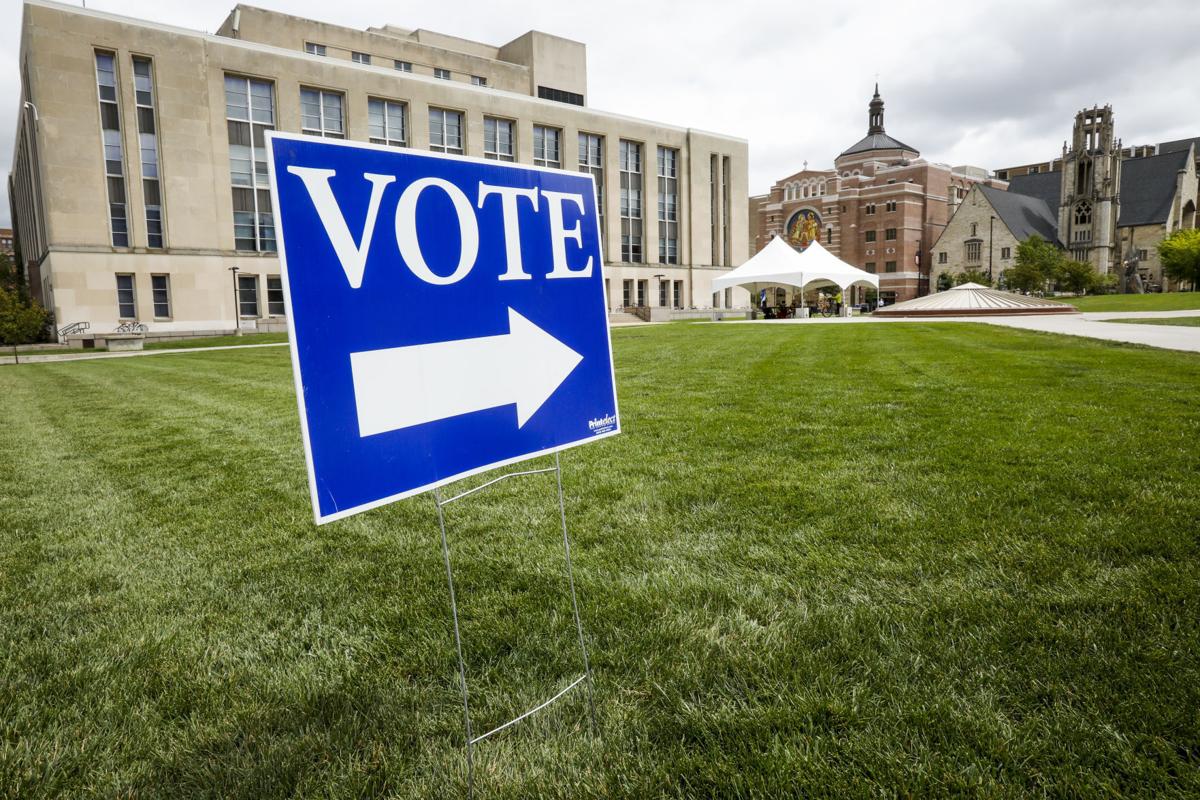 Two voting cases that have drawn national attention are set to be heard by the Wisconsin Supreme Court later this month, the outcomes of which could affect how some are able to vote on November 3.
One case, Timothy Zignego v. Wisconsin Elections Commission, dates back to last fall and concerns how the state deals with registered voters who have moved and how long it should be able to keep those people on its voting lists.
The other, Wisconsin GOP vs. Scott McDonell, centers on whether those who want to vote during the pandemic and are "indefinitely confined" must still show a photo ID.
What are the details and what could a ruling mean? Here are some questions and answers.
This case focuses on whether Dane County has the right to allow residents considered "indefinitely confined" to vote absentee without showing a voter ID. Wisconsin law requires all voters to show a voter ID to vote both in person and by mail. It does provide some exceptions for citizens to vote absentee without a photo ID, including if they are confined due to age, physical illness, infirmity or disability.
In March, the state Republican Party and executive director Mark Jefferson sued Dane County after Clerk Scott McDonell, told voters in the county that they could cast an absentee ballot without providing a photo ID by declaring themselves "indefinitely confined" due to the COVID-19 pandemic. McDonell made the statements ahead of the April 7 primary in a March 25 Facebook post while Gov. Evers' Safer At Home order was in effect.
At the time, Republican members of the Elections Commission warned both Dane County and Milwaukee County, which issued a similar exception, that their guidance violated the state's elections law and voter ID requirement. Before the lawsuit was filed, the full Elections Commission considered the guidance and deadlocked, split between Democrats and Republicans.
After the GOP filed the lawsuit, the Wisconsin Elections Commission advised that the "indefinitely confined" designation was appropriate for voters who are indefinitely confined because of age, physical illness or infirmity or are disabled for an indefinite period. It determined that the "designation of indefinitely confined status is for each individual voter to make based upon their current circumstance."
The Dane County Clerk's Office said it has heard from eligible voters — many of whom are older, in quarantine or living alone — who are unable to upload their form of identification to request an absentee ballot and do not have anyone who can help them.
But the state Republican Party contends that many voters will claim to be "indefinitely confined" even when they are not and skirt the state's voting laws, according to the suit and should have to show a photo ID, as state law requires.
Dane County's attorney in the case, David Gault, acknowledged the GOP's argument and said the Wisconsin Elections Commissions advice properly dealt with their concern. Because of that, the case should be rendered moot by the court and dismissed.
What does the Republican Party want the Supreme Court to do?
It now wants the court to issue advisory opinion on the issue, meaning it could apply to the Nov. 3 general election.
They want the Supreme Court to rule that Dane County did not have the authority to grant its voters an exception to the state's photo ID rule for voting and order the county to correct their earlier statements and require voters previously deemed "indefinitely confined" to show a photo ID.
What does Dane County say about that?
Dane County disputes much of the harm that the GOP contends was caused by McDonell's Facebook post and says that there is no evidence that it affected the results of the Spring election.
"The 2020 Spring election is over. Any arguments regarding the indefinitely confined status as applied to future elections is strictly hypothetical," Gault wrote in his response to the suit. If the lawsuit proceeds, the Wisconsin Elections Commission should also be a party to it, he argues.
Why does any of this matter?
If the state Supreme Court issues a broad advisory opinion on how voters who are confined because of the pandemic can vote, it could mean people don't end up voting because they're not able to get to a polling place on Nov. 3 to vote in person or might not be able to scan and send a copy of an ID into the clerk.
It could also mean that people the county previously allowed to register to vote without showing a voter ID because they were "indefinitely confined" may no longer be allowed to vote or would have to re-register with a photo ID.
Timothy Zignego v. Wisconsin Elections Commission
This case is about how the state maintains its lists of voters and how long it is allowed to keep people on the voter lists after they appear to have moved and/or have not confirmed their address.
In November 2019 the Wisconsin Institute for Law & Liberty, a conservative advocacy group, sued the Wisconsin Elections Commission in Ozaukee County Circuit Court on behalf of three Wisconsin voters: Timothy Zignego, David Opitz and Frederick Luehrs III.
WILL argues that the election commission illegally changed how it maintains statewide voter information by keeping those who appear to have moved on the rolls for too long and, by doing so, violated a state law that says "Upon receipt of reliable information that a registered elector has changed his or her residence to a location outside of the municipality," the municipal clerk must send the resident a letter to check that.
If the resident does not respond within 30 days, the law states that the clerk "shall change the elector's registration from eligible to ineligible status." It does not specify the timeline in which the state must do so. The commission has said the law only requires that Wisconsin maintain the rolls but doesn't specify how voter maintenance should be conducted.
How does all this voter information tracking work?
After every election the state is required by state law to maintain and update voter records, meaning it checks to ensure registered voters still live at the address for which they registered.
Wisconsin does this through a nonprofit made up of member states called the Electronic Registration Information Center, which it joined in 2016. Through this, state officials reach out to so-called "movers" or Wisconsin registered voters who told a different government agency they've recently moved to confirm their addresses.
The system has caused some controversy in the past because it has flagged voters for removal who should not be removed, meaning that voters show up at the polls and have to reregister before they can vote.
What triggered this case?
The state has been culling the state's voting lists of hundreds of thousands of voters who changed their address or died since at least 2017.
In 2019, Wisconsin elections officials flagged 234,000 registered voters as "movers" and reached out to them in early October. But rather than removing them from the registered voter rolls within a month, the commission decided to instead keep them on an active list until after the April 2021 election. At that time, those who haven't voted or re-registered would be deactivated.
The Elections Commission has said that it is confident is is complying with state law and says it made decisions about how to take inactive voters off the rolls in 2019 based on what it learned in 2017.
What does WILL want and what have other courts said?
The WILL suit seeks to require the commission to change the registration status of any "movers" from eligible to ineligible if they didn't respond to the October notices within 30 days and acknowledge that the commission failed to follow state law.
An Ozaukee County Judge ruled in favor of WILL but the state's Court of Appeals disagreed and reversed the decision.
WILL asked the Supreme Court to review the case and the state's high court did so in December, but split 3-3. Justice Dan Kelly recused himself in that go around because he was on the ballot for reelection in April. WILL asked the court to again review the case ahead of the general election and in June the court agreed.
Why does any of this matter?
If the Supreme Court sides with WILL, it could jeopardize the eligibility of more than 200,000 registered voters by quickly taking them off the rolls, thus not allowing them to cast ballots until they re-register. If voters are ultimately removed from the rolls, individuals can re-register in-person on Election Day, by mail or online at myvote.wi.gov, a site where voters can also check if they're already registered.
In 2016, President Donald Trump won the state by less than 23,000 votes over Democrat Hillary Clinton so voter eligibility is a top issue for both parties as the election draws nearer.
This article has been corrected to show that the Dane County case was filed in state, not federal court and the content of the clerk's original Facebook post. 
Get Election 2020 & Politics updates in your inbox!
Keep up on the latest in national and local politics as Election 2020 comes into focus.