Wearing a cowboy hat and carrying a handmade cardboard sign with "Avenge AZ" on one side and "Restore the VRA" on the other, a statement about long lines and other voting problems in Arizona last week, Cruz Morales was an enthusiastic spectator at the Bernie Sanders campaign rally in Madison Saturday.
Jumping in a circle with friends while chanting "I believe that we will win!" or simply holding his sign aloft for the television cameras perched on a platform a few feet away, Morales said he was an early supporter of Sanders' candidacy.
"Probably the minute he announced he was running," Morales said when asked when he decided to back Sanders. "I don't really like Hillary (Clinton) at all."
Morales traveled from Chicago where he works with the Resurrection Project to attend Saturday's event, joining a crowd of over 8,000 at the Alliant Energy Center's Exhibition Hall just over a week before the Wisconsin primary election on April 5. The primary has taken on new importance in light of Sanders' victories in Washington state and Alaska Saturday. Polls have him and Hillary Clinton running neck and neck in Wisconsin.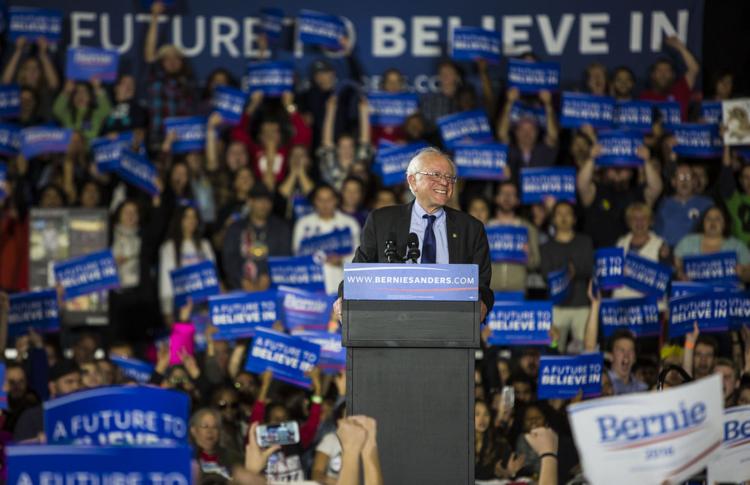 Hillary Clinton still holds a formidable lead in the delegate count, but the Sanders campaign remains competitive and Saturday's results had him repeating the phrase "this is what momentum looks like" throughout and facing questions about his electability head on.
"Here is a simple truth and an important truth: Hillary Clinton and I agree that it is absolutely imperative that no Republican make it to the Oval Office," Sanders said. "But where we do not agree, and I think the evidence is quite clear… one of our campaigns has created an enormous amount of enthusiasm that will lead to a tremendous voter turnout in November. That campaign is our campaign.
"I believe that our campaign is the campaign of energy, momentum that will lead to a large voter turnout in November and victory."
A parade of local progressives spoke before Sanders took the stage, including David Newby, retired president of the Wisconsin AFL-CIO, who spoke to the lack of official endorsements Sanders has secured from labor unions.
"After last night, we know even the birds in the field support Bernie now," said Newby, referring to video of a bird landing on Sanders' podium as he spoke in Portland Friday. "If you don't know what I'm talking about, go home and Google Birdie Sanders."
An African drumming and dance troupe and a Native American dancer in tribal dress also performed.
In his speech, which lasted nearly an hour, Sanders appealed to groups represented by his opening acts, and others, listing issues of importance to African-Americans, Latinos, Native Americans, the LGBT community, organized labor, women and young voters.
"We have been told for a long time that young people are supposed to be apathetic, that they're not interested in helping decide the future of this country," he said. "But that is not what we are seeing in this campaign."
Sanders also took opportunities to call out Wisconsin Gov. Scott Walker, a failed Republican presidential candidate, particularly on campaign finance and voter ID.
"Democracy means one person, one vote. And whether Gov. Scott Walker likes it or not," Sanders said, pausing as the crowd jeered, "that is exactly what we are going to bring to every state in this country, including Wisconsin. I say to Gov. Walker and all the other cowardly Republican governors, if you cannot win by participating in a free and fair election where everybody votes, get out of politics."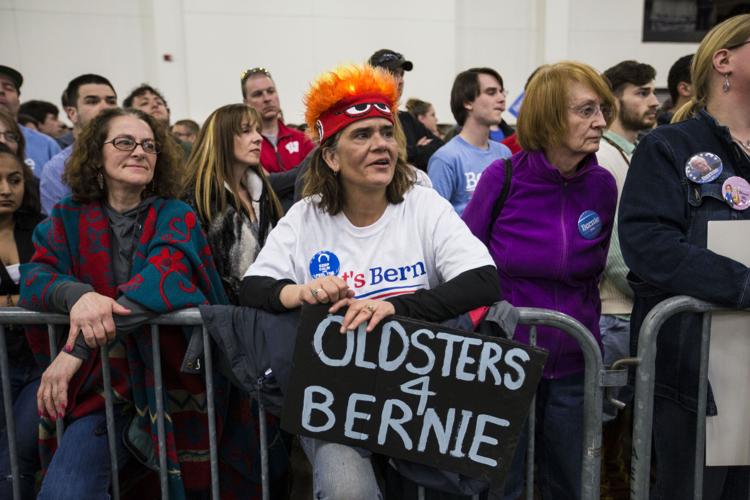 JoAnn Masche-Daane drove to Madison from Beaver Dam for her first ever political rally, wearing a wig with hair that had the appearance of flames shooting out of a headband that read "FEEL THE BERN." She echoed a frustration with the country's political landscape that many believe Sanders is tapping.
"I was never really interested in politics before, but that is changing this year," she said. "I started watching Bernie and he's frickin' right!"
She has been making calls on behalf of the Sanders campaign from her home, but said she's discouraged that so few of her friends and family members are as engaged as she is.
"It's the Trump show!" she said of most campaign coverage, referring to Republican frontrunner Donald Trump. "We look like buffoons. Bernie's doing amazing things and we never hear about them."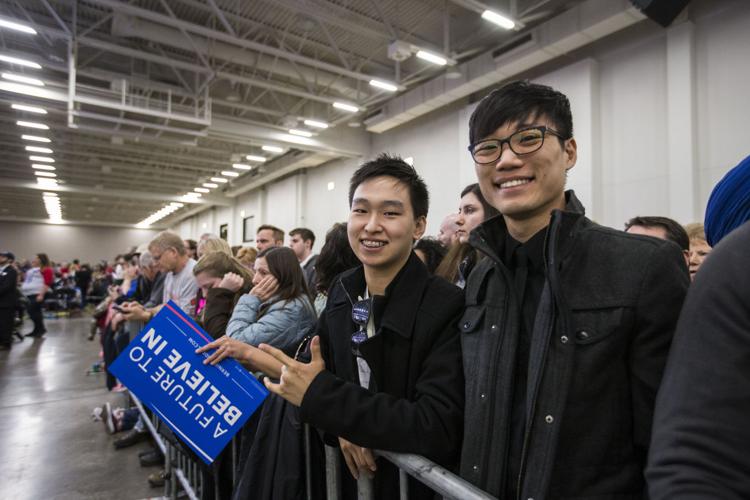 University of Wisconsin-Madison students Matthew Kim, a sophomore history major, and Jay Choi, a senior political science major, told a different story, classifying interest in the election among their classmates as "big time."
"We've watched the debates and seen him on TV, but I'm interested in seeing how he relates to Wisconsin and if he cares about what we care about," Kim said.
He will be voting in his first election in November and said he came to the rally because he "didn't want to be a spectator this year or just go with the flow."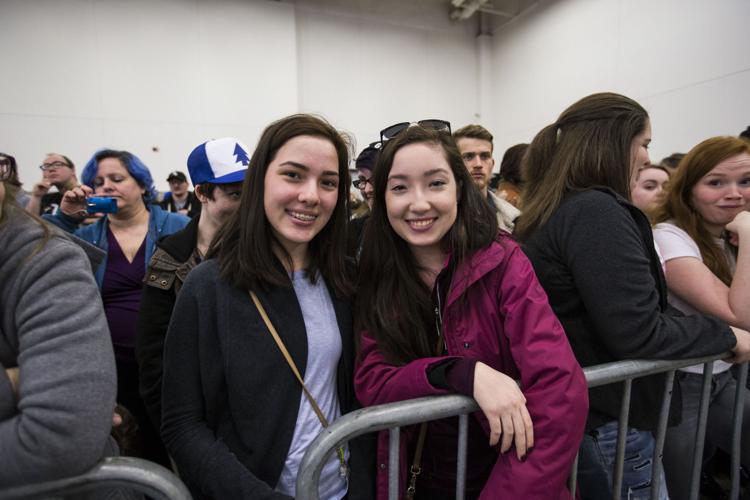 The same was true for Naomi and Eden Foster, 16-year-old twin sisters from Madison's west side. The Memorial High School sophomores won't be old enough to vote in November, but are lobbying their older friends and family members on Sanders' behalf.
"We've been watching the debates and having our own around the dinner table at home," Eden said.
"Our parents are more conservative, but they've been supportive of our interest in politics," Naomi added.
Coverage of the Sanders rally appeared on several national outlets Saturday, keeping the attention of the national political media on Wisconsin for another day. Republican Ted Cruz spent two days in the state last week and Hillary Clinton, John Kasich and Donald Trump are due here the first part of this week.
And while they won't admit to being interested in anything short of a victory in the general election in November, Sanders fans are excited that he remains in the thick of the action at the end of March.
"Today we have won great victories in Washington, in Alaska — we don't know yet about Hawaii," Sanders said. "Last week we won huge victories in Idaho and Utah and now we are coming big time into Wisconsin."