Enacting rule changes in extraordinary session bill would depart from flexibility of Walker's executive branch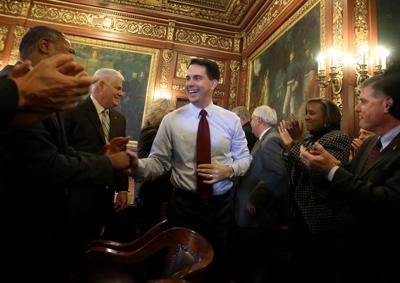 Two aspects of one extraordinary session bill awaiting action by Gov. Walker involve altering a lesser known, though important function of state government: how executive agencies interpret and enforce administrative rules.
Throughout his tenure, Walker has largely championed this approach, arguing that a flexible executive branch with less bureaucracy is better for taxpayers and makes government run more efficiently. If Walker approves the extraordinary session bill SB 884, it would be a departure from the way he has led and defended the executive branch over the last seven years.
Portions of the bill would reduce the flexibility agencies have in interpreting administrative rules and running their own programs. The result would be higher costs, unfunded requirements and possible lawsuits, according to several state agencies. 
Walker has not indicated whether he supports the changes to interpreting administrative rules, but has vetoed numerous past attempts by the Legislature to require more reporting from executive agencies. On Thursday afternoon, Walker called for the bills and now has six days, not including Sunday, to act on them. He could sign them or veto them in whole or in part. 
One provision in the extraordinary session bill, SB 884, would require most state agencies to create formal "guidance documents" for the public anytime they implement an administrative rule. In addition, the agency would need to hold a public comment period on the document for up to 21 days. "Guidance documents" would be used to explain to the public what an administrative rule means and how it should be applied. 
Another provision in the bill would ban state courts from relying first on an agency's interpretation of state law. This means that if a member of the public disputes the way a state agency is interpreting one of its administrative rules, a judge would be prohibited from putting any weight on the agency's interpretation of its own rules when making a ruling. 
Administrative rules don't often get attention from the press and the public, but there are thousands of them across state government. More are created through a specific rule-making process, while others are rolled back — often at the behest of lobbyists — through bills. 
The extraordinary session proposals regarding administrative rules are not new. Both measures were enshrined in Assembly Bill 880 earlier this year, but the Assembly failed to pass the bill and it was never taken up by the Senate. 
Proponents of the changes, which include Americans for Prosperity, say more transparency and accountability is needed in how state agencies interpret and apply the rules. But in legislative documents attached to the Assembly bill, officials from several state agencies said both proposals — which do not include state funding to implement — would hurt executive branch decision-making and hamper an agency's ability to easily advise the public.
The state Elections Commission has said the "guidance document" requirement would significantly inhibit one of its core functions: offering advice to the public, candidates and local clerks on how best to follow election rules in the state. The commission currently corresponds with people looking for guidance on state elections laws over the phone or email. With the new rule, in order to answer a question about the law, it would have to create a formal document, give the public up to 21 days to comment on it, publish the comments and then issue the report with its advice.
Elections Commission interim administrator Meagan Wolfe wrote to the Legislature earlier this month that the "guidance document" requirement would be "counterproductive given the importance of creating guidance that is understandable to a broad audience of election officials and voters."
Nine of the 12 agencies that opined on AB 880 when it was debated said the new requirements would increase costs, though several were unsure by how much. Most agencies said the requirement would create uncertainty in how it budgets and allocates staff. They also said it would likely result in lawsuits centered around disagreements over how rules are interpreted. It would require staff to be re-trained in how they interpret law and implement state programs. 
Here is a selection of how some agencies said the proposal, when it was AB 880, would affect them:
Department of Health Services: The "guidance document" mandate would result in more than 700 reports, requiring reassignment of staff that would "likely result in a delay of other legal matters."
Department of Natural Resources: "The requirement that courts grant no deference to agencies could lead to increased litigation in the future, which would further increase costs for the DNR. The bill could also lead the DNR to increasingly engage outside experts during litigation, which would also increase costs."
Department of Corrections: The requirements would increase costs though "DOC is unable to predict how many situations will rise in which these requirements will have an impact."
Department of Transportation: Both requirements would increase costs, but it's unclear by how much. "The amount of these increased costs cannot be calculated … it cannot be known how much litigation will result from this bill."
Department of Public Instruction: Both requirements would result in an indeterminate increase in costs, which it would be unable to absorb in its current budget. "State agencies, including the Department of Public Instruction, would likely experience a significant increase in workload in order to comply with the changes associated with the issuance of guidance documents... The removal of deference in judicial review will create significant issues on a variety of fronts, including matters of public safety (being able to revoke teacher licenses, increased costs and inability to recover funds from bad actors)."
Though Walker has signaled general support for the extraordinary session bills, he told reporters earlier this week he would issue some vetoes. 
In a message on Facebook on Monday, Walker outlined his criteria for considering the bills:
"Does it improve transparency? Will it make it easier for people to know what is going on in their government?
Does it increase accountability? Will it continue to put checks and balances in place to ensure that state government is accountable to the hardworking people of Wisconsin?
Does it affirm stability? Will reasonable agreements between the executive and legislative branches continue as well as items that are common practice?
Does it protect the taxpayers? Will it help ensure that those in government are good stewards of the taxpayers' resources?"
Here is a selection of the executive branch reports the Legislature requested in past budgets and Walker rejected throughout his administration, along with what he said about it at the time:
Report on outcomes of DOC work release program
"I am vetoing this section because I object to the creation of an additional mandated report which is administratively burdensome and would result in additional unfunded costs to produce."
Report from DOC regarding numbers of inmates with mental illness, how they're housed and an examination of whether more mental health resources are needed
"I am vetoing this provision because it is unnecessary and would create an administrative burden on the department."
Report outlining parameters for the local regulation of quarries
"I am vetoing these provisions because I object to inserting a major policy item into the budget without sufficient time to debate its merits."
Report on how four new state positions in information technology at the Department of Administration are being utilized
" I believe that placing reporting requirements in the statutes is both unnecessary and encroaches on the executive branch's responsibility to manage state agency programs within the statutes and funding levels set by the Legislature. This type of information can be requested by Legislators or the legislative service agencies at any time without creating an unfunded mandate in the statutes."
Annual report on the state's Self-Funded Portal, a web platform which the state manages with a private company. The Portal encompasses state websites that offer fees and services from which the state makes money.
"I am vetoing this section to remove the reporting requirement because I believe that it encroaches on the executive branch's responsibility to manage state agency programs within the statutes and funding levels set by the Legislature."
Report on fees associated with agency budget requests
"I am vetoing this provision because I object to these requirements as they are burdensome."
Report on the surplus money the state makes from its mental health institutions operated by the Department of Health Services
"I am vetoing these provisions as I believe they are overly burdensome for the agency and encroach on the executive branch's responsibility to manage state agency programs within the statutes and funding levels set by the Legislature."
Report on transfers and the balance of the Veterans Trust Fund and state veterans homes (requiring this is report is again before Walker in extraordinary session bill, SB 884)
"I am vetoing these provisions because I object to the creation of a series of additional mandated reports which are administratively burdensome and redirects valuable staff time away from care for veterans. Further, I believe these requirements encroach on the executive branch's responsibility to manage state agency programs within the statutes and funding levels set by the Legislature."
Specific requirement for agencies to submit budget requests that outline changes or needs in state funding
"I am vetoing these sections in their entirety because I object to these restrictions on gubernatorial flexibility to establish budget instructions in a manner consistent with his or her fiscal and policy priorities."
Report requiring all state agencies to review current programs and submit a plan to the Joint Finance Committee that identifies existing spending that could be decreased or programs that could be improved by using pay-for-performance contracts
"I am partially vetoing ...because I object to the department having to submit a report to the Committee."
Report from the Public Service Commission to the Joint Committee on Finance on causes of unspent money in its universal service fund and changes that could be adopted to reduce future universal service fund balances
" I am vetoing this section in its entirety because it is unnecessary. The commission already has the ability to utilize universal service fund revenues when determining telecommunication provider rates for the coming year."
Report from Department of Tourism to study tourism marketing
"I am vetoing this section because it is administratively burdensome."
Report on ambulatory surgical centers from the Department of Health
" I am vetoing this section because I object to the creation of unnecessary reporting requirements."
Report from the Department of Health Services to submit two reports to the Joint Committee on Finance regarding changes to the BadgerCare Plus coverage for childless adults
"I am partially vetoing this section because I object to these administratively burdensome requirements. In addition, these requirements may have the unintended consequence of limiting the administration's ability to negotiate the waiver amendment with the federal government."
Report on transfers to the Veterans Trust Fund and Mortgage Loan Repayment Fund
"I object to the inflexibility of the language. Setting such rigid requirements for the transfer unduly restricts the department's ability to ensure the solvency of the Veterans Trust Fund and Mortgage Loan Repayment Fund by transferring surplus revenues generated from the efficient operation of the state veterans homes … the Department of Veterans Affairs will determine the appropriate amount of the transfer necessary to maintain the solvency of the Veterans Trust Fund."
Report from the Department of Agriculture, Trade and Consumer Protection on the specific actions or administrative efforts the department has planned to reduce and eliminate the remaining deficit in the grain inspection program
"I am vetoing this provision because I object to requiring additional reporting requirements for a program that has been in deficit since the end of fiscal year 2000-01."
Report from the DOC on nursing services, including staff and costs for each facility and a summary of each contract for nursing services
"I am vetoing this provision because it is unnecessary and burdensome."
Report from the Department of Veterans Affairs as part of its 2013-15 biennial budget request, an estimate of the amount of revenues that will be deposited into the Veterans Trust Fund during that biennium and the recommended amount of money that could be transferred out of it
"I am partially vetoing this section to remove the requirement that the total recommendation for appropriation from the fund is not more than available revenue because it is overly limiting on the department ... such restrictions on the department does not work toward the goal of finding reliable revenue streams while maintaining services for Wisconsin's veteran population."