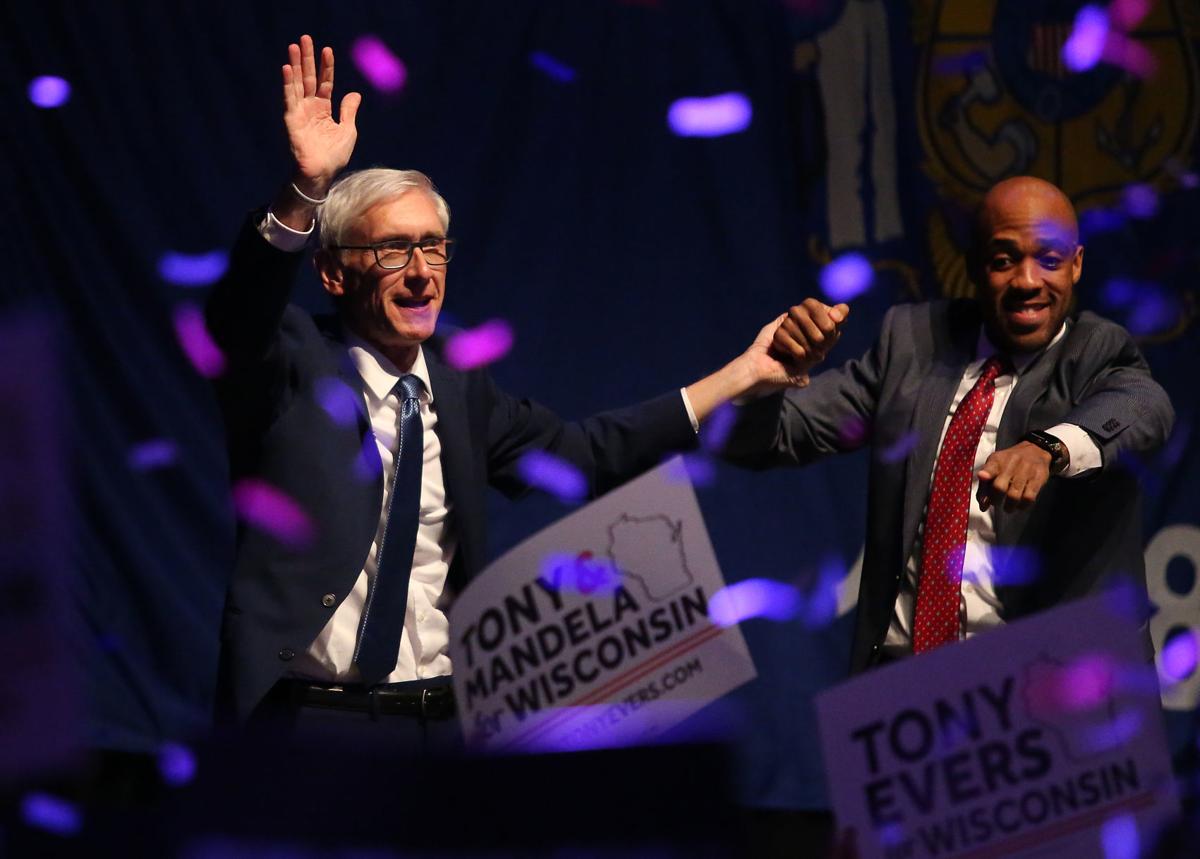 Amid the novel coronavirus pandemic, Wisconsin Democrats are implementing new ways to select the 97 delegates who will vote for the party's presidential ticket during the Democratic National Convention in Milwaukee.  
Originally slated for mid-July, the gathering has been pushed back by more than a month to the week of August 17 as the state continues to grapple with more than 2,500 positive COVID-19 cases. 
While other changes could be in store for the convention itself, state party officials are taking actions now, such as making the caucuses where delegates are selected virtual, to safeguard participants. 
The Democratic National Committee last week signed off on Wisconsin's plan, making the proposal DPW adopted March 18 official: all county and congressional district caucuses will now be held virtually, participants have to register ahead of time (by April 17 at 5 p.m.) and electronic ballots, rather than paper ones, will be used to vote. 
Meanwhile, the party has canceled all congressional district conventions and limited its annual statewide gathering to just one day: Friday, June 12. Chair Ben Wikler also has the ability to decide by May 1 whether to hold it in person in the Wisconsin Dells or virtually, though either way the business discussed will include just limited speeches and reports as well as the election of DNC members. 
Democratic Party spokeswoman Courtney Beyer said the changes showed officials were "prioritizing the health and safety of Wisconsinites above all else." 
"By making these changes, we can maximize participation even in the face of an unprecedented political environment like this," she said. 
Delegate selection avenues 
Selecting delegates during normal circumstances can be a complicated process. But the current crisis, and the ensuing virtual meetings, could confuse things further. 
The biggest chunk of delegates — 55 of the 97 — are chosen by county and congressional-level voters. And that's the arena where things could get tricky, as all of those events will be held virtually. 
As for the remaining delegates, 13 are automatic (otherwise known as superdelegates), meaning they are immediately chosen based on their posts. They include members of the DNC who legally reside in the state, as well as Wisconsin's top Democratic elected officials: governor, U.S. senator and U.S. representative. 
Another 10 are PLEOs. Those can include some of the biggest Democratic names at the state as well as local office-holders, and applicants are picked in preferential order from the top down: lieutenant governor, attorney general, treasurer, big city mayors (Madison and Milwaukee), legislative leaders, lawmakers, local elected officials and local party leaders. 
The remaining 19 are at-large delegates, in addition to two at-large alternates, who are all picked last by the state Dem Party's Administrative Committee. Members are charged with prioritizing individuals of color and those from historically under-represented groups. 
The PLEOs and at-large delegates are set to be selected at the state convenion site on June 12 before it opens. But that could change if officials opt to make the gathering virtual, like the county and congressional caucuses now are this year.
While selecting more than four dozen delegates in a virtual county and congressional district caucus setting will undoubtedly be difficult, Democratic Party of Dane County Chair Alexia Sabor applauded the move as "the right decision." 
"We do not want to be the party responsible for a super-spreading event," she said. 
The state's two-tier caucus system calls for prospective delegates who are Wisconsin residents and U.S. citizens to fill out a form by next week Friday at 5 p.m. if they want to run. Interested individuals don't need to be a member of the party, just identiy as a Democrat.
Separately, any voters or observers are also required to register for the caucus by that same deadline, according to the party. 
Counties are awarded delegate numbers based on a formula that takes into account previous Dem votes in that area. In the past, the size depended on interest, a DPW official said, and if fewer prospective delegates showed up than the number of spots were available, participants held a voice vote to approve them and moved on. 
In other cases, when there were more hopefuls than spots, rounds of voting would occur in which people were gradually eliminated and those that received a majority of support via paper ballot would be locked in. But now all that voting will occur over electronic ballot. 
Oftentimes, would-be delegates are encouraged to recruit their friends to also get elected at the county level, so those friends can turn around and support them during the CD elections. 
Those virtual county caucuses will occur over three different dates, per DPW: April 26, May 3 and May 10. It hasn't yet been announced which counties will be assigned to which dates, the party official said, adding that they would be told no later than April 20, when prospective delegates will also be notified.  
Those that pass the county level would then proceed to the congressional district process, which will be held virtually May 17. Voting occurs in much of the same way, as the overall delegate tally is further winnowed and delegates and alternates are selected, and only those from the county delegate pool can vote.
It's possible some counties may not need to hold virtual caucuses at all depending on how many delegate applicants they see, a DPW official said. Regardless, the official added party staff have volunteered to help run the virtual county caucuses, which are typically led by local party chairs
Share your opinion on this topic by sending a letter to the editor to tctvoice@madison.com. Include your full name, hometown and phone number. Your name and town will be published. The phone number is for verification purposes only. Please keep your letter to 250 words or less.