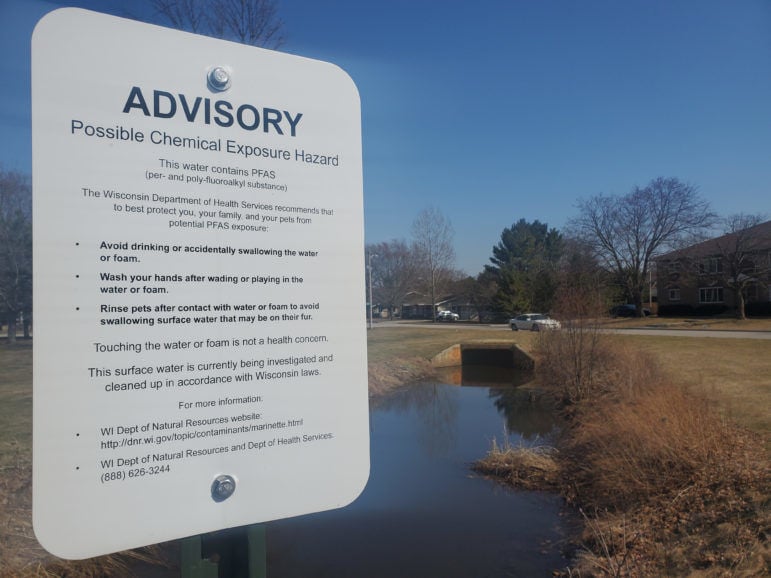 Wisconsin officials took another step forward in the fight against PFAS contamination — known as "forever chemicals" because of their ability to exist for centuries without breaking down — by hiring a California-based law firm last week to help the state investigate and pursue legal action in contamination claims.
The state Department of Natural Resources is currently monitoring about 50 sites with known PFAS contamination, the worst of which have been documented in the Marinette and La Crosse areas.
"Every Wisconsinite — whether they live in the Driftless, the Central Sands, the Northwoods, or in the heart of our urban areas — should be able to trust the water from their tap. Period," said Gov. Tony Evers in a statement. "But for far too many Wisconsin households that is not the case, and I am glad we are moving forward to hold polluters accountable so we can clean up our water and protect the health and safety of our communities."
Here's what the latest development means, and where the state is in addressing PFAS contamination.
Why did the state hire a law firm when it has lawyers in the Department of Justice?
If a legal matter is too costly, time-consuming or complex, the governor can choose to hire outside counsel — but only if he or she determines the decision will be cost-effective and in the public's best interest.
Evers and Attorney General Josh Kaul announced in January their plans to seek legal action against companies that have contaminated the environment with PFAS. The Department of Administration received 11 proposals from firms competing to take on the litigation. Sher Edling LLP submitted the lowest bid among finalists selected by civil service staff from the Departments of Justice, Natural Resources and Administration and was chosen, according to the DOJ.
The law firm bills itself as one that helps "clients hold polluters accountable for deceiving consumers about climate change, for contaminating the drinking water people rely on, and for threatening our communities and health with dangerous chemicals in our land, air and water."
"The addition of outside counsel will enhance our ability to get accountability from those who are responsible for the severe harms that PFAS contamination has caused in Wisconsin," Kaul said in a statement.
Remind me again what PFAS are.
PFAS — perfluoroalkyl and polyfluoroalkyl substances — are a group of chemicals found in firefighting foams and household products such as nonstick cookware, cleaning products and some food packaging. They've been in use since the 1940s, and have since been linked to cancer, reproductive problems, thyroid disease and other health issues.
Most people in the U.S. have some level of PFAS in their blood, according to the National Health and Nutrition Examination Survey, which has been measuring PFAS blood levels in the population since 1999.
Where is there PFAS contamination in Wisconsin?
There are about 50 known sites scattered throughout the state, but the highest levels have been observed in the Marinette area. The DNR is also paying special attention to the French Island area (near La Crosse) and parts of Madison and Dane County.
In Marinette, Tyco Fire Products — which has since merged with Johnson Controls — discovered in 2013 that PFAS had contaminated soil and water near its fire technology center, which has operated since 1962. In 2017, the company disclosed to the DNR that it believed the contamination had spread beyond the immediate vicinity of the plant. 
Tyco announced earlier this month that it has started construction on a water treatment system to extract PFAS from groundwater in the Marinette area.
What else has the state done about PFAS?
Some efforts have been made to pass regulations, but lawmakers generally haven't been able to agree on much. 
Evers declared 2019 the "Year of Clean Drinking Water," which included the creation of the Wisconsin PFAS Action Council. The Council released a set of recommendations in 2020 for state agencies to consider as they address PFAS contamination.
Also in 2020, the state Assembly passed a $10 million set of bills that sought to increase well testing, curb water contamination and bolster conservation efforts — but in spite of their bipartisan support, industry groups' concerns ultimately prevented them from passing the Senate.
Evers' 2021-23 budget proposal included millions of dollars for monitoring, testing and remediation of the chemicals, but the bulk of those provisions — like many others — were stripped from the plan by Republican lawmakers.
As the DNR seeks to regulate the contaminants, it also faces a legal challenge from Wisconsin Manufacturers and Commerce, which argues the agency is acting outside of its legal authority by requiring businesses to investigate and clean up "emerging contaminants" such as PFAS under two environmental cleanup programs. WMC, along with other industry groups, has expressed concerns with the justification and cost of proposed PFAS regulations.
Last month the DNR launched a "Safe Water for All" campaign to keep the issue in the public eye. The agency has scheduled three panel discussions in September and October to highlight PFAS and other contamination issues.
Share your opinion on this topic by sending a letter to the editor to tctvoice@madison.com. Include your full name, hometown and phone number. Your name and town will be published. The phone number is for verification purposes only. Please keep your letter to 250 words or less.