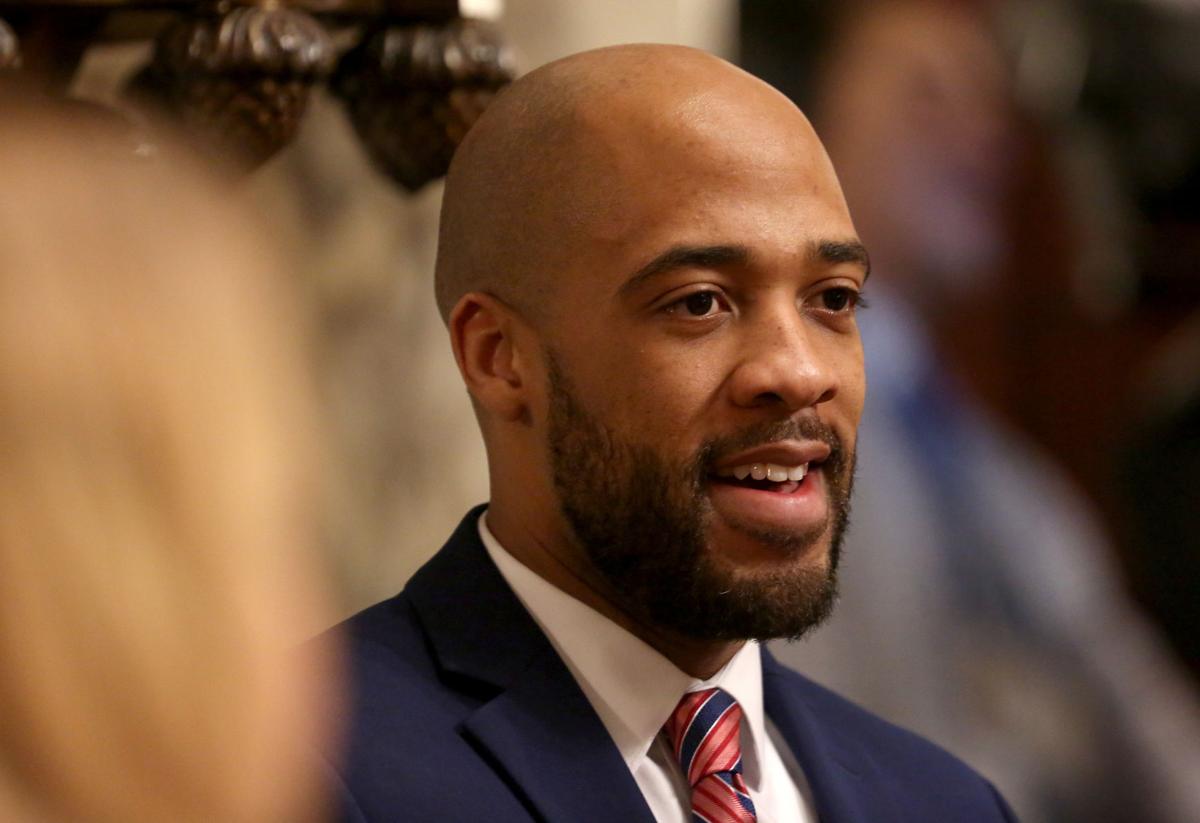 Wisconsin Lt. Gov. Mandela Barnes added his name to the list of Democrats vying to be the party's U.S. Senate candidate in 2022, with a rally cry to "change the game" and a pledge to make Wisconsin a place "where the doors of opportunity are wide open for anyone with a dream and the passion to carry it forward."
Barnes is arguably the highest-profile candidate to join the field in a race that, at least for now, centers on unseating Republican Sen. Ron Johnson — if Johnson decides to seek a third term.
"You don't need me to tell you — the U.S. Senate is broken. Sen. Ron Johnson is not delivering for the people of Wisconsin. He's joined by so many other cynical politicians who use false choices to divide us for their own political gain. But I know that 'We all do better when we all do better,'" Barnes said during his announcement speech at Sherman Phoenix, a business hub in Milwaukee owned by people of color, quoting the late Sen. Paul Wellstone of Minnesota. 
Barnes, 34, won the 2018 primary for lieutenant governor and went on to defeat Republican Gov. Scott Walker and Lt. Gov. Rebecca Kleefisch on a ticket with Gov. Tony Evers. 
Evers, who announced last month that he will run for reelection in 2022, issued a statement praising Barnes as "a good friend (who) has been a great partner working to address challenges facing our state," but did not offer an endorsement of his former running mate.
"At the end of the day, Wisconsin deserves better than someone like Ron Johnson, who's chosen to embrace reckless conspiracies that have risked public health and jeopardized our state's economic recovery. We're lucky to have strong Democratic candidates who are running to send him packing, and I look forward to supporting Wisconsin Democrats' choice to take on Ron Johnson in 2022," Evers said.
Barnes will be the first lieutenant governor to not run for reelection with a sitting governor since the state constitution was amended in 1967 to pair the offices as a joint ticket. 
He joins a crowded Democratic primary field that includes Outagamie County Executive Tom Nelson, state Treasurer Sarah Godlewski, Milwaukee Bucks executive (currently on leave) Alex Lasry, state Sen. Chris Larson, Wausau radiologist Gillian Battino, former state Senate candidate Adam Murphy and Milwaukee attorney Peter Peckarsky. Millennial Action Project founder Steven Olikara has launched an exploratory committee, and Milwaukee Ald. Chantia Lewis is reported to be considering a bid.
A former community organizer in Milwaukee, Barnes served two terms in the state Assembly after being first elected in 2012. He unsuccessfully challenged state Sen. Lena Taylor, D-Milwaukee, in 2016, and went on to work for the State Innovation Exchange before running for lieutenant governor. 
Barnes is the first Black lieutenant governor and the second Black statewide officeholder in Wisconsin. If elected, he would be Wisconsin's first Black senator.
The position of lieutenant governor can be as active — or not — as the governor and lieutenant governor want it to be, as its only constitutional duty is to succeed the governor if circumstances necessitate it. Evers appointed Barnes as chair of the Governor's Task Force on Climate Change, which issued a set of policy recommendations in December. Barnes also serves on serves on the Governor's Health Equity Council, Wisconsin Criminal Justice Coordinating Council, Wisconsin Missing and Murdered Indigenous Women Task Force, the Governor's Council on Financial Literacy and Capability and the statewide 2020 Census Complete Count Committee.
Barnes' announcement was followed quickly by an endorsement from Democracy for America, and from the Progressive Change Campaign Committee, which has also endorsed Larson. 
Republicans pounced on a tweet from Larson's campaign manager Justin Bielinski, who ran Barnes' 2018 lieutenant governor campaign: "Proud to be supporting the most progressive candidate in Wisconsin's Senate race, @ChrisJLarson. Someone who recognizes it's not about him — it's about what he can do to change lives for the better."
They also seized on a handful of unflattering headlines about Barnes from recent years, including criticism over unpaid parking tickets and overdue property taxes.
"'Make-it-up Mandela' Barnes has neither the maturity nor the temperament to represent Wisconsin in the U.S. Senate," Republican Party of Wisconsin spokeswoman Anna Kelly said in a statement.
Lizzie Litzow, spokeswoman for the National Republican Senatorial Committee, said, "While Wisconsin Democrats trip over themselves to prove who's more liberal, Senator Ron Johnson continues to work hard to bring common sense to Washington and fight for the people of Wisconsin."
Johnson has not said whether he'll run for reelection — but despite vowing in 2016 that his second term would be his last, he is considering it.
"I haven't made that decision. I don't feel any pressure to make it really anytime soon. I think I have plenty of time," Johnson said when asked about his plans for 2022 during a Milwaukee Press Club Q&A last month.
In a video announcing his campaign, Barnes is shown running through Milwaukee while advocating for family-supporting jobs, access to education, support for family farms, lower health care costs, climate change solutions and voter rights.
His Senate campaign message echoes a theme from his previous endeavors: bringing opportunity to every Wisconsinite, regardless of their ZIP code.
"We can't be satisfied to just get through another election cycle; we have to look toward the future," Barnes said in his announcement speech. "Defeating Ron Johnson is only Step One. We have to lead with our values, we have to lead with our vision, and change the game."
Share your opinion on this topic by sending a letter to the editor to tctvoice@madison.com. Include your full name, hometown and phone number. Your name and town will be published. The phone number is for verification purposes only. Please keep your letter to 250 words or less.