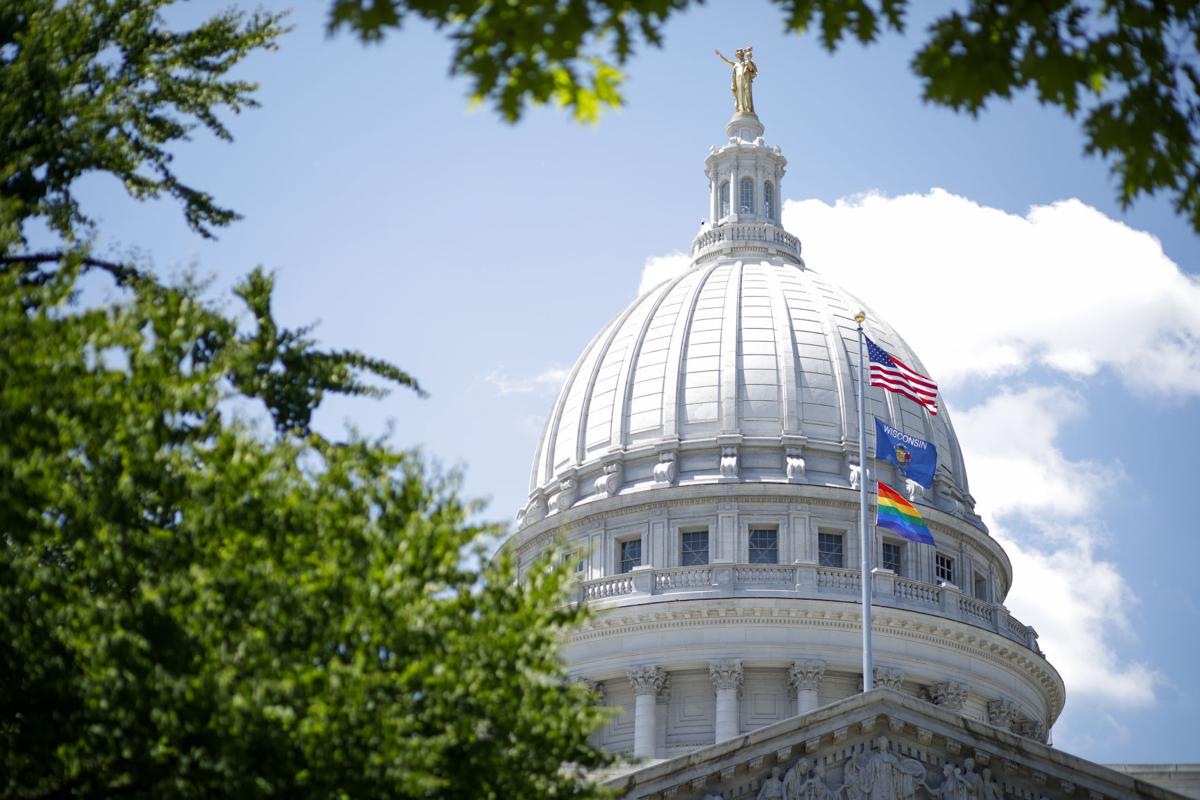 As the state Assembly is set to vote on legislation limiting transgender students' participation in sports, a group of Democratic lawmakers announced plans on Wednesday to introduce a set of proposals aimed at improving safety and equality for LGBTQ Wisconsinites.
The Legislature's LGBTQ caucus unveiled its "Equality Agenda" during a news conference hours before the Assembly was scheduled to vote on legislation that would bar transgender women and girls from competing on school sports teams that align with their gender identity.
"Our country has come a long way in accepting people for who they are, and it's been a long and arduous journey for the LGBTQ community — and it's our responsibility now, and my responsibility, and all of our responsibilities to stand up for transgender kids," said Sen. Tim Carpenter, D-Milwaukee. "I don't want them to go through the same things that I and other people of my generation had to go through."
The package includes several bills dealing specifically with how transgender people are treated in Wisconsin. One bill would ban discrimination on the basis of a person's gender identity, gender expression or gender nonconformity. Another would create a task force to study "the legal and societal barriers to equality for transgender, intersex, non-binary and gender nonconforming individuals in Wisconsin."
The package also includes resolutions designating March 31 as the Transgender Day of Visibility and Nov. 20 as a Transgender Day of Remembrance.
"By supporting these bills and educating the public, we can bring the day of full equality close to reality and improve safety for LGBTQ Wisconsinites," said Marc Herstand, executive director of the Wisconsin chapter of the National Association of Social Workers.
Another bill in the package would ban the use of conversion therapy — a practice that attempts to change a person's sexual orientation, gender identity or gender expression — on minors. According to the American Academy of Pediatrics, the practice "can provoke guilt and anxiety while having little or no potential for achieving changes in orientation." Several months ago, the Legislature voted to block implementation of a Department of Safety and Professional Standards rule banning the practice.
Rep. Greta Neubauer, D-Racine, highlighted a bill that would ban the "gay/trans panic" legal defense, which allows people convicted of violent crimes to claim self defense by arguing they panicked when learning of the victim's sexual orientation or gender identity. More than a dozen states have passed similar legislation.
"This bill is one of many things that that we can and must do to make Wisconsin a place where all of us can thrive," Neubauer said. "This bill is personal for me and my family because my younger sister is trans. She and all trans people deserve to live in a world that does not make it so hard to be themselves every day, and the least that we can do is prevent perpetrators from using who we are as an excuse for their crimes."
Also included in the Equality Agenda is a bill that has been introduced several times before, which would eliminate the state's constitutional amendment banning same-sex marriage. While court rulings legalizing gay marriage have rendered it unenforceable, much like the state's criminal abortion ban, it remains on the books. Another proposal would make statutory references to spouses gender-neutral and would, in some cases, recognize legal parentage for same-sex couples.
The LGBTQ caucus has also authored resolutions that would recognize June as Pride Month and recognize June 28 as the 52nd anniversary of the Stonewall uprising. 
Not all of the bills have been introduced yet, but Rep. Lee Snodgrass, D-Appleton, said no Republicans have signed onto the legislation that has been circulated.
Share your opinion on this topic by sending a letter to the editor to tctvoice@madison.com. Include your full name, hometown and phone number. Your name and town will be published. The phone number is for verification purposes only. Please keep your letter to 250 words or less.