Taking questions from reporters after a Feb. 20 event in downtown Madison, Democratic Gov. Tony Evers was asked about a report knocking his proposal to expand Medicaid released the previous day by "a conservative law firm."
"Well, I've dealt with that conservative law firm once or twice," Evers said wryly, going on to question the accuracy of the report.
Years before he was elected governor, the Wisconsin Institute for Law & Liberty was a thorn in Evers' side, suing him and otherwise challenging him in his capacity as state Superintendent of Public Instruction. Since Evers was elected governor, the organization has added five people to its team as it seeks to expand its footprint and serve as a leading opposition figure in the face of a new Democratic administration.
"What we're trying to do is have WILL be the leader in the conservative movement," said WILL executive vice president CJ Szafir. "We certainly understand with the recent losses that there's a huge void, and what we're trying to do is put together a team, maybe like the Golden State Warriors of the conservative movement, which is filled with high-caliber attorneys, communicators and policy analysts that are going to fight for (our) principles."
Conservative lawyer Rick Esenberg founded WILL in 2011, in part because he saw a need for an organized legal effort to defend conservative and libertarian causes. Esenberg, who serves as president and general counsel, returned to the Milwaukee area, where he was raised, after earning his law degree at Harvard Law School, then spent years as a litigator before teaching at the University of Wisconsin-Milwaukee and Marquette University.
With the help of a $500,000 grant from the Lynde and Harry Bradley Foundation, WILL launched as a law firm with a staff of three. In its first year, its budget was about $275,000, according to tax records. The organization now includes research and advocacy arms and employs 18 attorneys, researchers, writers and other staff, plus two contracted advisers. Its revenues peaked in 2015, at $3 million, after receiving a $1 million grant from the Bradley Foundation to launch its Center for Competitive Federalism. Szafir said the organization's 2018 budget is a little more than $2 million.
For the first time in WILL's existence, four of its employees registered earlier this year with the state's ethics commission to lobby in the state Capitol.
"It's a pretty dramatic expansion," said Mike Browne, deputy director of One Wisconsin Now — a liberal group that clashes frequently with WILL. "They're well-funded and well-connected, and they have become much more political."
Headquartered in the historic Bloodgood Mansion in Milwaukee's Yankee Hill neighborhood — a building owned by the Bradley Foundation — WILL's offices are bursting at the seams, with plans to double size of the organization in the next five years.
"In order to do that, we need to reach out to high-wealth individuals, business executives and ideologically motivated people who share our beliefs and values, to talk about the program and what we're trying to do," said Jim Pugh, who joined WILL as vice president of development in January after more than two decades with the state's largest business lobby, Wisconsin Manufacturers and Commerce. "You need to be strong by making sure that you're well-funded, clearly understood, you clearly articulate your message and have strong leadership at the top. It's about the people, the vision and the values."
Where Szafir leans on the Golden State Warriors analogy, Pugh opts for the 1927 New York Yankees. Either way, he said, the success of the organization relies on the people on the team.
It's been important, Esenberg said, to attract "very talented, very dedicated, very hard-working people who are driven internally and not externally."
"We don't pay the lowest salaries of any think tank around in the State Policy Network," he said. "I don't believe in doing that."
WILL continues to benefit from the support of groups like the Bradley Foundation — which has given the organization $4.8 million since its founding — along with the Walton Foundation and the Kern Family Foundation. Since Pugh and senior adviser Mary Stitt joined the organization, WILL has started a "CEO Tour" of Wisconsin, and last week, the organization partnered with DonorsTrust to host a fundraiser in Naples, Florida.
From its attorneys to its fundraisers, everyone at WILL shares a commitment to libertarianism and conservatism — though Esenberg would contend "classic liberalism" might be more accurate. Some, like Pugh — a former journalist — are especially driven by First Amendment issues, while others, like deputy counsel Lucas Vebber — who also came to WILL from WMC — focus more on reducing regulations. Director of Education Policy Libby Sobic — who Szafir refers to as a "rising star of the conservative movement" — was drawn to WILL as a law student because of her passion for the school choice movement.
"Our idea initially was that we were going to be a strategic litigation center that was focused on advancing the public interest in individual rights, limited government, the rule of law and fostering a robust civil society," Esenberg said. "We don't deny that we have a perspective about the way in which the world works, but we try very hard both in our litigation and in our policy work to adhere to standards of excellence and candor."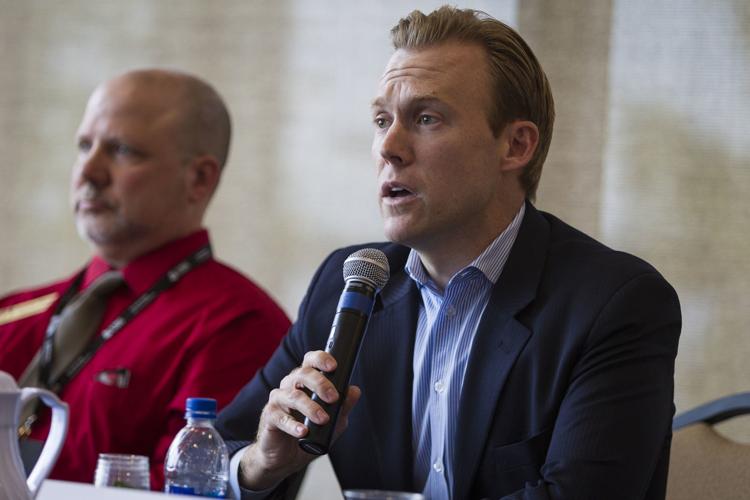 The organization has fought campaign finance regulations, challenged unions and school districts, sought to repeal the state's minimum markup law and pressed for the release of government records, among other cases. It often aligns itself with conservative interests, but has also teamed up with the likes of Madison's alt-weekly newspaper, Isthmus, to press Madison police to release information.
Fischer and McGrath, who both came from lengthy private practice careers, said they appreciate that WILL's legal battles are more about ideas than financial outcomes.
"We take positions on things and we debate those positions with people who have ideas about them that are very different from ours," Fischer said. "We're really doing that on a pretty high level. And we're able to engage in civil discourse for the most part and debate these issues, and society benefits from having them debated."
U.S. Sen. Ron Johnson, who was represented by WILL in a 2014 lawsuit against former President Barack Obama's administration, said WILL is "exactly what you want in a public policy organization."
"They're using the legal system to make sure the legal system isn't misused," Johnson said.
In addition to filing lawsuits and amicus briefs, WILL has authored research reports and policy recommendations on issues including education (advocating for voucher, charter and virtual schools), occupational licensing (advocating for rolling back regulations) and, most recently, health care (arguing against accepting federal money to expand Medicaid).
Republican lawmakers who oppose the Medicaid expansion latched onto the WILL study, which determined that the expansion would shift costs to people covered by private insurance, as justification for their position. Democrats dismissed the study as the work of a "corporate-funded Republican think tank," and it was panned by health policy professors and economists, one of whom described it as "garbage work."
WILL defends the study, with Szafir offering that the organization enjoys "a good back-and-forth."
"WILL has always been first and foremost about advancing their funders' ideological agenda. Now as the right-wing pours their frustrations and their funding into WILL, they are expanding their portfolio into pushing junk science and lobbying," Browne said.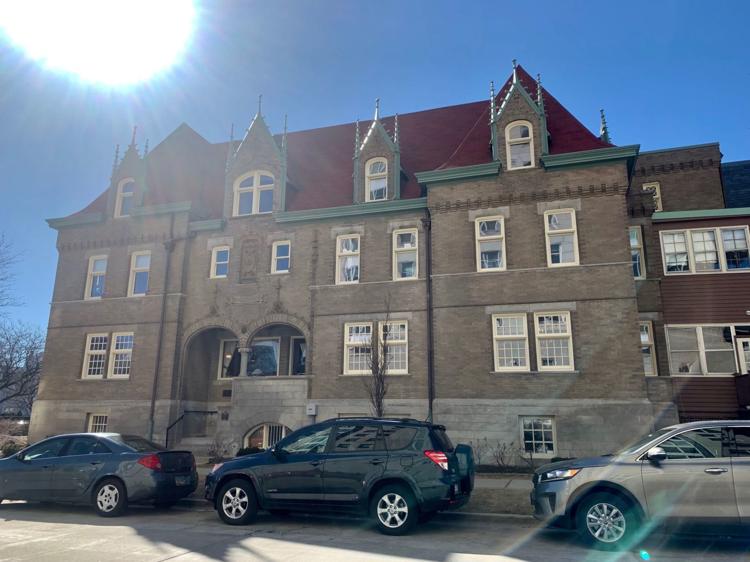 WILL's employees make no bones about the organization's efforts to oppose Evers and most Democratic proposals.
"At the same time, however, it would be a mistake to rule out the possibility that sometimes we may agree on things," Esenberg said, noting that there were times — albeit not many — that WILL disagreed with Republican former Gov. Scott Walker.
A few of those times, Misha Tseytlin — now a private attorney, but then solicitor general for the state of Wisconsin — represented the state against WILL. He praised Esenberg and the WILL team as "fantastic lawyers, whether they've been on my side or against me, depending on the matter and the case."
Tseytlin highlighted a case in which WILL challenged the constitutionality of tax increment financing (TIF) districts and the Republican-led state Department of Justice disagreed.
"I think from WILL's point of view they see that as corporate welfare, and from the point of view of more traditional, pro-business conservatives they see that as attracting business to the state," Tseytlin said. "That's kind of a disagreement among the right."
It wasn't the first time WILL found itself in the middle of a disagreement among the right, and it won't be the last. WILL previously sparred with some Republican lawmakers and Republican former Attorney General Brad Schimel over the issue of alcohol license for wedding barns, and continued the fight by suing the Evers administration.
Earlier this month, Evers said his administration will not require owners of wedding barn venues to obtain liquor licenses to host events — earning praise from WILL and ire from the Tavern League of Wisconsin, which has argued any event venues that offer alcohol should be subject to the same regulations as restaurants and bars.
Since Evers' decision allowed WILL's position to prevail, the Tavern League has advised its members to host events in private areas — such as back rooms of bars — not subject to regulations like mandated closing hours or the state's smoking ban.
"I've been waiting to see (WILL's) press release supporting our position that we don't need to have a license for our private events," said Tavern League lobbyist Scott Stenger. "So the fact that I haven't seen it makes me wonder, if that was their position at the outset, why wouldn't they come out in support of that?"
Stenger added that his primary concern is with the state Department of Revenue, not with WILL — but he argued both WILL and the Evers administration are supporting unfair competition.
WILL's most likely battle with Evers, Esenberg said, is over administrative rules — a "fight that only a wonk could love." As Evers seeks to implement policies with a Republican Legislature opposed to most of his goals, he could direct state agencies to implement administrative rules — most of which WILL would be likely to oppose.
"To the extent that there are more regulations enacted by a new administration, they would have more targets to shoot at, although they were not lacking for targets in the 'old world,'" Tseytlin said.
As Evers seeks to freeze enrollment in the state's taxpayer-funded voucher schools and halt the creation of new charter schools, WILL will push back.
Sobic contends those programs offer alternatives to improve student achievement, while Evers has said the freezes are needed so officials can reexamine the state's education system and the way each portion of it is funded. Evers has argued the state currently has two parallel systems.
Other areas the organization is prepared to sue include redistricting policy, election law, environmental issues, preserving Act 10, campus speech policies and occupational licensing regulations.
"WILL is making a play to become a bigger cog in the right-wing noise machine after Republicans lost every statewide office," OWN's Browne said.
"I think what we're trying to do is we're trying to protect a lot of the reforms that the Walker administration put into place, many of which align with the principles that we hold dear," Szafir said. "At the same time, we're trying to continue to advance the ball down the field."
This story has been corrected to note that Rick Esenberg taught at UW-Milwaukee, not UW-Madison.