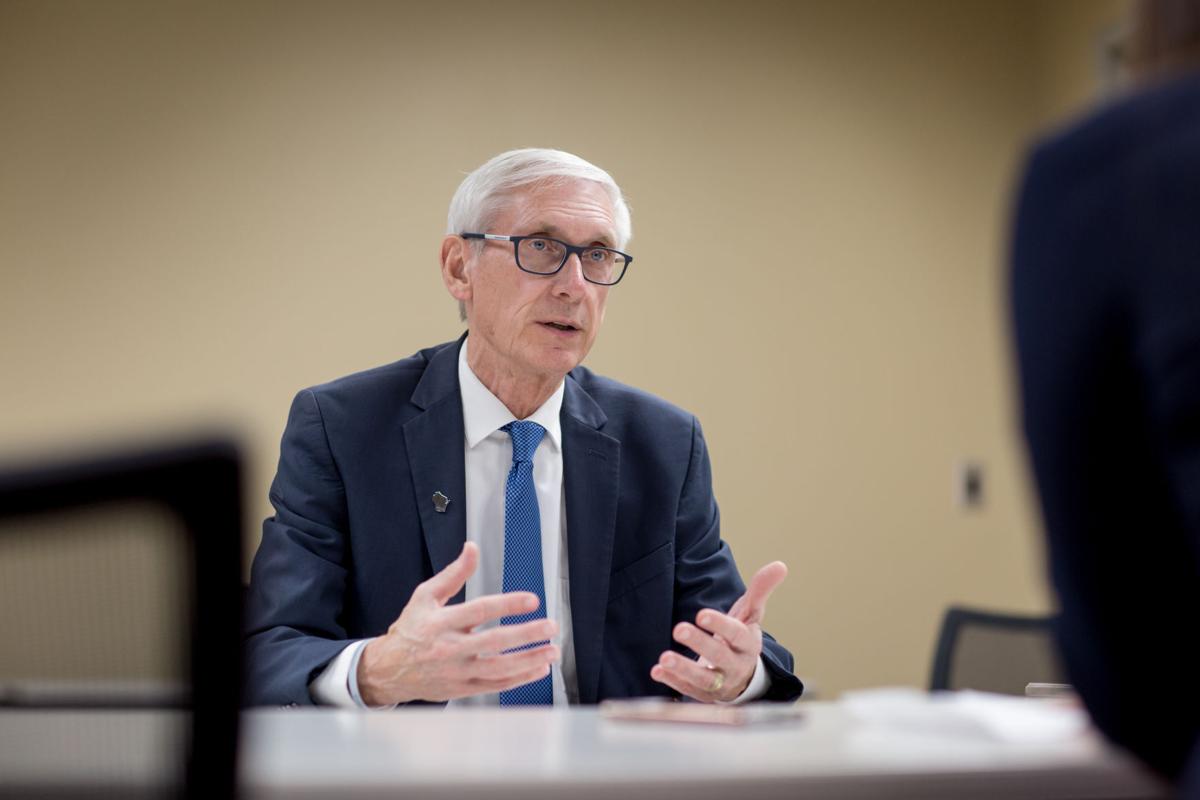 Tony Evers is asking for another four years.
"Holy mackerel, we're going to need your help to get it done again in 2022," the Democratic governor said as he announced on Saturday that he will seek reelection for a second term, four years after ousting Republican former Gov. Scott Walker with a one-point victory.
"Wisconsin, I'm in. I'm running for reelection. We've accomplished a lot in the last few years, but we're just getting started," Evers, 69, said during the Democratic Party of Wisconsin's virtual convention. "We have more work to do, together. This is the moment where we can choose to fix the big problems in Wisconsin and bounce back stronger than ever before."
Evers presented his campaign as a defensive operation, noting that his veto pen — and powerful line-item veto powers — are effectively the last line of Democratic defense against policies promoted by the Republican legislative majority.
"We're up against another decade of rigged maps. We're up against stripping protections for preexisting conditions and a woman's right to choose," Evers said. "We're up against people who openly reject science and refuse to acknowledge climate change. We're up against attacks on democracy itself, and a party doing everything they can to make voting more difficult."
The governor — a former superintendent of public instruction — also touted his education credentials and his efforts to make health care accessible, support small businesses, improve infrastructure and broadband access and respond to the COVID-19 pandemic.
U.S. Sen. Tammy Baldwin praised Evers as an "incredible partner in making sure Wisconsin continues to move forward."
The unanswered question that looms is whether Lt. Gov. Mandela Barnes will remain on the Evers ticket in 2022, or launch his own U.S. Senate campaign. 
State Treasurer Sarah Godlewski, state Sen. Chris Larson, Milwaukee Bucks executive Alex Lasry, Outagamie County Executive Tom Nelson and Wausau physician Gillian Battino have announced their candidacies for the Democratic nomination, and Millennial Action Project founder Steven Olikara recently launched an exploratory committee. Barnes, 34, is rumored to be considering a bid.
"Even as Democrats, we haven't always been in this together. We haven't always fought together against income inequality. We haven't always made all of our neighbors feel welcome. We haven't always stood beside each other to take on the tough fights, to demand racial justice, and we haven't always responded to the environmental crisis with the urgency that it deserves," Barnes said during his virtual remarks. "But now, after all that we've been through the past year … as Democrats, I feel like we're united like never before."
Evers' 2018 victory was his fourth statewide election win since 2009, after being elected to three consecutive terms as state superintendent of public instruction. With Evers' election, Barnes became Wisconsin's first Black lieutenant governor. 
Evers and Barnes ran on promises to expand access to affordable health care, invest in public schools and fund roads projects. The campaign centered on the argument that, after eight years under Walker's leadership, it was "time for a change."
No Republican gubernatorial candidate has officially launched a campaign, but rumored contenders include former Lt. Gov. Rebecca Kleefisch, lobbyist Bill McCoshen and Marine veteran Kevin Nicholson.
"Over the past three years, Wisconsinites have suffered the consequences of an administration fraught with mismanagement, incompetence and a governor who has been asleep at the wheel," said Republican Party of Wisconsin chairman Andrew Hitt in a statement. "Tony Evers had no plan to handle unemployment claims after shutting down our state's economy, no plan to address the violence in Kenosha after refusing federal assistance, no plan to reopen schools while students were struggling, and now has no plan to address the labor shortage while business owners are begging him for help. Evers has nothing to run on except a record of abysmal failure and absent leadership."
Republican National Committee spokesperson Preya Samsundar said Evers is "out of his mind if he thinks Wisconsinites are lining up to re-elect him to another term."
The last time the Marquette University Law School polled on Evers favorability among Wisconsin voters was October 2020. At the time, 47% of Wisconsin voters had a favorable view of the governor.
The Republican Party of Wisconsin will hold its yearly convention later this month.
Share your opinion on this topic by sending a letter to the editor to tctvoice@madison.com. Include your full name, hometown and phone number. Your name and town will be published. The phone number is for verification purposes only. Please keep your letter to 250 words or less.