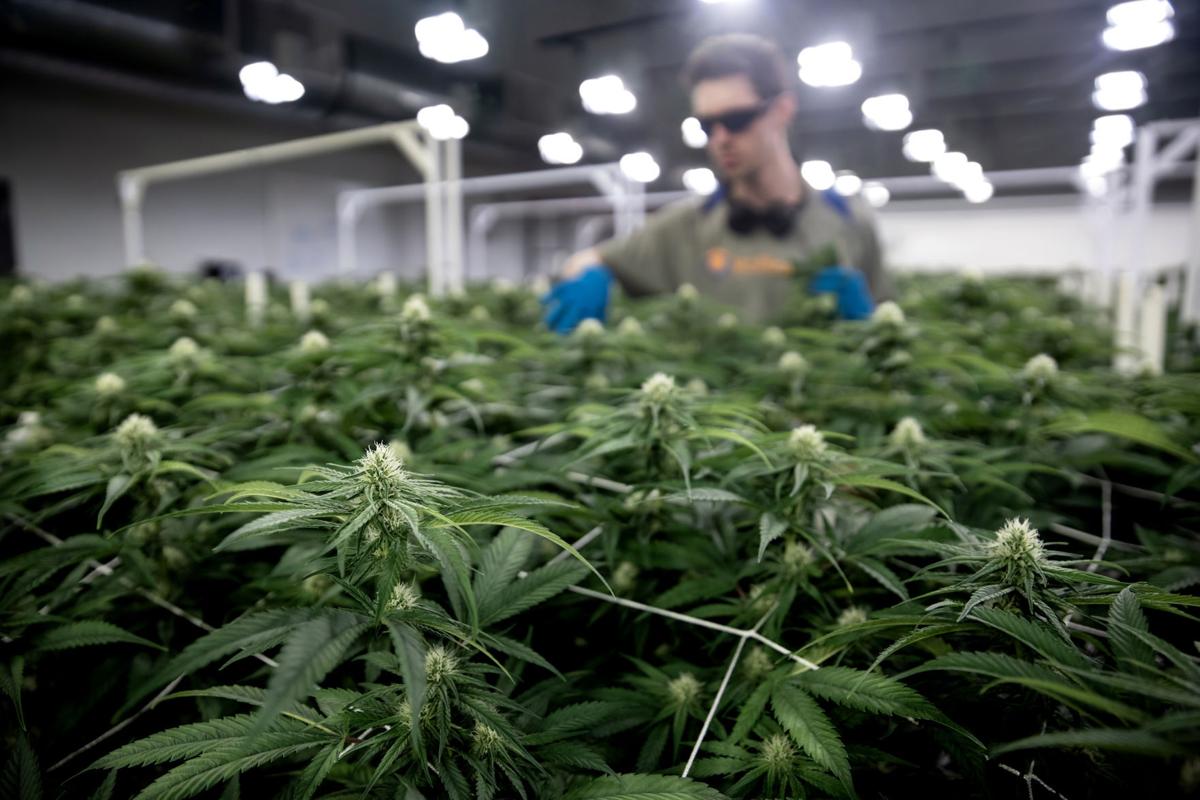 The bill has been introduced five times in the last eight years. Nearly 60% of Wisconsinites support it. But in spite of state Sen. Melissa Agard's persistence, all signs point to another year of Wisconsin as an "island of prohibition" surrounded by states where marijuana use is legal.
Agard, flanked by Reps. David Bowen, D-Milwaukee, and Mark Spreitzer, D-Beloit, presented legislation to legalize recreational marijuana on Tuesday in the parking lot of the Sunnyside dispensary in South Beloit, Illinois — just 1,000 feet from the state line. 
The dispensary's draw for Wisconsinites has been well documented. On any given day, half of the license plates in the parking lot are from Wisconsin, South Beloit Mayor Ted Rehl told The News Station in June.
To the west, medicinal marijuana is legal in Minnesota. To the southwest, low-THC medical marijuana is allowed in Iowa. And to the south, east and north are Illinois and Michigan, where recreational use is legal. 
"Legalizing and taxing cannabis in Wisconsin just like we already do with alcohol ensures a controlled, safe market for our communities," Agard said.
Agard's proposal would legalize recreational use for adults 21 and over, allowing them to possess up to two ounces of pot and up to six plants for personal use. Non-residents could possess up to a quarter of an ounce.
Medicinal use would be approved for people age 18 and up who have been diagnosed with a debilitating medical condition. Youth under the age of 18 with a qualifying medical condition could use medicinal marijuana with the consent of their parent or guardian. Medicinal users could possess up to 3 ounces at a time.
The bill would require insurers to cover medicinal marijuana, and would prohibit employers from discriminating against marijuana users unless the substance interfered with work. A person who is prescribed medicinal marijuana would be placed on a statewide registry and would pay a fee to obtain a card through the state Department of Health Services.
Under the bill, people who produce, process and sell marijuana for recreational use would obtain a permit and pay a sales tax and an excise tax.
Legal violations such as driving under the influence would treat pot similarly to alcohol. The bill would also exempt marijuana from laws requiring drug testing for some public assistance.
The legislation would create a process for conviction dismissal and expungement for people who have been convicted of an act that is decriminalized under the bill. The bill would also legalize the possession or use of marijuana-related drug paraphernalia. 
The bill would use about half of the tax revenue made from cannabis sales to fund community reinvestment grants to help underserved communities and communities affected by marijuana prohibition policies.
Gov. Tony Evers included a similar proposal in his 2021-23 budget proposal. Republicans scrapped it, along with many other provisions put forward by the Democratic governor.
Evers and Agard argue that, by regulating and taxing marijuana like the state does with alcohol, Wisconsin could bring in estimated $165 million per year.
The last time the Marquette University Law School poll surveyed voters on the issue, in 2019, 59% supported full legalization and 83% supported medicinal use with a prescription.
"Prohibition has not worked when it comes to alcohol, it did not work when it came to margarine, and it's not working when it comes to cannabis," Agard said.
Agard, Bowen and Spreitzer noted that marijuana policy has implications for Wisconsin's racial disparities — already among the worst in the country.
In Wisconsin, the arrest rate for marijuana possession for Black people is 4.2 times higher than the white arrest rate (compared to the national average of 3.6 times higher), and Wisconsin has the eighth-highest per capita Black arrest rate for pot possession in the country, according to a 2020 report from the ACLU.
"Under the failed war on drugs, enforcement of cannabis prohibition laws have disproportionately impacted communities of color," Bowen said. "When an individual is arrested for nonviolent possession of marijuana, they are driven from their jobs, from their families, and driven from their communities. They are pushed into a prison system that turns first-time offenders into criminals — a system that is designed to keep (people) incarcerated, making it difficult and sometimes impossible to successfully reintegrate back into their communities."
Initially led by a small group of Democratic lawmakers, support for some sort of leniency in cannabis policy has become a more bipartisan issue over time.
A proposal first introduced in 2017 (and reintroduced this year) to decriminalize possession of up to 10 grams of marijuana has backers on both sides of the aisle, and in 2019, Republican Sens. Kathy Bernier of Chippewa Falls and Mary Felzkowski of Irma introduced legislation to legalize certain forms of marijuana for medicinal use. 
Several other Republican legislators in both the Senate and the Assembly have voiced support for some level of medical marijuana legalization. But Senate Majority Leader Devin LeMahieu, R-Oostburg, has said there aren't enough Republican votes to pass any marijuana legislation in the Senate.
Editor's note: An earlier version of this story incorrectly characterized the legality of marijuana in Minnesota. The state only has a medicinal marijuana program. 
Share your opinion on this topic by sending a letter to the editor to tctvoice@madison.com. Include your full name, hometown and phone number. Your name and town will be published. The phone number is for verification purposes only. Please keep your letter to 250 words or less.