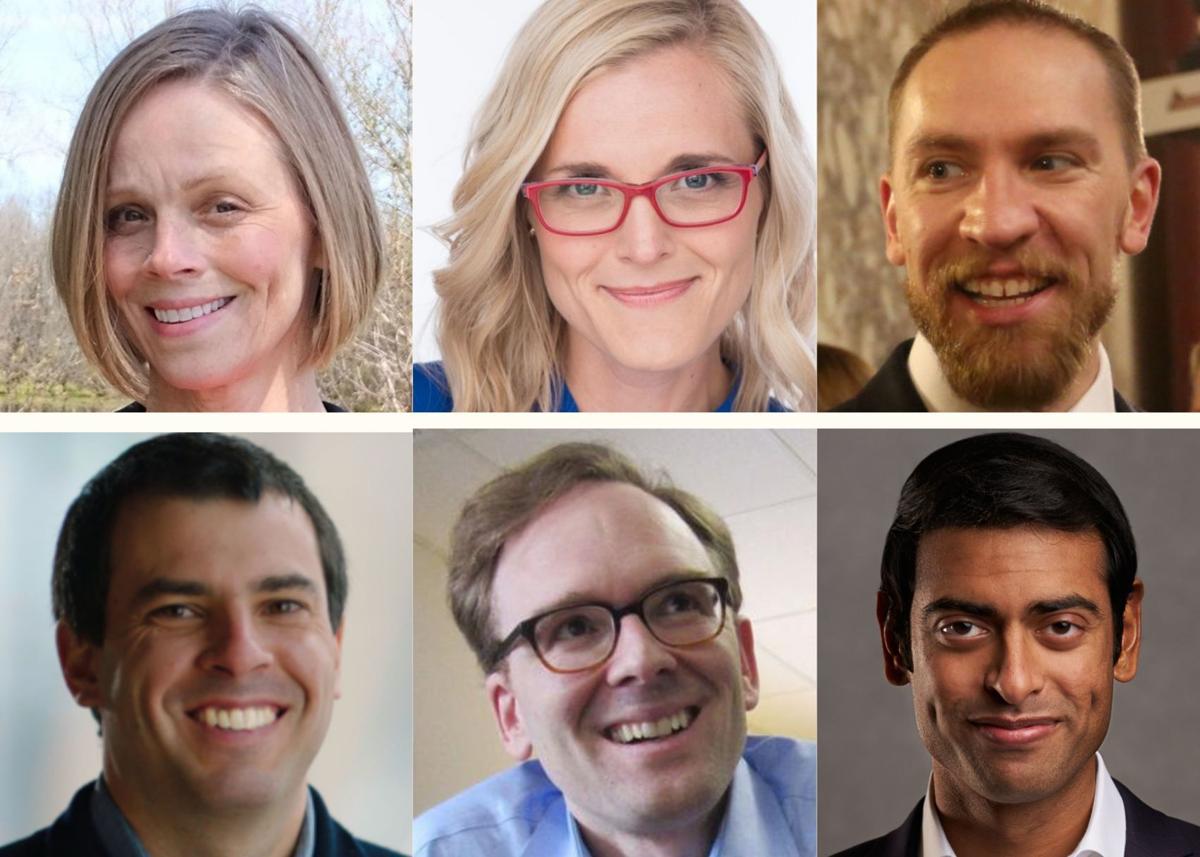 Six Democrats vying for the chance to unseat Republican Sen. Ron Johnson in 2022 made their cases to the party base on Sunday, each lobbing more barbs at the incumbent than at their primary opponents.
But it's still not clear whether Johnson will seek reelection. He hasn't ruled it out, despite having vowed while running in 2016 that he would not run for a third term. Former President Donald Trump endorsed Johnson in April, urging him to run again. Johnson told reporters during a recent virtual Milwaukee Press Club event that he doesn't feel pressure to decide anytime soon.
The candidates seeking the Democratic nomination are Outagamie County executive Tom Nelson, Milwaukee Bucks executive Alex Lasry, state treasurer Sarah Godlewski, state Sen. Chris Larson and physician Gillian Battino. Millennial Action Project founder Steven Olikara also spoke during the virtual Democratic Party of Wisconsin convention, although his campaign is still in an "exploratory" phase. 
Still unknown is whether Lt. Gov. Mandela Barnes will remain on the ticket with Gov. Tony Evers as the governor seeks reelection, or if he will launch his own Senate bid.
Nelson, the first candidate to enter the race, presented himself as an underdog. He has served as Outagamie County executive for 10 years, and prior to that was in the state Assembly for six years. He ran unsuccessfully for lieutenant governor in 2010 and for Congress in 2016.
"This race ought not to be a competition of bank accounts or pedigrees. That is not who we are," Nelson said. "Adding another billionaire or millionaire (to the Senate) is not the answer. We need a true champion of the people, someone who's been there and knows the challenges facing working families."
That was a subtle jab at Lasry, whose father is a billionaire, and Godlewski, whose husband is a millionaire. But Lasry and Godlewski both stressed their humble roots; Lasry's father's family immigrated to the U.S. from Morocco in pursuit of a better life, and Godlewski's parents were public school teachers.
"I learned early in life, when you see something wrong, you've got to stand up and do something about it. That's why I'm getting in this race. Wisconsinites deserve so much better than McCarthyism 2.0," Godlewski said, referring to Johnson.
Godlewski — who raised a bloody mary toast during her remarks — was elected as state treasurer in 2018, after leading a bipartisan effort to save the office from elimination. She and her husband co-founded a social impact investment firm called MaSa Partners, and she has also worked at the Pentagon and for Hillary Clinton's presidential campaigns.
Lasry, whose father co-owns the Milwaukee Bucks, is on leave from his position as a senior vice president for the team. He previously held several positions in the Obama administration, and played a key role in bringing the Democratic National Convention to Milwaukee in 2020.
"Progressive values are not only good for business, are not just good for the economy, but are also good for the country," Lasry said, touting the $15-per-hour, union jobs at the Fiserv Forum and the Bucks' efforts to promote voter participation and racial justice.
Larson, who was elected to the state Senate in 2010 and previously served for several years on the Milwaukee County Board, is a natural competitor for Milwaukee votes against Lasry — and Barnes, if he chooses to run. The former state Senate minority leader ran for Milwaukee County executive in 2016 and 2020.
"It's a question of making sure that we restore dignity to our state. … It's also a question of making sure that we unrig the system so that it works for everyone, not just the wealthy few," Larson said. "And frankly, it's about stopping the festering fascism that has started to overtake America."
Olikara and Battino are both relative political newcomers — Battino more so than Olikara.
Battino, a breast imaging radiologist from Wausau, said her campaign was driven by the concept that health care is a human right, not a privilege. 
"Even though I can be a good doctor, a great one … if folks don't have access, I can't help them," Battino said.
Olikara — the founder of a bipartisan group aimed at uniting young lawmakers — discussed the value of bringing together diverse groups of people and working for dignity. 
"We must reject the immoral tools that have gotten us to this place and reaffirm new instruments of dignity, inclusion and compassion," Olikara said. "I know some people say those values are soft. I think that's wrong. I think leading with our values is the most powerful expression of democratic change."
Barnes, the lieutenant governor, remains the wild card in the race, and he did not tip his hand when he spoke Saturday night.
"I remain 100% committed to working with all my energy to make sure that Tony Evers is reelected to continue the hard work that we've already started," Barnes said. "And I'll also do everything in my power to make sure that Democratic voters turn out and finally retire Ron Johnson. We know that together we can build the Wisconsin that we want for all of our families, all of our children and all of our communities."
Republican Party of Wisconsin chairman Andrew Hitt said Wisconsin Democrats were "trotting out the most out-of-touch liberals they could find."
"Their Senate candidates include trust fund baby Alex Lasry who has skated through life thanks to his billionaire father's New York money and D.C. consultant Sarah Godlewski who continues to give Wisconsinites new reasons not to trust her," Hitt said in a statement.
Republican National Committee spokesperson Preya Samsundar knocked the candidates for offering "the same failed socialist policies that make it more expensive to live the American dream."
"Instead of celebrating stimmy shimmies that are crushing small businesses with historic labor shortages, Democrats should focus on listening to the science, re-open the state and actually make an appearance in Wisconsin," Samsundar said in a statement.
Candidates competing in the partisan primary will face off on the ballot on Aug. 17, 2022. 
Share your opinion on this topic by sending a letter to the editor to tctvoice@madison.com. Include your full name, hometown and phone number. Your name and town will be published. The phone number is for verification purposes only. Please keep your letter to 250 words or less.