A pair of Democratic lawmakers hopes to move Wisconsin closer to legalizing medical marijuana with the introduction on Monday of two pieces of legislation. 
The first bill would legalize the use of medical marijuana for patients with qualifying conditions. The second would put the question to voters in the form of a nonbinding statewide referendum.
It is the hope of the bill's co-sponsors, Sen. Jon Erpenbach, D-Middleton, and Rep. Chris Taylor, D-Madison, that lawmakers who aren't inclined to support legalizing medicinal use of the drug might be supportive of having voters weigh in through a nonbinding referendum.
Neither proposal is likely to gain traction in the Republican-led Legislature, and Gov. Scott Walker does not support legalizing medical marijuana.
"This will lead to law-abiding citizens who have chronic diseases and health issues we can't even begin to imagine, to put them in a situation where they don't have to break the law anymore," Erpenbach said in a news conference.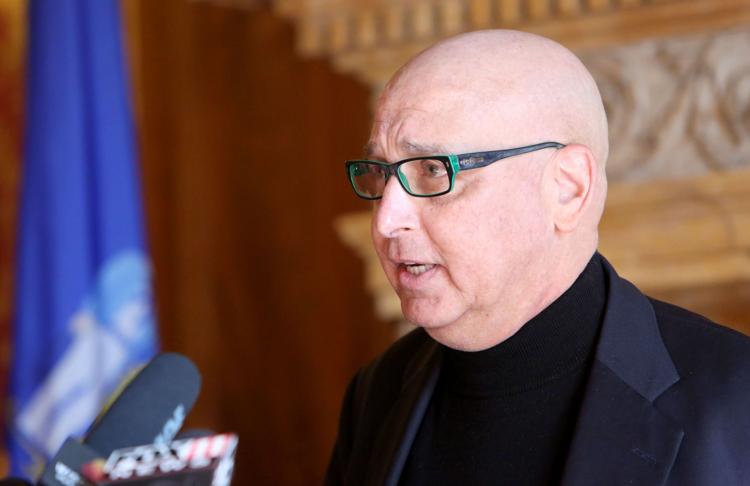 The lawmakers argued marijuana could be used as a safer alternative to opioids in treating chronic pain, and should be explored as a means of addressing Wisconsin's opiate abuse epidemic. Walker called earlier this year for a special session of the state Legislature to take up proposals designed to combat heroin and opioid abuse.
However, the JAMA study's authors warned against drawing conclusions about its findings without additional research.
While cannabis is not "harmless," it has a "remarkable safety record" compared to other drugs used for pain and nausea control, said Dr. David Olive, a surgeon at the Wisconsin Fertility Institute who specializes in reproductive endocrinology.
Olive said women with endometriosis, a condition that causes pain and can lead to infertility, could benefit from medical marijuana. Many of the women he treats for the condition have been prescribed opioids for their chronic pelvic pain and "literally beg" for an alternative treatment, Olive said.
Olive has a personal stake in the issue, too, as he is undergoing treatment for lung cancer. Already taking opioids around the clock during his chemotherapy treatments, Olive is sometimes hit with breakthrough pain that requires a dose of a shorter-acting opioid. While he waits 30 to 45 minutes for the drugs to take effect, he lies down and waits.
"Cannabis provides relief in less than five minutes," he said. "Unfortunately, it's not available to me, so what I do is lie quietly and suffer needlessly."
Steve Acheson, an Iraq War veteran, uses cannabis to treat pain from physical injuries sustained in the war along with the "invisible wound" of post-traumatic stress disorder (PTSD). 
He held up two large freezer bags full of prescription bottles he had been issued for his ailments: among them were opioids, muscle relaxers, ant-inflammatory drugs and sleeping pills.
After an honorable discharge in 2008, Acheson said, he made use of the GI Bill to attend college. 
"At this point in time I was taking up to seven different medications daily. I would equate my existence to something resembling a zombie," Acheson said. "Pills to try to go to sleep, pills to try to numb the pain, pills to try to relax, pills to eat, pills to try to shit because the other pills made me constipated."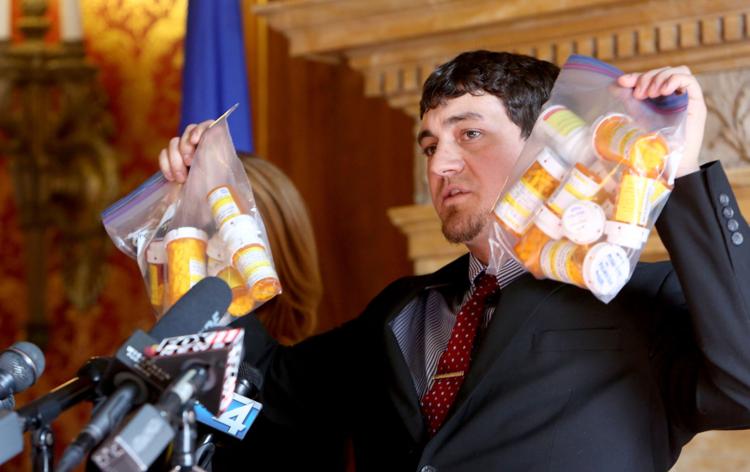 Overwhelmed with his symptoms and the new environment, Acheson said, he considered dropping out. Around that time, a classmate invited him to smoke marijuana. 
"Slowly, I was able to replace every single medication I had been taking with one natural, safe, and most importantly, effective alternative to the plethora of pills," Acheson said.
Acheson credited his improved health and academic performance to his self-medication with marijuana. 
Twenty-eight states and the District of Columbia have legalized medical marijuana, including the neighboring states of Michigan, Illinois and Minnesota. 
Asked last month about his position on medical marijuana, Assembly Speaker Robin Vos, R-Rochester, said he'd like lawmakers to focus first on making sure CBD oil can be used for those who need it. Derived from marijuana plants, cannibidiol is used to treat children who suffer from seizures.
Vos said he doesn't "have a problem" with medicinal marijuana obtained through a prescription, but said he isn't open to making it available to anyone "willy nilly." Assembly Majority Leader Jim Steineke, R-Kaukauna, said his fear in legalizing medicinal marijuana is that prescriptions could be written too broadly, veering into recreational use.
"No, I'm not that far," said Senate Majority Leader Scott Fitzgerald, R-Juneau, when asked the same question last month. "I have no idea where the caucus would be. I'm certainly not there personally."
Asked whether medical marijuana could be considered as a way to combat the state's opiate abuse epidemic, Fitzgerald said it's "just the opposite."
"I think we need to continue to come up with tools that help law enforcement and to some extent maybe curtail the ability of medical professionals to prescribe (opiates)," he said.
Spokespeople for Vos and Fitzgerald did not immediately respond to questions about the new legislation. 
A Walker spokesman said the governor's position on the issue has not changed. Last month, the governor told reporters he is "not interested in opening the door towards legalizing marijuana, be it overall or even for medical marijuana, because I think studies show medically there are much more viable alternatives."
Senate Minority Leader Jennifer Shilling, D-La Crosse, said she supports the proposals. A spokeswoman for Assembly Minority Leader Peter Barca, D-Kenosha, said he generally supports medical marijuana but has not reviewed the bills.