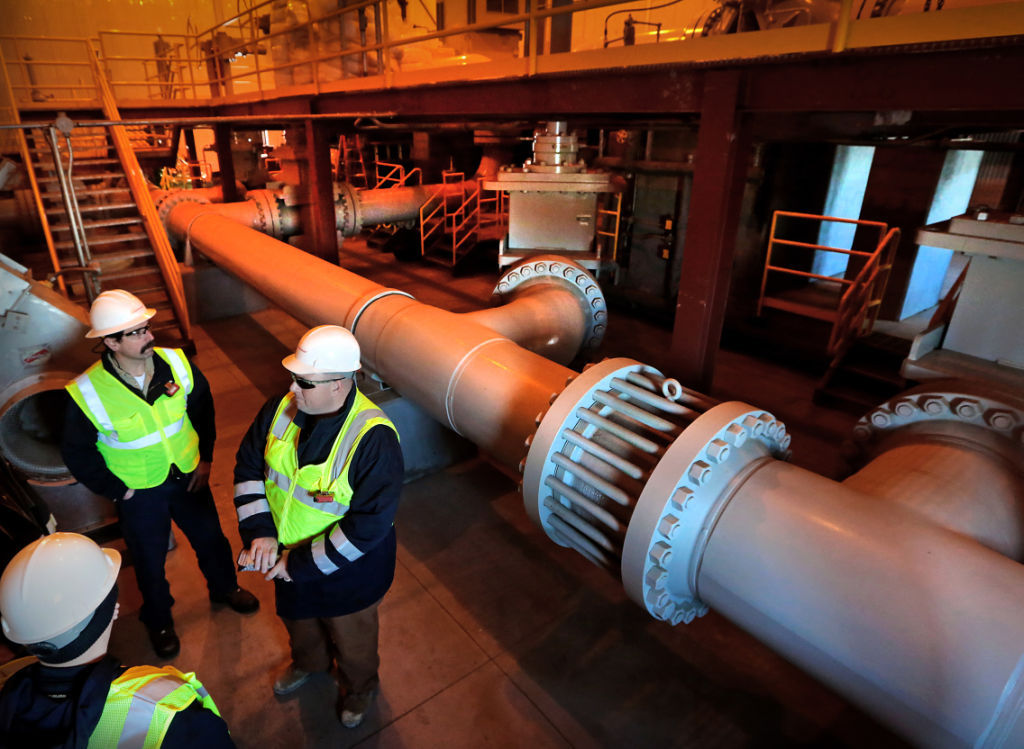 A majority of Democratic voters in Wisconsin say they would be more likely to support a presidential candidate who wants a more stringent review of the proposed Enbridge Energy oil pipeline expansion, but neither Hillary Clinton nor Bernie Sanders has made it a campaign issue in the Badger State.
The proposed expansion would increase the capacity of tar sands oil flowing from Superior to the state's Illinois border, to 1.2 million barrels per day. The line currently pumps 560,000 barrels per day through the 42-inch pipe. That tops the far more well-known Keystone XL, which sought to pump 860,000 barrels per day through states to the west of Wisconsin.
President Barack Obama put a stop to the proposed Keystone XL pipeline in November after a seven-year process, at the end of which he determined it would harm efforts to combat climate change.
Sixty-six percent of Democratic voters in Wisconsin want to see the proposed Enbridge expansion go through the same environmental and safety review process given to the Keystone XL, according to results of a survey conducted late last month by Public Policy Polling provided to the Cap Times.
In the same poll, voters were evenly split between the party's two candidates, with 44 percent planning to vote for Vermont Sen. Bernie Sanders and 42 percent supporting former Secretary of State Hillary Clinton.
Overall opposition to the project wasn't quite as stark. Fifty-four percent oppose the expansion entirely while 26 percent support it and 20 percent are unsure. The most cited reason for opposing the expansion was the risk of spills that could harm Wisconsin's water.
That's a top concern for the Wisconsin Sierra Club, said conservation programs coordinator Elizabeth Ward.
"The amount of risk, when you consider what could happen with these pipelines, is just not worth the very little to no gain we get from it," Ward said.
Beyond environmental concerns, Ward said, a spill in the St. Croix River or the Wisconsin River could be severely damaging to the state's tourism industry.
Ward cited a 2010 spill of an Enbridge-operated pipeline that sent more than 840,000 gallons of crude tar sands oil into the Kalamazoo River in Michigan. Cleanup efforts required of Enbridge by the Environmental Protection Agency were finished in 2014, at a cost to the company of more than $1.2 billion.
Enbridge has argued its operations are safer now than they were in 2010, and generally safer than its competitors in the industry. Both Enbridge and TransCanada, the company behind Keystone XL, say these expansions are necessary to meet demand. 
According to the company's 2013 operational reliability report, Enbridge spilled 9.1 barrels per billion barrel miles in the U.S. from 2004 to 2013, compared to an average of 11.9 barrels per billion barrel miles for the rest of the industry.
In that report, Enbridge CEO Al Monaco said the company's top priority is "safety and operational reliability." 
The company has spent $4 billion on maintenance of its pipelines and facilities since 2013, according to the report.
Ward said her organization wants to see all pipelines given the same level of scrutiny. 
In October 2015, a group of 11 U.S. senators wrote to Secretary of State John Kerry asking why an updated or modified presidential permit wasn't being required of the Enbridge project. A presidential permit is required when a pipeline crosses an international border. However, while the network is an international one, none of the expansions being considered would cross from Canada to the U.S. 
Sanders signed that letter, as did Wisconsin Sen. Tammy Baldwin. 
While campaigning in Minnesota, where he won the Democratic caucus, Sanders spoke against Enbridge's proposed expansion, which would also affect Wisconsin's neighboring state.
"Now, President Obama said that when his administration was reviewing the Keystone pipeline that he wouldn't approve it if it made climate and our planet more dangerous," Sanders said in a Minnesota rally in February. "Those are exactly the same standards that we need to apply to the Alberta Clipper and the Sandpiper (sections of the proposed Enbridge expansion), and that is what I would do as president of the United States of America ... The bottom line for me is that fossil fuel companies cannot wreck our planet for their short-term profits."
Clinton came out against Keystone in September, but hasn't taken a public position on the Enbridge expansion. 
According to the PPP poll, 45 percent of Wisconsin Democrats would be more likely to vote for a candidate who opposes a pipeline expansion in Wisconsin. Nineteen percent would be less likely, while 26 percent said it wouldn't make a difference and 10 percent said they weren't sure.
Sanders on Friday said Clinton has taken "significant money" from the industry, but Clinton countered that that money comes from industry employees, not from corporations or industry PACs. 
A Clinton aide said the candidate would make combating climate change and transitioning to clean energy top priorities as president.
"Hillary Clinton believes that it's critical for the views and concerns of Wisconsinites to be heard on this project. But instead of setting energy policy project-by- project, Clinton believes that we need a comprehensive strategy to address the more pressing question of how we move away from fossil fuels and build the infrastructure we need to become a clean energy superpower," the aide said. "That's why she has a comprehensive plan to modernize our energy infrastructure, including making existing pipelines safer, reducing spills, and sharply cutting methane leaks that help drive climate change."
Share your opinion on this topic by sending a letter to the editor to tctvoice@madison.com. Include your full name, hometown and phone number. Your name and town will be published. The phone number is for verification purposes only. Please keep your letter to 250 words or less.