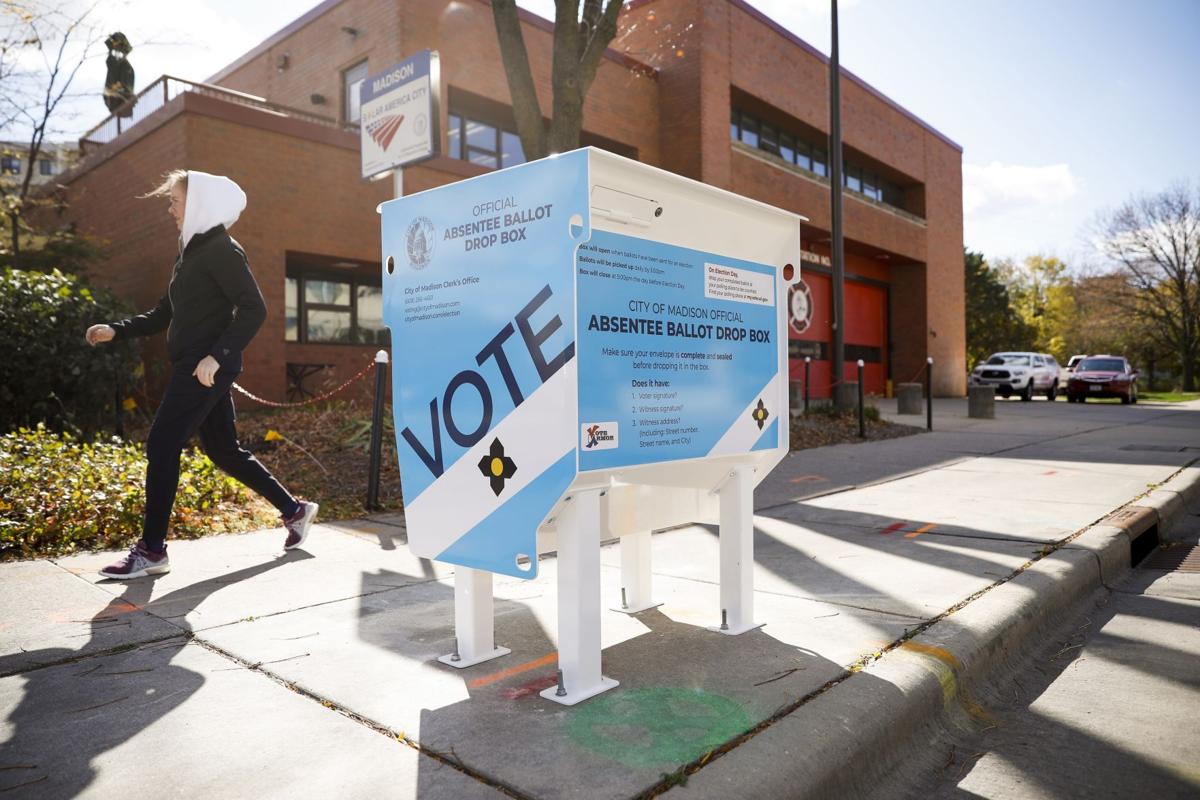 A set of Republican bills tightening rules on absentee voting in Wisconsin is on its way to Democratic Gov. Tony Evers, who is expected to veto the measures.
Lawmakers in the GOP-led Assembly voted Tuesday on party lines to approve the bills, which would limit who can return an absentee ballot on behalf of a voter, bar election officials from filling in missing information on absentee ballot submissions, and require elderly and disabled voters to show a photo ID in order to vote absentee.
Advocates for the proposals say they're needed to implement more uniformity and transparency in election administration throughout the state, but opponents argue the bills would make it harder to vote, especially for people who already have difficulties with the process.
"The disability and aging community want to address barriers to voting and make elections more accessible, not less. These bills create more challenges for people with disabilities," said Beth Swedeen, executive director for the Wisconsin Board for People with Developmental Disabilities, in a statement. "Adding more administrative hurdles and penalties for voters or people trying to help voters is not fair or wise. For a truly representative government, the goal should be to make it easy for everyone to participate in elections."
The bills passed Tuesday would:
Allow an absentee ballot to be returned only by the voter, an immediate family member or a legal guardian.
Prohibit election officials from filling in missing address information on an absentee ballot envelope.
Require voters to provide a copy of their ID every time they vote absentee (not just the first time, as under current law).
Bar election officials from sending absentee ballot applications unless a voter requests one.
Require voters who request an absentee ballot to fill out two forms (one to apply for the ballot and another to certify that they are the person who filled it out). Under current law, one form covers both of these steps.
Require indefinitely confined voters to reapply each year to receive absentee ballots, rather than receive them automatically.
Require voters who are indefinitely confined due to age or disability to show a photo ID in order to vote absentee.
Limit ballot collection events to occur only within two weeks before an election. Absentee ballots could only be collected at one site, located near and staffed by employees of the local clerk's office and staffed by employees. This provision would effectively ban events like last year's "Democracy in the Park," where Madison poll workers collected absentee ballots and registered voters in more than 200 parks.
Allow recount observers to be within 3 feet of poll workers.
Require local clerks' offices that livestream vote canvassing to keep recordings of the proceedings for at least 22 months after the election.
Require administrators of residential care facilities and retirement homes to notify residents' relatives of when special voting deputies will be on site for residents who plan to vote absentee, and make it a felony for a facility employee to influence a resident's vote.
"The goal is to make sure at the end of the day that every single person has a chance to vote, but that we guarantee the confidence in the election, which has been severely undermined by the actions of a few over the course of the last election cycle — (which) hopefully are a thing of the past," Assembly Speaker Robin Vos, R-Rochester, told reporters before lawmakers voted to approve the bills, which all previously passed the Senate with GOP approval.
Democrats slammed the legislation as part of a broader effort to discredit or relitigate the 2020 presidential election. The bills were "built on conspiracy theories and lies," said Rep. Lisa Subeck, D-Madison. Rep. Mark Spreitzer, D-Beloit, described them as "extremely anti-voter" and "insidious."
"Voting should be simple, clear and easy. Our elections in Wisconsin are squeaky clean. We should not be adding hurdles that make it more burdensome to vote. That is exactly what these bills will do," said Rep. Gary Hebl, D-Sun Prairie. "We're trying to present a solution to a problem that doesn't exist, and that is wasted energy and an exercise in futility."
Rep. Jodi Emerson, D-Eau Claire, accused Republicans of trying to change the rules because they didn't like the outcome of the 2020 election. Rep. Rick Gundrum, R-Slinger, disagreed.
"Looking over this legislation, nowhere in the bill is there a provision that says Joe Biden is not president and that Donald Trump is. This legislation before us today is about uniformity and transparency in our election system," Gundrum said.
The bills' passage comes about two weeks after four GOP lawmakers visited Arizona to observe a controversial, Republican-ordered election audit in Maricopa County.
Vos told reporters he'll wait to see what the Arizona recount reveals, but he doesn't expect to employ a similar process in Wisconsin, noting that each state has its own election laws and practices.
"I think (replicating the Arizona audit) is unlikely at this point because we're already doing a forensic audit," he said.
Vos said he expects to have results from both examinations by fall.
Opponents of the bills passed Tuesday include AARP, Disability Rights Wisconsin, the cities of Madison and Milwaukee, the Greater Wisconsin Agency on Aging Resources and the Wisconsin Coalition of Independent Living Centers. Wisconsin Family Action and the Opportunity Solutions Project were registered in support of the bills.
Share your opinion on this topic by sending a letter to the editor to tctvoice@madison.com. Include your full name, hometown and phone number. Your name and town will be published. The phone number is for verification purposes only. Please keep your letter to 250 words or less.