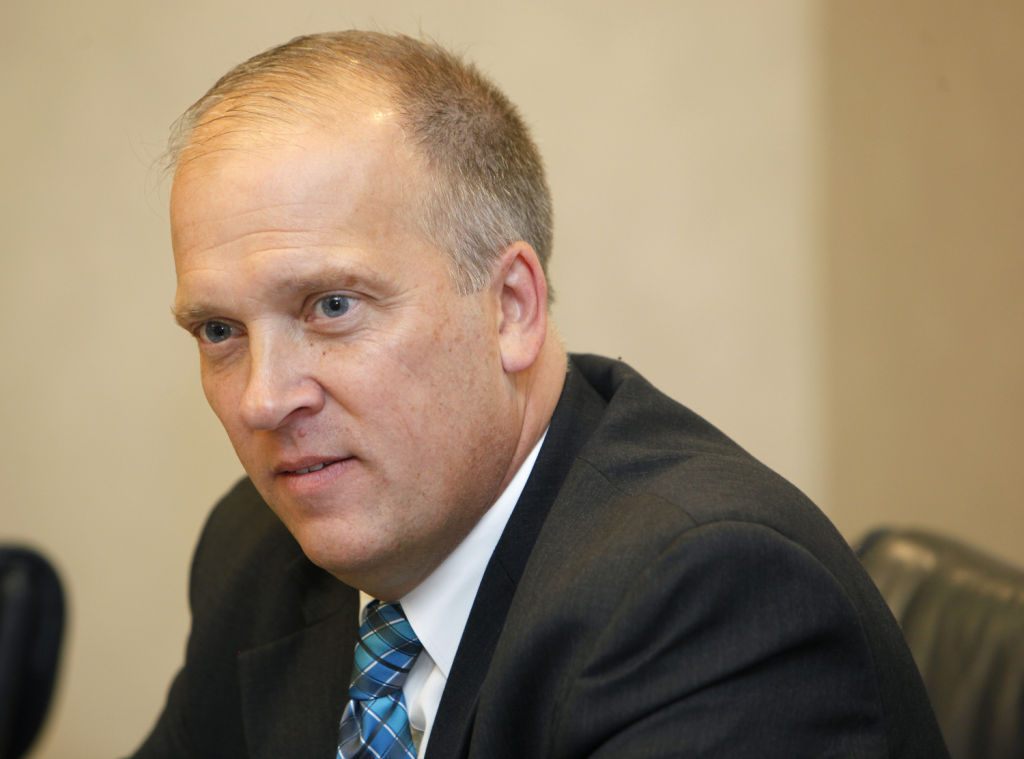 Wisconsin Attorney General Brad Schimel said he is "encouraged' by the progress the state has made in combating its heroin and opiate abuse epidemic since lawmakers and the Department of Justice made it a priority.
Prescription drug take-back days in April and October brought in a combined 123,000 pounds of unused drugs, Schimel said — and while it's discouraging that households still have so many unused prescriptions in their medicine cabinets, he said it also reveals something positive.
"That tells me that the average Wisconsin citizen is getting it — that they got the message that the stuff in your medicine cabinet is dangerous, and you have to treat it differently than you used to, and get rid of it when you're done. That's just amazing news," Schimel said in an interview with the Cap Times.
The attorney general credits that in part to the DOJ's "Dose of Reality" campaign, launched in fall 2015, aimed at combatting the problem through law enforcement, effective treatment interventions and prevention. Its goal is to fight prescription drug abuse before it turns into heroin addiction.
A key part of the campaign is breaking down myths, Schimel said in a previous interview, like how medications must be safe if a doctor prescribes them, or that addiction only happens to "bad kids."
A similar campaign will run in 2017 to target methamphetamine abuse, Schimel said, adding that the problem persists despite measures to crack down on meth manufacturing within the state.
Wisconsin has seen a 10 percent drop in prescription of opioids from the third quarter of 2015 to the third quarter of 2016, he said, adding that impending changes to the state's prescription drug monitoring program (PDMP) will likely bring that rate down even more.
The medical community's willingness to work with state officials to address problems has played a significant role in boosting the state's efforts, Schimel said, noting that the state's medical examining board recently released more stringent prescribing guidelines. The state's dental examining board is set to do the same, soon, he said.
Meanwhile, law enforcement is "burning through Narcan (a drug that reverses the effects of a heroin overdose) by the case," Schimel said.
"That's good and bad," Schimel said. "The good part is, law enforcement recognizes a new role they have in this battle. It's not just arresting people, it's sometimes keeping people alive, and they've embraced it."
Judges throughout the state are also embracing treatment alternatives and diversion courts, especially now that lawmakers and Gov. Scott Walker have released additional funding for the programs.
Nonviolent convicted drug abusers can be sent to drug court as a condition of probation. Participants are monitored as they attend drug counseling, attempt to find and keep a job and stay sober. With success comes more freedom within the program, and with setbacks come more restrictions and, potentially, prison.
The "modest investment" is worth the possibility of keeping people out of prison or from death, Schimel said.
"We've got a lot of work to do, with the introduction of the fentanyls into this mix, we're going to continue to see people dying. But we're also saving a lot of lives. We're getting more and more people into recovery," Schimel said.
Meanwhile, Wisconsin leads a group of 35 states and the District of Columbia in a lawsuit alleging the manufacturer of Suboxone violated antitrust laws in an effort to hold onto its monopoly over the drug, which is used to treat heroin and opioid addiction. 
Schimel argues the lawsuit will lead other manufacturers to enter the market, creating competition and driving down the prices of such drugs. 
Asked about pursuing actions against drug manufacturers like Purdue Pharma, which produces OxyContin, Schimel noted Wisconsin received a settlement in 2007 as the result of a multi-state lawsuit against Purdue's marketing practices.
"We're looking at behaviors that largely occurred 15, 20 years ago. It gets tough to make the statute of limitations stretch that long," Schimel said, adding that DOJ still monitors the marketing practices of those companies.
State officials are focused more on how to solve the problem than on assigning blame, Schimel said, "because when you think about who's to blame, the net spreads pretty wide."
In 2014, Nygren ushered a package of bills aimed at curbing heroin abuse and deaths through the Legislature with unanimous support. That set of bills was signed into law by the governor that year. Recognizing prescription opiates as a gateway to heroin use, his second round of bills focused on prescription painkillers, and was again passed unanimously and signed into law by Walker.
And Walker in September announced the creation of the Governor's Task Force on Opioid Abuse, a group co-chaired by Nygren and Lt. Gov. Rebecca Kleefisch.
"Ultimately, we're going to have to focus more resources, and really, this is an opportunity for the governor and lieutenant governor to see directly, hear from the people of Wisconsin where we need those resources, what do we need," Schimel said. "I think that's the real benefit that comes from this. Rep. Nygren and I, we've been at similar listening sessions for years, and we've heard a lot of this. All the people that are coming forward have such dynamic stories. It's always worth it to go back and listen to the people whose lives are impacted tell that story, because it keeps you focused. It keeps you motivated. This is our chance to identify where to spend limited resources best."
Share your opinion on this topic by sending a letter to the editor to tctvoice@madison.com. Include your full name, hometown and phone number. Your name and town will be published. The phone number is for verification purposes only. Please keep your letter to 250 words or less.
Get Government & Politics updates in your inbox!
Stay up-to-date on the latest in local and national government and political topics with our newsletter.