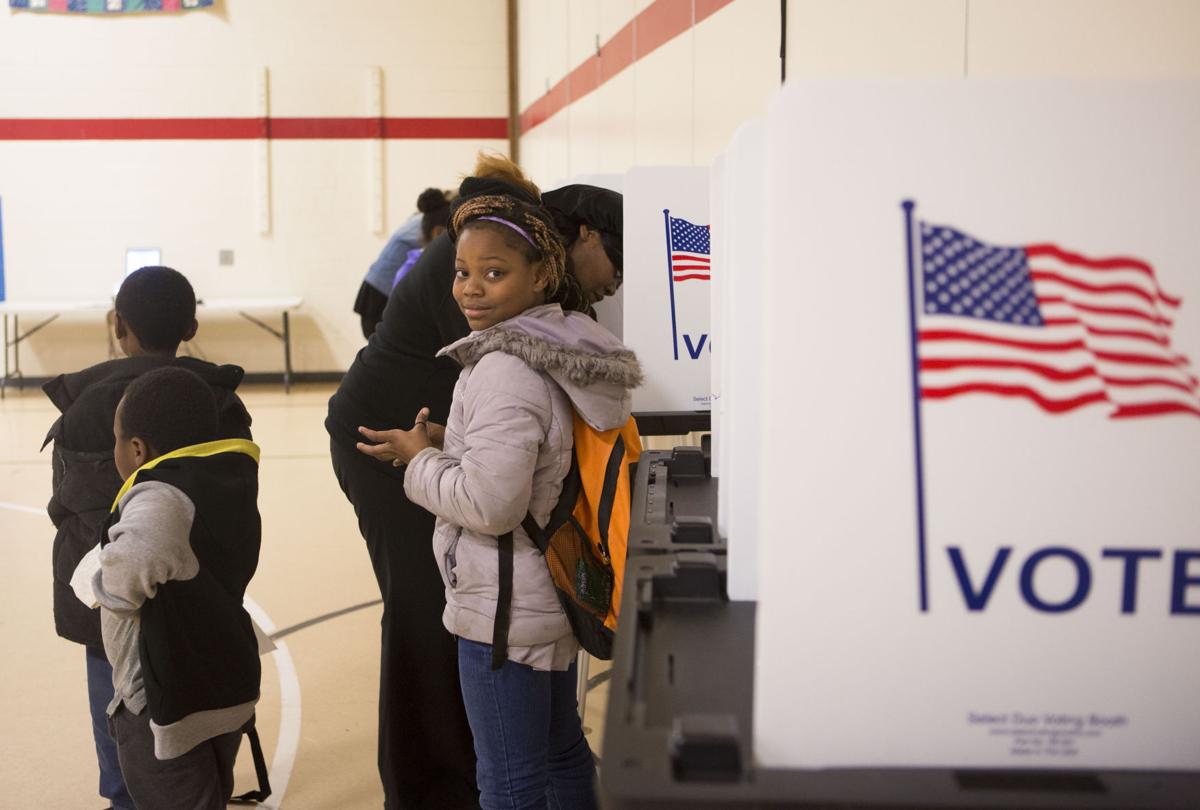 Wisconsin lost a feather in its cap on Tuesday when its election voter turnout fell to a two-decade low. The state that boasted the second-highest turnout in the nation in 2008 and 2012 still ranks highly compared to others, but is on track to fall behind Colorado, Florida, Iowa, Maine, Minnesota and New Hampshire this year.
"The state is no longer in the stratosphere of the highest turnouts in the country," said University of Wisconsin-Madison political science professor Barry Burden.
Republican Donald Trump received about 27,000 more votes than Democrat Hillary Clinton. While his performance didn't stray far from Mitt Romney's in 2012, Clinton's fell significantly short of President Barack Obama's.
Turnout was down in most counties throughout the state, but particularly in Milwaukee County, where nearly 60,000 fewer votes were cast this year than in 2012. Clinton earned about 43,000 fewer votes in the Democratic stronghold than Obama did four years ago.
Milwaukee County is an area that tends to see vacillation in turnout from midterm to general elections, Burden said, but this year broke the mold.
Preliminary exit polls show that turnout dropped in particular among young voters and African-Americans, Burden said.
Clinton performed well among Democrats who voted in the state's largest cities, said UW-Madison associate professor of journalism and political science Mike Wagner. Where she failed was in motivating Democrats to show up.
"Milwaukee stayed home, Dane County delivered, and the rest of the state took a look at things and saw it differently than they did four years ago," said Republican strategist Brian Nemoir.
Democratic U.S. Rep. Mark Pocan said it's clear there was an enthusiasm gap for Democrats in areas like southeastern Wisconsin. He attributed that in part to Trump's ability to talk about trade in a way that appealed to voters who have seen jobs vanish and wages dwindle in part due to trade deals made by Democrats and Republicans in previous administrations.
"Maybe we don't talk as clear about trade as Donald Trump, and I do think Hillary Clinton finessed the issue a little bit," Pocan said.
Republican strategist Bill McCoshen agreed Clinton was the victim of an enthusiasm gap. Even Republicans who weren't fully on board with Trump were energized about helping Republican Sen. Ron Johnson defeat Democratic former Sen. Russ Feingold, he said.
Where Trump owned the race was in the state's politically undefined counties — that is, not in deep-blue Dane or Milwaukee counties, nor in the deep-red "WOW" counties of Waukesha, Ozaukee and Washington.
"Obama in 2008 won rural voters, and Clinton got murdered by them," Wagner said.
That indicates Trump succeeded in tapping into a deep and growing resentment of government elites and political insiders that is "especially prevalent" in rural Wisconsin, Wagner said. UW-Madison political science professor Kathy Cramer discussed that theme in her book, "The Politics of Resentment," which explores Wisconsin's urban-rural divide.
"In general Trump really dominated performance in rural counties, and Clinton kind of fumbled in big cities," Wagner said.
In liberal Dane County, home of UW-Madison, turnout was nearly unchanged from 2012 to 2016. In fact, Clinton received about 1,400 more votes this year than Obama did four years ago.
Pocan, who represents the 2nd Congressional District that includes Dane County, said he thinks Democrats did an "amazing" job with get-out-the-vote efforts in the area.
It's not just that people in Madison could vote more than a month before the election, Burden said, it's the efforts made by city and county clerks to educate voters about the opportunity.
"The two ways in which the cities dealt with early voting might explain why Madison held and Milwaukee dropped," Burden said.
Both cities took advantage of the opportunity to expand in-person absentee voting, he said, but Milwaukee opened fewer locations despite having a larger population. Milwaukee also has a larger low-income population that could have benefited from more outreach efforts, Burden said.
In contrast, Dane County deployed aggressive outreach and publicity efforts, including a public service campaign featuring Wisconsin Badgers basketball player Vitto Brown. An early voting location on the UW-Madison campus also offered students the ability to have temporary voting credentials printed on site, an idea put in motion by Dane County Clerk Scott McDonell.
It's hard to say at this point whether confusion over the state's voter ID law led to depressed turnout, both Burden and Wagner agreed.
The liberal group One Wisconsin Now, whose research arm One Wisconsin Institute was a plaintiff in the case that overturned the state's early voting restrictions, argued just that this week.
"There is no doubt there were people we will not be able to categorize … who were unable to go through the hoops that (Gov. Scott) Walker and the Republicans put in place," said OWN executive director Scot Ross.
A U.S. Census Bureau survey of voters should  help determine whether the voter ID law or the confusion resulting from its ongoing litigation caused voters to stay home, Burden said. But those results won't be known for several months, though.
Another pattern to observe, Burden said, is turnout among demographic groups that are less likely to have the proper ID.
"Younger people, African-Americans and Latinos are less likely to have the IDs they need. So if turnout among those groups falls in this election from previous years, that's circumstantial evidence that it deterred them from trying to vote at all," Burden said.
While OWN lamented the decline in overall turnout, it triumphed over the early-vote records that were shattered this year. Absentee voting spiked by 21 percent from 2012 to 2016.
But Wagner said that's not a predictor for overall turnout. Early voting doesn't necessarily make people more interested in voting, it just makes it easier for people who want to vote to cast a ballot, he said.
The state also broke records in its presidential primary turnout in April, which was the highest in Wisconsin since 1972.
"There was a lot at stake for each party (in the primary)," Wagner said. "This was the last stop of the 'Never Trumpers' and was a 'Bernie or Bust' state on the Democratic side. People were unusually motivated to participate in the primary given how competitive they were and how the partisans saw their candidates."
That differed in the general election, where some voters remained highly motivated to support their candidates, but others cast a "hold your nose" vote and still others disliked their options so much they refused to support either major-party nominee.
At least some of Clinton's under-performance compared to Obama may also be attributed to the way they treated the state.
At no point during the campaign did a public poll show Trump winning Wisconsin. Clinton herself did not visit the state during the general election, opting to send surrogates like running mate Tim Kaine and Vice President Joe Biden.
Most of those surrogate visits targeted smaller audiences — ballrooms on college campuses, breweries and campaign offices — while Trump opted for rallies in arenas and convention centers. The Democrats' approach, in both the presidential and Senate races, often seemed focused more on motivating campaign volunteers than appealing directly to voters.
Events for both candidates paled in comparison to the rallies Obama held in 2008 and 2012. He and Bruce Springsteen drew tens of thousands of people to a downtown Madison rally four years ago.
It's clear both Clinton and Trump invested in Wisconsin, but "the kind of electric events that Obama did just didn't happen in Wisconsin this time around," Burden said.
Wisconsin is also one of few states where Trump spent more on advertising than Clinton, Wagner said.
Trump's support was strongest among voters with less education, a traditionally unreliable voting group, Burden noted.
In fact, he added, education is probably the single best predictor of turnout, making Trump's strategy a risky one.
"That strategy paid off," he said. "It makes it more remarkable, I think, that Clinton failed to turn out her voters when they are — aside from minority groups and young people, who are less reliable — the rest of her base are reliable voters. And it just didn't all come together for her."
Share your opinion on this topic by sending a letter to the editor to tctvoice@madison.com. Include your full name, hometown and phone number. Your name and town will be published. The phone number is for verification purposes only. Please keep your letter to 250 words or less.
Get Government & Politics updates in your inbox!
Stay up-to-date on the latest in local and national government and political topics with our newsletter.