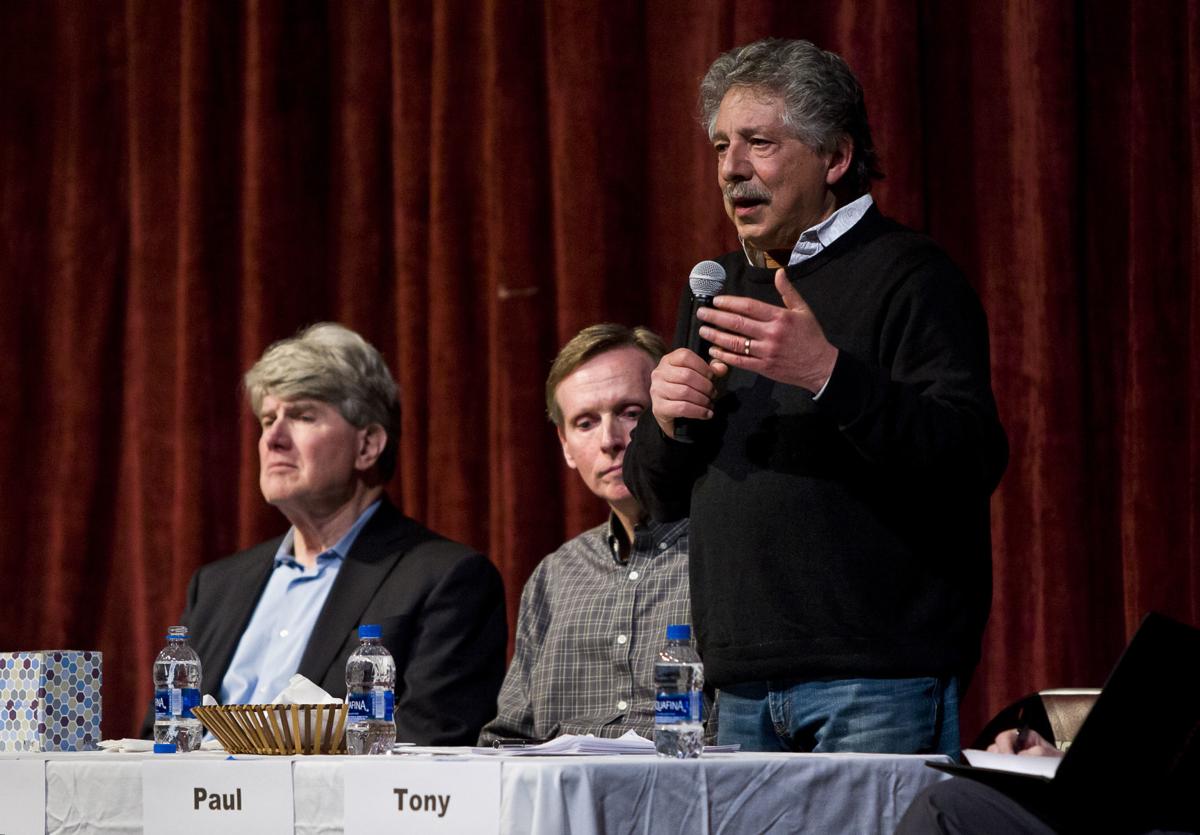 Two months away from the August 14 primary election, the field of Democrats seeking to unseat Republican Gov. Scott Walker has started to narrow, with eight major candidates jockeying to be the party's nominee. 
Here's a rundown of the Democratic candidates who have entered the 2018 gubernatorial race, listed in alphabetical order. It will be updated if/when others announce their candidacies, and when candidates withdraw from the race.
Tony Evers: The state Superintendent of Public Instruction announced his candidacy in August 2017. Evers won his third statewide victory since 2009 in April.
Evers, 65, said Walker has failed to adequately invest in public education at every level, failed to strengthen the middle class and engaged in divide-and-conquer style politics since he first took office. He has been an outspoken critic of the way Walker's administration has handled allegations of widespread abuse at the state's youth prison.
According to a June 20 Marquette University Law School poll, Evers leads the Democratic field, with support from 25 percent of the 318 people who said they plan to vote in the Democratic primary. Evers is also the most well-known candidate in the field, but 61 percent of those polled hadn't heard of him or don't know enough to have an opinion.
Evers was endorsed by state Rep. Dana Wachs, D-Eau Claire, after he ended his campaign. 
Matt Flynn: Flynn, 70, is a retired commercial litigation partner with Quarles & Brady in Milwaukee. He served as chairman of the Democratic Party of Wisconsin from 1981 to 1985, and mounted several unsuccessful campaigns for the U.S. House of Representatives and Senate.
Flynn, who launched his campaign in October 2017, has pledged to focus on fair wages, road improvements, open government and water quality. He has also said he would support marijuana legalization if it is backed by a majority of voters.]
Dave Heaster: Heaster, 51, describes himself on Twitter as a "retired eCommerce geek." He ran unsuccessfuly against Republican U.S. Rep. Jim Sensenbrenner in 2012.
Mike McCabe: McCabe, 56, is the former head of the campaign finance watchdog Wisconsin Democracy Campaign. He founded the nonprofit group Blue Jean Nation in 2015 with the goal of restructuring the priorities of the country's political parties. McCabe ran as a Democrat against now-Congressman Mark Pocan for the state Assembly in 1998, but also worked for three Republican legislators.
His platform, launched in September 2017, includes increasing the minimum wage, increasing access to high-speed internet and phone service, allowing all Wisconsin residents to buy into the state's BadgerCare health insurance program and making Wisconsin "the nation's clean energy capital."
Mahlon Mitchell: The 40-year-old president of the Professional Fire Fighters Association of Wisconsin launched his campaign in November 2017. Mitchell, who rose to prominence during the protests that followed Walker's Act 10 legislation, ran unsuccessfully against Lt. Gov. Rebecca Kleefisch in the 2012 recall effort to unseat her and Walker.
Mitchell said he is running for governor because it is "time for a change" after eight years of Walker, pledging to invest in public education and infrastructure and to bolster consumer protection and wages.  
Josh Pade: Pade, 38, is a Kenosha native. He launched his campaign in April, touting a "global experience" gained from years spent outside the state. A senior analyst for J. Crew, Pade left Wisconsin in 2007 to attend law school and returned last year. 
Roys represented Madison in the state Assembly for four years after winning a six-way primary in 2008. She left her seat in 2012 to mount an ill-fated Congressional campaign, eventually losing to fellow Madison Democrat Mark Pocan. She went on to become the CEO and founder of real estate tech company OpenHomes. Roys said Democrats need to articulate a "positive vision for the future" to draw in people who haven't been engaged in politics. 
Roys was endorsed by Milwaukee businessman Andy Gronik after he ended his campaign.
Paul Soglin: Soglin, 73, is the mayor of Madison. His first foray into Madison politics was in 1968, when he served on the City Council after gaining notoriety as a University of Wisconsin-Madison student leading demonstrations for the Civil Rights movement and against the Vietnam War. He has served as mayor from 1973–1979, 1989–1997 and 2011 to the present. Soglin launched his campaign for governor in January.
Kathleen Vinehout: Vinehout, 59, announced her plans to run for governor in September 2017, saying she would "put people first." Vinehout's platform includes offering free tuition at technical colleges and two-year colleges, access to affordable health care and higher wages for workers.
First elected to the state Senate in 2006, Vinehout won 4 percent of the vote in the Democratic primary in the 2012 recall election against Gov. Scott Walker, and briefly considered another bid in 2014. Her Senate seat is up for election in 2018.
Ramona Whiteaker: Whiteaker, 59, is a photographer from Stoughton, who says she "understands the needs of everyday people." 
---
The following candidates have filed paperwork to run but have not announced campaigns:
Jared Landry: Landry, 38, is a private investigator from La Farge. He ran unsuccessfully in a Democratic primary against Senate Minority Leader Jennifer Shilling, D-La Crosse, in 2016.
Andrew Lust: Lust is a political newcomer. He has not raised any money toward a $30 million donation goal on a GoFundMe page. His campaign committee is registered as Lust for Wisconsin.
---
The following candidates have ended their campaigns or chosen not to run:
Mike Crute: Crute, 47, is a liberal talk radio personality who owns a property management business and a radio station. The Middleton man said he plans to use his radio platform to the extent the law allows. Crute launched his campaign on April 17 and ended it on May 14. 
Andy Gronik: The Milwaukee businessman entered the race in July 2017. A 60-year-old political newcomer, Gronik touted his credentials as the founder of a company that advises businesses looking to expand. 
Gronik, whose family purchases health insurance under the Affordable Care Act, said he would prioritize access to health care and investments in public education. He has been a vocal critic of the state's $3 billion incentive package for Taiwanese electronics manufacturer Foxconn. 
Gronik ended his campaign on June 21, following a Marquette poll that found he was supported by 4 percent of Democrats who plan to vote in the primary election. He endorsed Roys the following day. 
Bob Harlow: Harlow, 25, grew up in Barneveld and returned in Wisconsin in August 2017 after graduating from Stanford University with a physics degree. He lost a primary election for Congress in California in 2016 and was the first declared Democratic candidate in the Wisconsin governor's race. Harlow dropped out in March and endorsed Flynn.
Brett Hulsey: Hulsey, 58, served in the state Assembly from 2011 through 2014, and ran unsuccessfully in the 2014 Democratic gubernatorial primary. He has earned a reputation for antics that include bringing a box cutter to his Capitol office and promising to hand out Ku Klux Klan hoods at the state Republican convention. Hulsey currently works as an environmental consultant and owns a fitness business.
Kurt Kober: Kober, 39, is a retail strategy director for The Clorox Co. and lives in Sheboygan. He is a board member of the Sheboygan Public Education Foundation and once served as president of the College Democrats of Wisconsin. After considering a gubernatorial bid, Kober announced plans to run for lieutenant governor. 
Jeff Rumbaugh: Rumbaugh, 45, lives in Madison and works with adults with disabilities. He named the environment and green energy as priorities. Rumbaugh ended his campaign on May 14 and endorsed McCabe.
Wachs, 60, named the economy as the most significant arena in need of change. Low wages and student loan debt in particular need to be addressed, and collective bargaining rights should be restored, he said.
He ended his campaign on June 22 after pulling 2 percent in a June 20 Marquette poll. Wachs immediately endorsed Evers. 
Share your opinion on this topic by sending a letter to the editor to tctvoice@madison.com. Include your full name, hometown and phone number. Your name and town will be published. The phone number is for verification purposes only. Please keep your letter to 250 words or less.