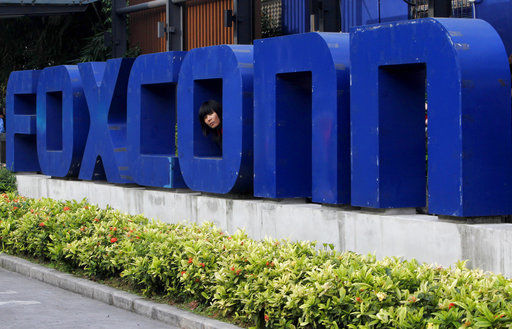 Businesses receiving incentives from Wisconsin's economic development agency could not use tax dollars to move jobs out of state under a proposal Gov. Tony Evers will include in his first state budget. 
Evers' budget proposal would require businesses receiving tax incentives to notify lawmakers of any major changes to projects covered by their contract with the Wisconsin Economic Development Corporation, would create new tax incentives for renewable energy projects and would bring a Foxconn oversight position back to the governor's administration. 
Evers is set to deliver his first budget address Thursday evening, but has shared some details from the spending plan with reporters in the weeks leading up to it. The WEDC details were first reported by WisPolitics.com on Friday.
"My top priorities have been and continue to be protecting the people of Wisconsin and using their tax dollars responsibly," Evers said in a statement. "I've said all along that we have to do more to increase accountability and transparency at the WEDC to ensure we know where our tax dollars are going. That's why my budget will implement these protections, and I hope that I can count on support from Republicans and Democrats alike in the Legislature."
During his campaign for governor, Evers said he planned to dissolve the quasi-public agency and return to a fully public model. 
A set of laws passed by the Republican Legislature during a lame-duck session in December gave lawmakers greater influence over WEDC and gave the WEDC board, not the governor, the authority to appoint the agency's CEO. Evers' power to appoint a CEO will be restored in September 2019.
The lame-duck laws also moved an economic development liaison position for the state's Foxconn project from the Department of Administration to WEDC. Evers' budget proposal would return the Foxconn liaison to his administration. 
Another provision in Evers' WEDC proposal would require that any contracts valuing $5 million or more contain a provision specifying that the recipient must update WEDC on any "material changes" to the activities outlined in the original contract.
The proposal comes weeks after a series of news reports raising questions about Foxconn's plans for its facility in southeastern Wisconsin. Foxconn Technology Group has said it will build a Generation 6 facility in Mount Pleasant, but the company originally billed its planned Wisconsin facility as a Generation 10.5 LCD plant.
Wisconsin's contract with Foxconn makes the company eligible for up to $3 billion in refundable state tax credits — the largest subsidy to a foreign company in U.S. history. The incentives are to be delivered on a "pay as you grow" basis tied to job creation and capital investment benchmarks. If the company fails to meet certain benchmarks, benefits may be clawed back.
Evers' budget would undo the lame-duck changes while increasing the number of enterprise zones the agency can create from 30 to 35.
WEDC would also be required to provide a searchable database of all final contracts and amendments, updated within 30 days of any contract finalizations or changes. 
Also under Evers' proposal, WEDC would be directed to grant at least $1 million per year to regional economic development organizations. 
Share your opinion on this topic by sending a letter to the editor to tctvoice@madison.com. Include your full name, hometown and phone number. Your name and town will be published. The phone number is for verification purposes only. Please keep your letter to 250 words or less.