Democratic Gov.-elect Tony Evers has chosen an advocate for increasing revenue to fund roads projects to lead the state's transportation department. 
Evers announced on Friday that he has appointed Craig Thompson, executive director of the Wisconsin Transportation Development Association, to serve as secretary of the Department of Transportation. The group backed the "Just Fix It" campaign, which urged officials to find a "long-term funding solution" for the state's transportation budget.
Thompson told reporters in Madison he wanted to serve in Evers' administration because Evers "ran on bringing people together and not taking things off the table."
"We're bringing people together," Evers said when asked about his transportation agenda. "We're going to find a solution … I think we're in a good place going forward, but we will reach that conclusion as a group and we're not going to forego any reasonable solution." 
Both Evers and Thompson declined to offer a range they view as reasonable as they consider measures like increasing the gas tax. 
"Everything's on the table," Thompson said.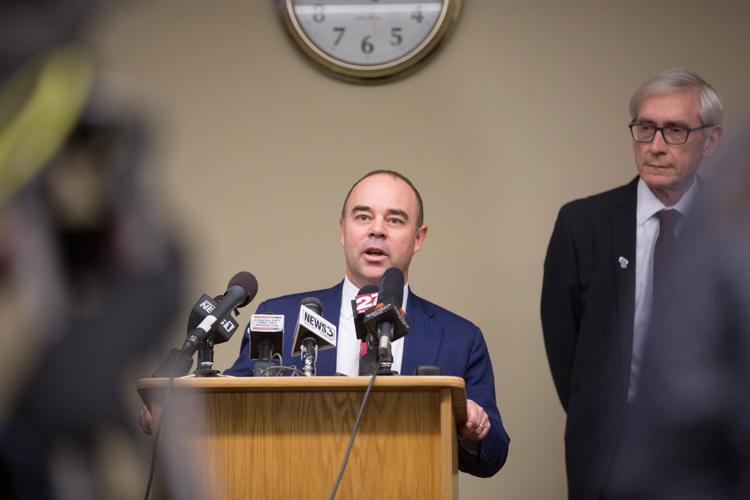 Evers said throughout the gubernatorial campaign that he would not rule anything out as he considered how to approach transportation funding. Walker, while in office, pledged to veto any budget that included a gas tax or vehicle registration fee increase that was not offset by a corresponding tax cut elsewhere.
Before he joined the TDA in 2007, Thompson was the legislative director for the Wisconsin Counties Association. He has been appointed to boards and committees by Govs. Tommy Thompson, Scott McCallum, Jim Doyle and Scott Walker.
Evers announced three other Cabinet appointees on Friday. 
Brad Pfaff, deputy chief of staff to U.S. Rep. Ron Kind, was chosen to lead the Department of Agriculture, Trade and Consumer Protection. Pfaff grew up on a dairy farm in western Wisconsin and previously served as executive director of the U.S. Department of Agriculture Farm Service Agency.
Pfaff pledged to be a "passionate defender" of family farmers and consumers alike.
"Agriculture is more than just economics," Pfaff said. "In many ways it is what unites us as a people."
Evers has appointed Rebecca Cameron Valcq to serve as chair of the Public Service Commission. Valcq, a partner at Quarles & Brady who specializes in energy, environment and natural resources, previously served as regulatory counsel for We Energies.
Under her leadership, Valcq said, the PSC will have a "robust exchange of ideas with all stakeholders."
To serve as the state's insurance commissioner, Evers has chosen Mark Afable. Afable is currently the chief legal officer for American Family Insurance, where he has worked since 1994. 
Afable said he will "work diligently to ensure consumers are protected" and will make "tackling the availability and affordability of health insurance" a priority.
Evers has now announced four of 17 Cabinet appointees. On Monday in Milwaukee, he announced that he had appointed Joel Brennan as Department of Administration secretary, Preston Cole as Natural Resources secretary, Kevin Carr as Corrections secretary and Sara Meaney as Tourism secretary.
Evers' choices are subject to confirmation by the state Senate, where Republicans will hold a 19-14 majority in the new year.
Evers on Friday said he expects to work with Republican legislative leaders on the 2019-21 state budget, which he will propose to the Legislature early next year. On Thursday, Senate Majority Leader Scott Fitzgerad, R-Juneau, said he expects lawmakers will build their own budget rather than working with the one Evers gives them, but that he hopes to find areas of agreement with Evers.
Evers said he will introduce a "robust" budget with ample funding for schools, health care and roads. 
"What I don't want, frankly, is to repeat what happens at the national level where the president does something and suddenly the Legislature takes off in a different direction. The people of Wisconsin expect us to work together and I plan to do that," Evers said. "I believe at the end of the day we will reach a good place for the people of the state of Wisconsin. I'm sure Speaker Vos and Leader Fitzgerald have that same goal."