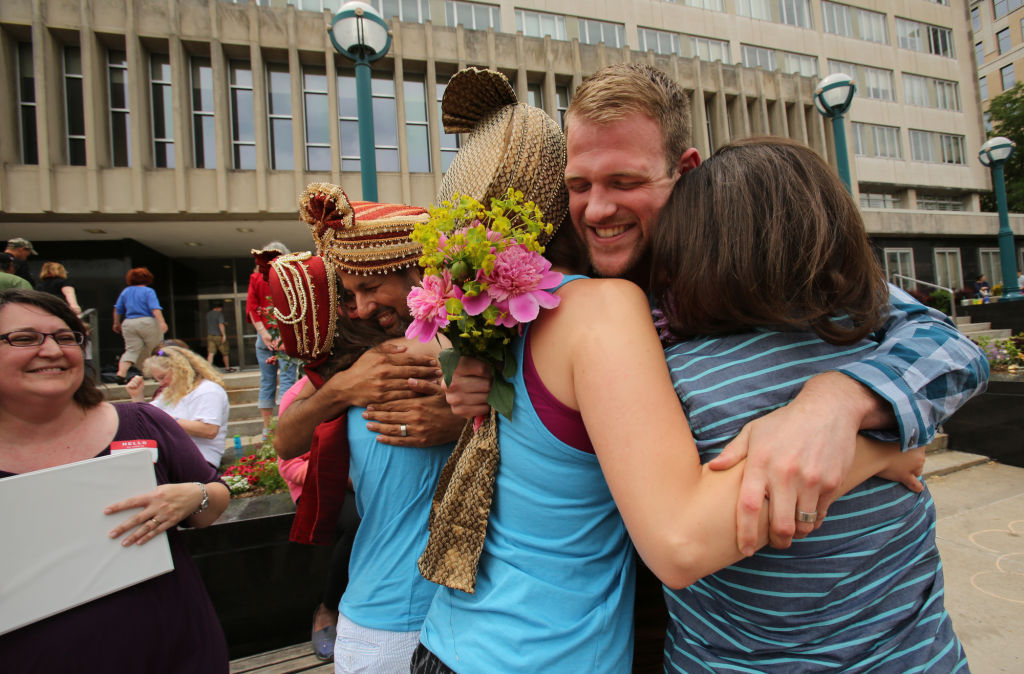 Under the court's ruling, states may no longer restrict the right to only heterosexual couples.
"The court now holds that same-sex couples may exercise the fundamental right to marry. No longer may this liberty be denied to them," wrote Justice Anthony Kennedy in the majority opinion.
Evan Wolfson, president of Freedom to Marry, called the decision a "transformative triumph decades in the making, a momentous victory for freedom, equality, inclusion, and above all, love."
At that time, Gov. Scott Walker said of the state's fight against same-sex marriage, "For us, it's over in Wisconsin."
On Friday, Walker said he believes the court made a "grave mistake" in its ruling, and once again advocated for a constitutional amendment to allow states to ban same-sex marriage.
"The states are the proper place for these decisions to be made, and as we have seen repeatedly over the last few days, we will need a conservative president who will appoint men and women to the Court who will faithfully interpret the Constitution and laws of our land without injecting their own political agendas," Walker said in a statement. "As a result of this decision, the only alternative left for the American people is to support an amendment to the U.S. Constitution to reaffirm the ability of states to continue to define marriage."
U.S. Rep. Mark Pocan, D-Madison, called the ruling a "historic step forward toward fulfilling the promise of equality for all Americans."
"As we celebrate this victory, we must also recognize that we still have work to do to ensure all Americans are treated fairly under the law, regardless of sexual orientation or gender identity," Pocan, who married his husband Phil in 2006, said in a statement. "In a majority of states you can now marry freely, but can still be fired because of who you love."
"Love is love, family is family, and discriminating against anyone's love, against anyone's family, is simply wrong. America can proudly say that discrimination doesn't just violate our values — it violates our Constitution. And now we can proudly say that marriage equality will be the law of the land," said U.S. Sen. Tammy Baldwin, the first openly gay person elected to the Senate, in a statement.
Democrats throughout the state issues statements praising the ruling, while Republicans largely stayed quiet.
Rep. Jeremy Thiesfeldt, R-Fond du Lac, argued that there is "no authority under the U.S. Constitution for the court to define marriage for the nation."
"Legally, marriage is a state matter," Thiesfeldt said in a statement. "SCOTUS bowed to public pressure and created a 'right' that clearly does not exist in the U.S. Constitution. Furthermore, because it was decided outside the normal legislative process by federal courts that lack jurisdiction, this decision will never be accepted by a large share of the American public. Decided in the same manner as the Roe v. Wade decision, this only adds to the deepening political divide in the United States."
Julaine Appling, president of Wisconsin Family Action, said the ruling will have consequences "for decades to come."
"What a profoundly sad day for America," Appling said in an interview. "The votes of the people are meaningless, the ability for the states to deal with this issue ... is gone."
Appling pledged that her organization will do everything it can to continue the debate over same-sex marriage and promote marriage between one man and one woman. 
"The court has said marriage is fundamentally about adult desires, not what is best for children," Appling said, arguing that a child needs both a mother and a father.
Appling said there's "no denying" a same-sex couple can love and provide for a child, but said there is a "vital impact" on a child raised by one man and one woman.
"And by the way, if the government is now going to be in the marriage business, there is no end to the redefinition that can happen to the institution of marriage," Appling said. "It's arrogant, and it's judicial activism of the highest order. This court has opened the floodgates." 
In the meantime, Dane County Clerk Scott McDonell said his office will welcome "all couples who want to celebrate by tying the knot." His office will be open from 8 a.m. to 4 p.m. 
"There are no more excuses to deny equal marriage rights to all. All legal issues have been settled and the skies are finally clear of the few remaining clouds that hung over marriage equality," McDonell said in a statement.
Share your opinion on this topic by sending a letter to the editor to tctvoice@madison.com. Include your full name, hometown and phone number. Your name and town will be published. The phone number is for verification purposes only. Please keep your letter to 250 words or less.