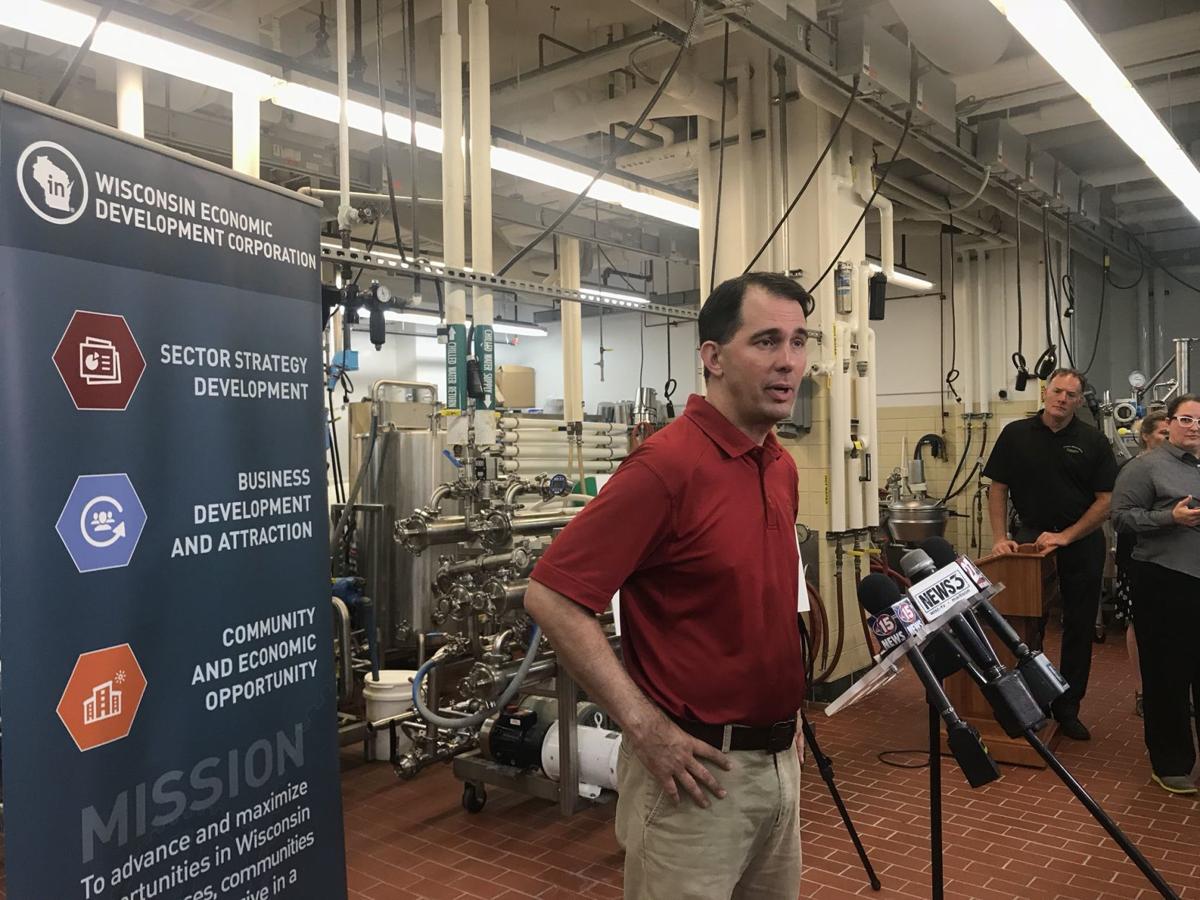 Wisconsin Gov. Scott Walker repeatedly evaded questions about federal immigration policy Monday, arguing it falls outside his jurisdiction. At the same time, he pushed for an end to international tariffs on products made in the United States. 
Walker justified his unwillingness to wade into one federal issue while speaking out on another by arguing tariffs "directly impact … the businesses in the state of Wisconsin."
Questions about both issues came as Walker visited the University of Wisconsin-Madison's Center for Dairy Research to highlight an initiative to support dairy manufacturers as part of the state's second annual Wisconsin Cheese Day. 
"The more cheese consumption goes up around the world, the better it is not only for our cheesemakers in the state, but for our dairy farmers and everyone else involved in the dairy process," Walker said.
Wisconsin cheesemakers and dairy farmers have voiced concerns as Canada, Mexico and other countries respond to President Donald Trump's steel and aluminum tariffs by imposing tariffs on products made in the United States.
As trade disputes between the U.S. and Europe continue to escalate, Harley-Davidson announced on Monday that it will start producing motorcycles bound for Europe overseas to alleviate the impact of European tariffs on the Milwaukee company's products. 
Walker said one way to mitigate the effects of trade disputes on Wisconsin businesses is to encourage foreign companies to invest in states like Wisconsin. Walker said he discussed that last week during a U.S. Department of Commerce summit in Washington, D.C.
"The ultimate goal, if we can get there, would be no tariffs, or if anything, few tariffs on anything," Walker told reporters. "That's what I'm going to push for, if we can get to a level playing field, then we don't have this tit for tat on any number of products out there."
Walker said Monday the Wisconsin troops will have "no interaction with illegal immigrants, with detainees or people seeking entry into the United States."
Democrats, including gubernatorial candidate and former state Rep. Kelda Roys, have criticized Walker for running ads on Facebook encouraging people to "sign up if you support the National Guard defending the southern border."
Asked about the Facebook ads, Walker noted that previous presidents of both political parties have used National Guard troops to bolster security at the southern border. He argued people are drawing connections that don't exist between troop support and federal immigration policy. 
"I've got my hands full with things here in Wisconsin," Walker said. "That's my point, is I could comment on every single thing at the federal government, it might be good for the media, for stories, but that's not what I'm elected to do. I'm elected to lead the state of Wisconsin and focus on the things that need to be done here."
Walker also said he is not aware of any migrant children being sent to Wisconsin. Children separated from their parents have been sent to facilities and foster homes in Michigan, Florida, New York, South Carolina, Texas and Virginia. 
Share your opinion on this topic by sending a letter to the editor to tctvoice@madison.com. Include your full name, hometown and phone number. Your name and town will be published. The phone number is for verification purposes only. Please keep your letter to 250 words or less.