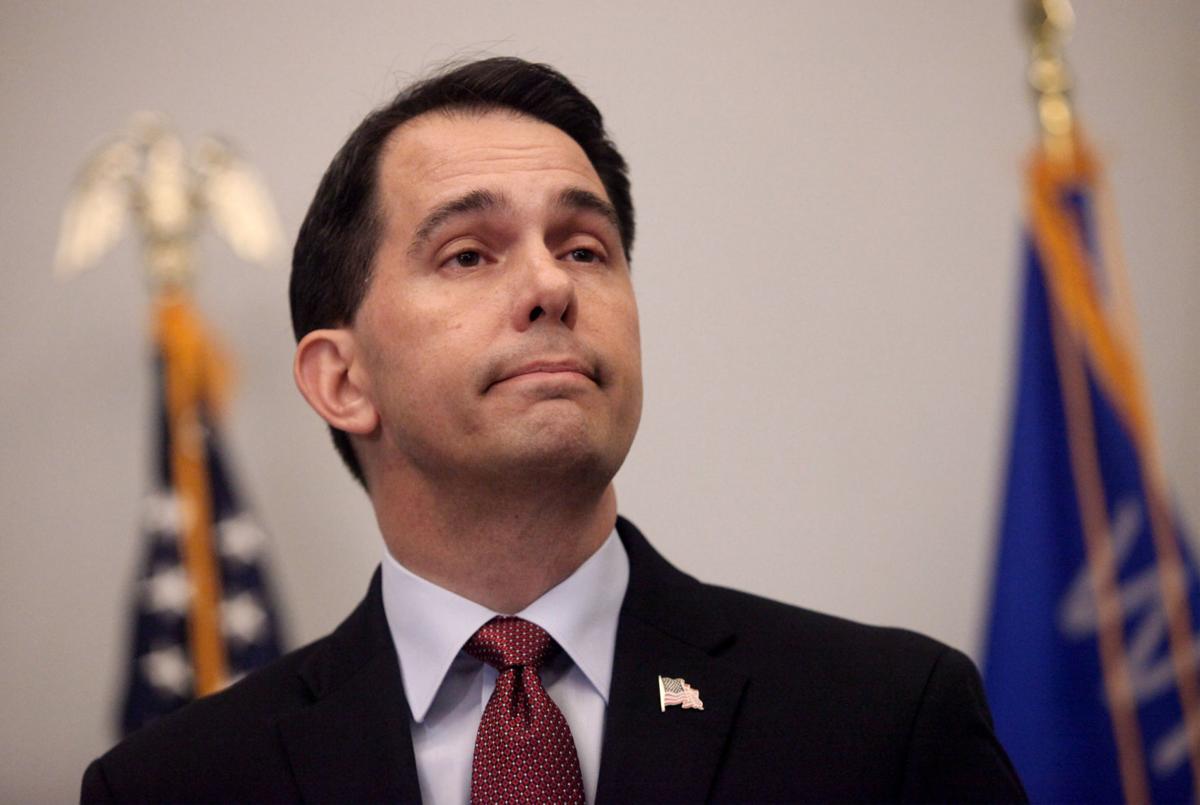 "I think if it's an open convention, it's very likely it would be someone who's not currently running," Walker told reporters last Thursday. "I mean, who knows. The one thing I qualify — it's like the qualifications you see on those ads you see for car dealerships. I think any of us who comment on this election have to qualify that almost every prediction's been off, so it's hard to predict anything."
Walker spoke to a few reporters in Madison after signing into law a bipartisan bill creating a dietetic internship program in the state's Women, Infants and Children (WIC) program. 
"I think it might be one of the days where the weather trumps Trump," he joked, adding that that was probably "wishful thinking."
He declared a state of emergency on Tuesday as a precautionary measure for the winter storm blanketing the state with freezing rain and snow. 
Candidates on both sides of the aisle are ramping up their presence in Wisconsin as the state's April 5 presidential primary approaches. Texas Sen. Ted Cruz toured Dane Manufacturing in the village of Dane last Thursday, with a rally in Janesville in the evening. He spoke Wednesday night at an event hosted by conservative radio host Charlie Sykes. 
Ohio Gov. John Kasich appeared in Madison Monday and real estate mogul Donald Trump held a rally in Janesville Tuesday. 
Walker said he receives phone calls frequently from people involved in the Cruz and Kasich campaigns, but hasn't heard "a peep" from the Trump campaign.
"In fact, I don't know, other than the candidate, what kind of infrastructure, if anything, they have here, which is similar to what I hear from others around the country," Walker said.
Asked whether he would anticipate putting extra law enforcement in place for a Trump visit, Walker said the candidate would be given the same assistance as any other visiting the state.
"I think at this point, we're just appreciative that Wisconsin's relevant in both primaries, both in the Republican and Democrat side," Walker said. "So I think on behalf of the voters here, we appreciate any of the candidates, be it Hillary Clinton or Bernie Sanders or be it Donald Trump, Ted Cruz or John Kasich coming to the state, and we want to make sure not only they, but the people both coming to support them and those that may be opposed to them, are all safe and sound."
Walker said he has no plans to attend a presidential campaign event unless and until he makes an endorsement, which would likely happen later next week. 
After exiting the presidential race, Walker called several times for the remaining Republican candidates to clear the field for a positive alternative to Trump.
Asked last month whether he would support Trump should he earn the GOP nomination, Walker noted that all of the Republican presidential candidates, including himself, signed a pledge months ago promising to back the party's eventual nominee.
In an interview with Sykes broadcast last Wednesday, Walker said the only Republican candidate in the race with a chance to win the nomination besides Trump is Cruz.
A Marquette University Law School poll released last month showed Trump leading among Wisconsin Republican voters with 30 percent. Twenty percent of GOP primary voters said they would support Rubio, who had not yet left the race. Nineteen percent would support Cruz and 8 percent would support Kasich, while 10 percent were undecided. A new poll is set to come out this week.
Share your opinion on this topic by sending a letter to the editor to tctvoice@madison.com. Include your full name, hometown and phone number. Your name and town will be published. The phone number is for verification purposes only. Please keep your letter to 250 words or less.