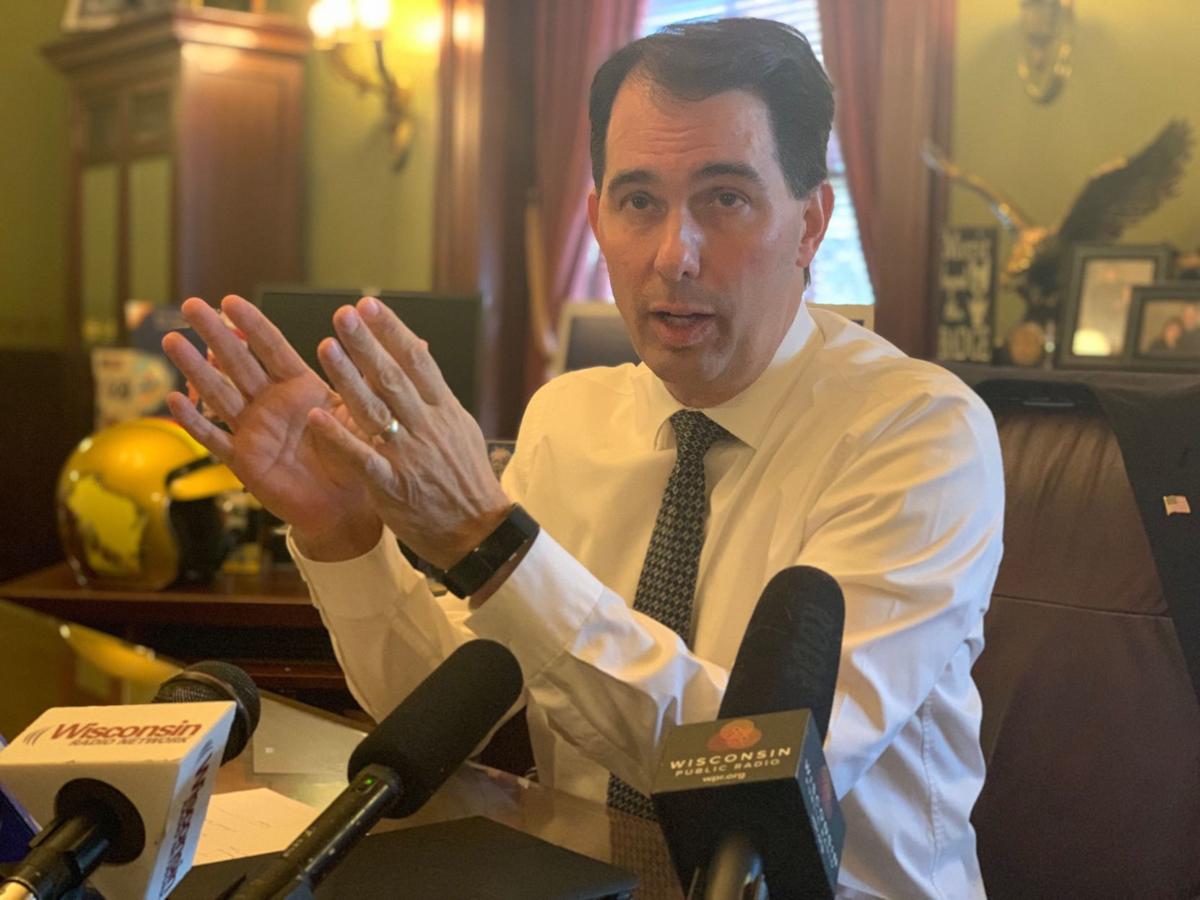 "The state of Wisconsin is not going to go backwards. We may not go forward as fast as we'd like over the next several years, but we're going to continue to be strong, we're going to continue to have positive reforms in the state," Walker told reporters Thursday in his first public comments since his Nov. 6 defeat. 
Walker, whose effort to win a third term failed by a margin of 1.16 percentage points, attributed his loss to record voter turnout: about 59 percent of the state's voting-age population, or more than 2.6 million people, cast ballots. He noted that he received about 30,000 more votes this year than he did when he won re-election in 2014.
"In no way do I see it as a rejection, but rather just a larger election than we've seen in the past," Walker said as he fielded questions in his Capitol office.
Supporters have encouraged him to pass major bills before leaving office, but he said there's nothing major left on his list. 
"What have we not done? We've been such a reformer, I may have reformed myself out of a job," Walker said, joking that he'd given reporters the quote they needed. 
Republican leaders in the state Senate are scrambling to find the votes to approve the Kimberly-Clark deal, which would make the company eligible for tens of millions of dollars' worth of tax breaks in exchange for keeping its Cold Spring plant, which manufactures hygiene products including Depend undergarments and Kotex pads, open in Fox Crossing. 
No Democratic senators have voiced support for the bill, and it currently lacks the votes to pass with only Republican support. The Assembly approved the deal in February.
Walker urged lawmakers to "come to their good senses" and pass the legislation. He said he hasn't made efforts to earn Democratic votes anytime recently, arguing that if the employee unions at Kimberly-Clark can't get Democrats on board, he won't be any more persuasive. 
Evers' inauguration in January will mark the first time in nearly a decade that Republican lawmakers won't have a partisan ally in the east wing, and GOP leaders in the Legislature — who still hold majorities — have said they will consider making some changes to rein in the power of the executive before Evers takes office. 
Assembly Speaker Robin Vos, R-Rochester, and Senate Majority Leader Scott Fitzgerald, R-Juneau, have not outlined many specific plans, but have offered some suggestions of what they could pursue. One example Fitzgerald gave last week is codifying state rules related to the implementation of the state's voter ID into statute.
The Milwaukee Journal Sentinel reported Thursday, shortly before Walker spoke, that Republican lawmakers are also looking at adding more legislative appointees to the Wisconsin Economic Development Corporation board and the state Building Commission. GOP lawmakers are also interested in moving the state's 2020 presidential primary from April to March so it would no longer coincide with that year's state Supreme Court election, the Journal Sentinel reported.
Justice Daniel Kelly, who was appointed by Walker in 2016, will be on the ballot in April 2020. 
Walker said he is open to some of those things, including moving the presidential primary. Asked whether the change would benefit Kelly, Walker said "pundits will speculate one way or another." 
As a former county executive, Walker said, he always thought it was "odd" that nonpartisan offices, like the Supreme Court seat, are on the same ballot as partisan candidates. 
Democratic Party of Wisconsin spokeswoman Martha Laning said the possible change is an effort from legislative Republicans to "put their thumbs on the scale and manipulate an election that won't happen for over a year."
"This is exactly the kind of calculating, divide-and-conquer politics Wisconsinites voted out last week. Vos and Fitzgerald would be wise to listen to the will of the people and respect our system of checks and balances," Laning said in a statement.
Walker has not ruled anything out in his political future, but he said he would be OK if this was his final election. If elected, he had previously said his third term would be his last as governor. He did not directly answer whether he would consider running for president in the future.
"I really don't have much of an interest in this point of going to Washington," he said, noting that his sons, Matt and Alex, live in Wisconsin.
Walker, whose father Llewelyn died in October, spent the first few days after his election loss helping his mother move into a smaller apartment. He said he enjoyed spending a few days being "Pat Walker's son." 
He did not telegraph any plans for the near future, but said he's received offers and suggestions and will spend time with his wife, Tonette, "figuring out what we think God's calling us to do for the next few years."
Share your opinion on this topic by sending a letter to the editor to tctvoice@madison.com. Include your full name, hometown and phone number. Your name and town will be published. The phone number is for verification purposes only. Please keep your letter to 250 words or less.