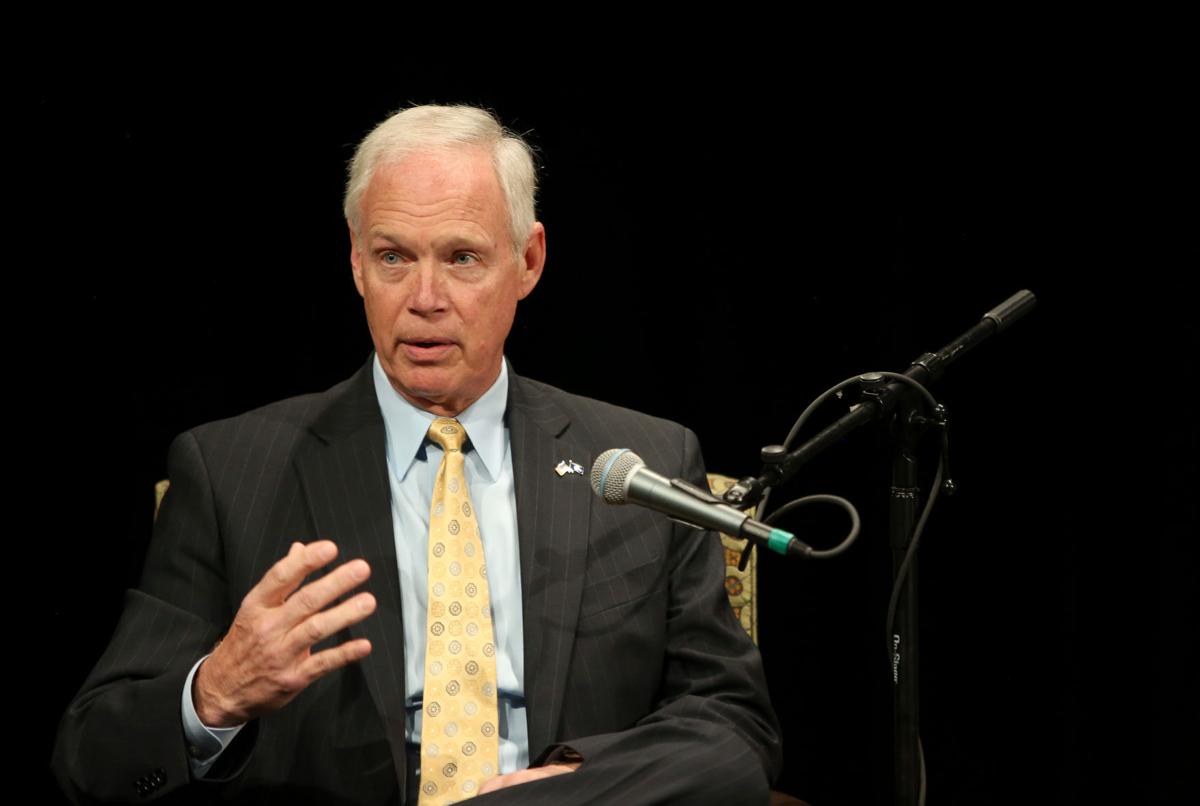 Sen. Ron Johnson explained his opposition to an independent, bipartisan commission to investigate the Jan. 6 insurrection at the U.S. Capitol on Thursday, arguing he does not trust House Speaker Nancy Pelosi to select appropriate commissioners.
"Who's ultimately responsible for securing the Capitol? Well, that would be congressional leadership, including Speaker Pelosi," Johnson said during a virtual Q&A hosted by the Milwaukee Press Club. "I don't trust her to select commissioners to investigate her own involvement in this thing, or her own culpability or any congressional leader's culpability in this."
Johnson joined 34 other Republican senators last week in blocking legislation that would have approved the commission, which would have been composed of 10 appointees evenly split between the two parties.
The second-term Republican senator told reporters he would support a "completely independent" commission with appointees and staff not chosen by congressional leadership. Capitol security is provided by the sergeants-at-arms of the House and Senate (who report to the leaders of each chamber), and by the Capitol Police.
Asked whether former President Donald Trump bears any responsibility for the attack on the Capitol — which occurred during the certification of the Electoral College results that declared Joe Biden the winner of the 2020 presidential election — Johnson argued that "hyper-partisan politics" are the problem, and said he blames the individual perpetrators of the crimes committed on Jan. 6.
He said it's up to individuals to judge for themselves the role Trump played in the attack on the Capitol, but he does not believe his actions were impeachable. Senate Minority Leader Mitch McConnell, who also voted against Trump's impeachment, has said the former president is "practically and morally responsible for provoking the events of the day," and several rioters have argued in court that Trump influenced their actions.
"I don't think we should scornfully dismiss the legitimate concerns (about election irregularities) of tens of millions of Americans," Johnson said. "I thought that was an important debate to have on Jan. 6, which is why I was not happy with the breach of the Capitol that cut short that very important discussion."
Johnson, who has attracted national attention for months for his comments on the election, the insurrection, pandemic relief and COVID-19 itself, said his goal is not to make headlines; rather, it is "to convey to the American public information and truths that I believe are important."
As the field of Democratic Senate candidates continues to swell, Johnson said he feels no pressure to decide yet whether he will seek re-election in 2022. He hasn't ruled it out, despite having vowed while running in 2016 that he would not seek a third term. Trump endorsed Johnson in April, urging him to run again. 
"When I made that pledge, I meant that pledge," he said, adding that he didn't know at the time that Democrats would take majorities in Congress under a Democratic president. 
State Treasurer Sarah Godlewski, state Sen. Chris Larson, Milwaukee Bucks executive Alex Lasry, Outagamie County Executive Tom Nelson and Wausau physician Gillian Battino have announced their candidacies for the Democratic nomination. Millennial Action Project founder Steven Olikara recently launched an exploratory committee, and Lt. Gov. Mandela Barnes is rumored to be considering a bid.
Democratic Party of Wisconsin chairman Ben Wikler said in a statement that Johnson "has become a creature of Washington."
"At every step, he does what's best for him, and ignores the Wisconsinites he was elected to represent," Wikler said.
Share your opinion on this topic by sending a letter to the editor to tctvoice@madison.com. Include your full name, hometown and phone number. Your name and town will be published. The phone number is for verification purposes only. Please keep your letter to 250 words or less.