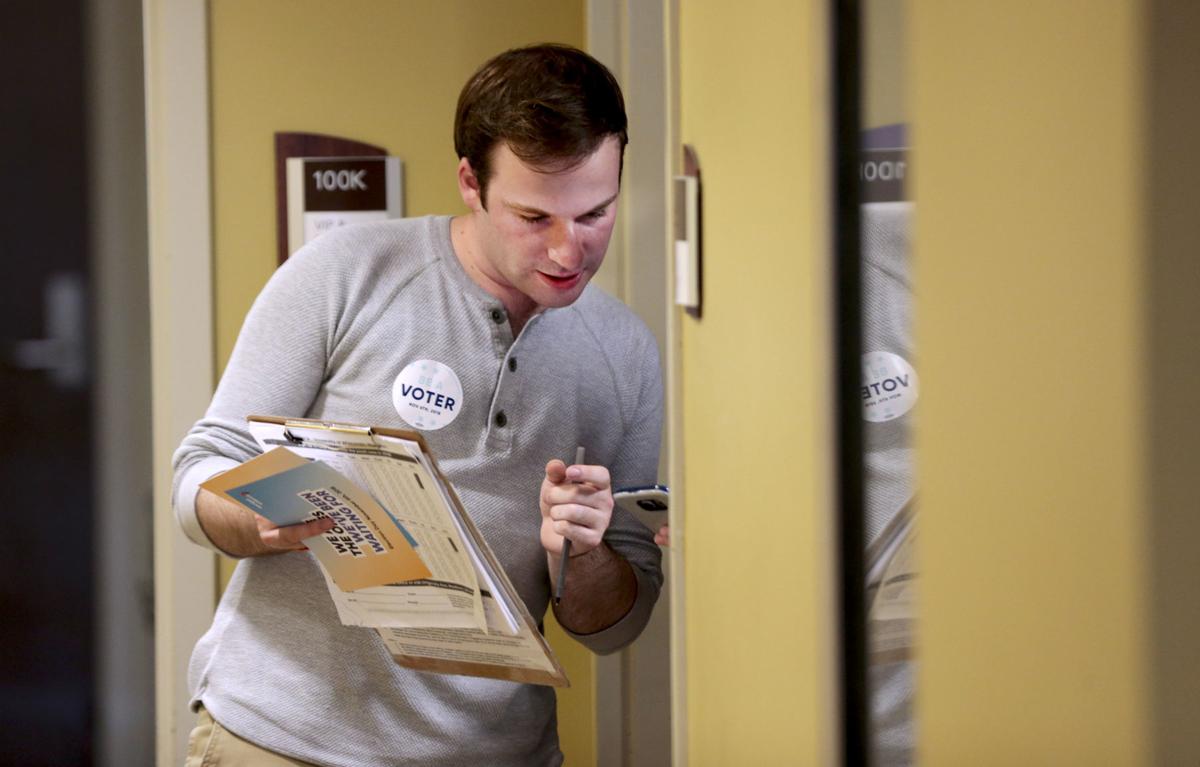 A group that tracks the influence of young voters throughout the country says voters under age 30 played a decisive role in Democratic Gov.-elect Tony Evers' victory in Wisconsin.
According to turnout estimates analyzed by Tufts University's Center for Information and Research on Civic Learning and Engagement, under-30 voters supported Evers by a 23-point margin on Nov. 6. That's a significant expansion from 2014, when under-30 voters supported Democratic candidate Mary Burke by just four points more than Republican Gov. Scott Walker. 
Evers defeated Walker by 1.1 percentage points in an election with record voter turnout: about 59 percent of the state's voting-age population, or more than 2.6 million people, cast ballots. In its early analysis, CIRCLE estimated that 31 percent of eligible young voters (ages 18-29) voted nationwide. In five states with competitive gubernatorial races combined — Wisconsin included — youth turnout was 35 percent this year, according to the CIRCLE estimates.
Steyer's NextGen America group spent $2.8 million in Wisconsin, focusing on 32 college campuses throughout the state. 
With 66 paid staff and 1,700 volunteers, the group collected more than 50,000 cards from young voters who pledged to vote in the months and weeks leading up to the election. According to numbers provided by the group, NextGen reached more than 580,000 young people with digital ads, sent nearly 530,000 pieces of direct mail, sent nearly 530,000 text messages and knocked on nearly 180,000 doors. The group did not spend money on TV ads. 
"This didn't just happen overnight," said Sean Manning, Wisconsin spokesman for NextGen America. "We got on the ground in 2017 and never stopped organizing. Young people are a powerful political force in Wisconsin, and we wanted to invest in them early and let them lead the way."
While Steyer has spent tens of millions of dollars on television ads calling for the impeachment of President Donald Trump, he said in an interview earlier this year that his goal with NextGen was to organize at a grassroots level. Steyer said he believes a direct conversation is more likely to stick with a potential young voter than a 15- or 30-second ad they might forget in a few days.
The basis of NextGen's approach, Manning said, was to find out which issues young people cared about, demonstrate how voting can influence those issues and convince young voters that together, they can make up an influential voting bloc. 
Issues that resonated with the voters organizers spoke with included immigration, gun safety and education, Manning said.
In addition to college campuses and student-focused events, NextGen organizers also had a presence at events like March for Our Lives and Families Belong Together rallies throughout the state. They sent organizers to Green Bay Packers games and had information tables at house concerts in Eau Claire. 
The group also employed its share of gimmicks. In August, organizers brought puppies to the UW-Madison campus to encourage students to register to vote. A few days before the election, a giraffe-shaped bounce house graced the UW-Madison campus to encourage early voting. 
"Broad City" star Ilana Glazer dropped by the group's Madison office, where she taught volunteers how to canvass. Manning said the group sent 200 people out to knock doors after the Glazer event. 
On Election Day, students at UW-Stevens Point enjoyed a petting zoo — "Votes and Goats" — but a similar event planned for the UW-Madison campus fell through at the last minute due to weather and logistics. The Stevens Point petting zoo was not without its own issues, thanks to some spitting alpacas.
"The goats and pigs were much more into the civic process," Manning said.
The gimmicks were fun, Manning said, but they were just another way to facilitate the same conversations about the importance of voting. 
After tracking turnout in student-dominated wards that NextGen targeted, organizers believe their efforts were fruitful.
"At almost every campus NextGen organized, we saw a double-digit increase in both the margin for Democrats and overall turnout from the last midterm election," Manning said. "I think it was especially important that NextGen organized at community colleges and universities outside of major cities that don't typically receive as much attention from campaigns. Students in places like River Falls, La Crosse, and Stevens Point showed up for Democrats in huge numbers."
In student-dominated wards in La Crosse, turnout was up 45 percent from 2014, according to data provided by NextGen. Evers took about 70 percent of the vote in those wards. Stevens Point's student wards saw a 10 percent increase in turnout and a 10 percent increase in the Democratic margin, with Evers earning 71 percent of the vote. In River Falls, turnout in student-focused wards rose by 36 percent, with an increase of 7 percent in the Democratic margin.
In Oshkosh's student-dominated wards, Evers won about 63 percent of the vote. Turnout in those wards increased by 7 percent from 2014, but the margin for the Democratic candidate increased by 19 percent. Evers won 61 percent of the vote in Green Bay's student wards — a 14 percent increase in the Democratic margin from 2014, and a 19 percent turnout increase.
Although it won't maintain a presence on all 32 campuses, NextGen will keep at least one office in Madison open, Manning said. 
"NextGen is going to continue to organize and build youth political power in Wisconsin. We're still figuring out what that looks like, but we're not going anywhere," he said.
This story has been corrected to note that the UW-Madison petting zoo was canceled due to weather and logistics, not due to spitting alpacas. The spitting alpacas were at another petting zoo event at UW-Stevens Point, where the goats and pigs were far more civically engaged and did not spit on students. 
Share your opinion on this topic by sending a letter to the editor to tctvoice@madison.com. Include your full name, hometown and phone number. Your name and town will be published. The phone number is for verification purposes only. Please keep your letter to 250 words or less.