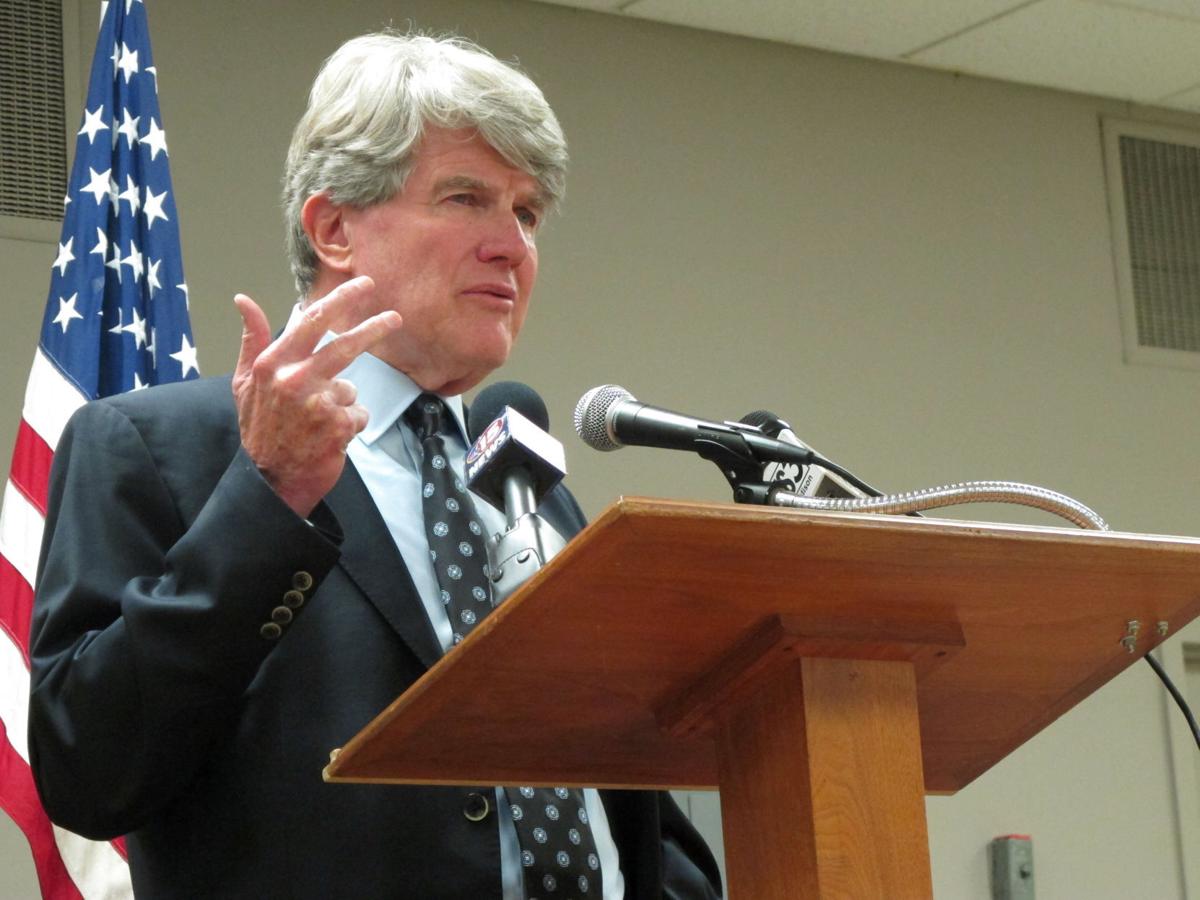 Milwaukee attorney Matt Flynn describes himself as a conservative when it comes to just one thing: handling the state's finances. 
"The governor of the state is the CEO of the state," Flynn said during a recent interview. "Management of money is an important thing. My mentor in Democratic politics was (former U.S. Sen.) Bill Proxmire, and like Proxmire, I'm extremely conservative about waste and anything to do with the administration of money. It has to be scrupulously honest and not wasteful. But it also has to be compassionate."
Flynn, 70, is a former chairman of the Democratic Party of Wisconsin and among a lengthy list of Democrats seeking to challenge Gov. Scott Walker in 2018. 
He argued Walker has not been a good steward of the state's money, pointing in particular to the governor's refusal to accept the federal Medicaid expansion and his rejection of federal dollars for a Madison-to-Milwaukee high speed rail line. Flynn also cited Walker's spearheading and approval of a $3 billion incentive package to lure Taiwanese electronics company Foxconn to the southeastern part of the state. 
Flynn touted recent endorsements from three Milwaukee CEOs who, he said, see him as a good pick to run the state: private investment firm founder Sheldon Lubar, Aurora Health Care executive and former Department of Administration secretary Steve Bablitch and Northwestern Mutual chairman Ed Zore. 
Asked how his policy positions differ from his Democratic opponents', Flynn said if he is elected, he will stop the state's Foxconn deal "no matter what." 
No Democratic candidates have come out in support of the deal, but Flynn said he would start litigation to break the contract, if necessary. 
Flynn also differs from most of his Democratic opponents in his approach to the Wisconsin Retirement System, which provides benefits to public employees. 
"Absolutely not," Flynn said. "The Wisconsin Retirement System is sacrosanct. It's in a lockbox. I will reject any attempts to invade it, profit from it, do anything with it other than what it's doing."
Flynn also questioned Walker's arguments for seeking a third term as governor. 
Walker has argued there is "more to be done" — namely, making sure "everyone shares in our economic prosperity," no matter their location or background, ensuring all Wisconsin children have access to a quality education, finding ways to increase household income and finding better ways to treat addiction while stopping the spread of opioids and other illegal drugs.
But Flynn pointed to studies that show the average tenure of a CEO ranges between five and eight years. Walker's justification for sticking around longer, Flynn said, "appears to be more political and personal convenience."
Flynn called the recent victory of Democrat Doug Jones in Alabama's Senate race a "canary in the coal mine."
"Republicans in the country rejected Trump-Moore extreme policies. I think that they are going to reject Trump-Walker extreme policies in this state. Walker's policies are no different from Trump's. Walker is less flamboyant and less personally offensive …but look at the policies, drug-testing food stamp recipients, flattening the tax, breaking unions, right-to-work, Act 10 and all that," Flynn said.
But can Democrats tie Walker, a well-defined and polarizing figure in Wisconsin politics long before Trump's election, to the controversial figure in the White House? 
"I'm not attacking Scott Walker personally. Trump is a guy who is so weird, he's a weirdo. So, you got a weirdo, he's got to get out," Flynn said. "I'm not attacking Walker personally. But Walker is a mini-Trump without the personal weird habits."
In response to Flynn's comments, Republican Party of Wisconsin spokesman Alec Zimmerman went after Flynn's record as an attorney representing the Archdiocese of Milwaukee against victims of sexual abuse by priests.
"Matt Flynn is a dirty defense attorney who cared more about lining his own pockets than protecting victims of childhood sexual abuse — who he said he'd offer 'crumbs,'" Zimmerman said in a statement. "If that's how Flynn treats the most vulnerable among us, how can Wisconsinites trust him to tell the truth on any of these issues, let alone stand up for Wisconsin?"
Flynn has previously denied an accusation that he told a lawyer representing abuse victims that the archdiocese would "throw a crumb to your clients if you drop these cases."
In an interview, Flynn reiterated: "I did not represent any of the priests that did the bad things. They all had to get their own lawyers, and I think what they did is wrong and disgusting. They deserve to be punished to the full extent of the law."
In representing the archdiocese, Flynn said, his goals were to settle the cases "as fully and compassionately as possible" and to make sure the abuse never happened again in Milwaukee.
"The archdiocese is a wonderful institution which does much good work for schools and for the poor, and I was representing the good priests," Flynn said. "I will always represent good priests, always."
A retired commercial litigation partner with Quarles & Brady in Milwaukee, Flynn served as chairman of the Democratic Party of Wisconsin from 1981 to 1985. He mounted several unsuccessful campaigns for the U.S. House of Representatives and Senate, co-chaired John Kerry's 2004 presidential campaign in Wisconsin and served on Hillary Clinton's finance committee during her 2008 presidential campaign.
As much as he frames the governor's race in terms of CEO qualities and touts fiscal conservatism, Flynn said no one should have to question whether they're getting a true-blue Democrat with him.
"Not a hyphenated Democrat, not a moderate Democrat, not a conservative or progressive, a resistance Democrat, this Democrat, that Democrat. We're getting the chairman of the party," he said. "It's not a bad idea to have stability and unity in the Democratic Party."
Share your opinion on this topic by sending a letter to the editor to tctvoice@madison.com. Include your full name, hometown and phone number. Your name and town will be published. The phone number is for verification purposes only. Please keep your letter to 250 words or less.