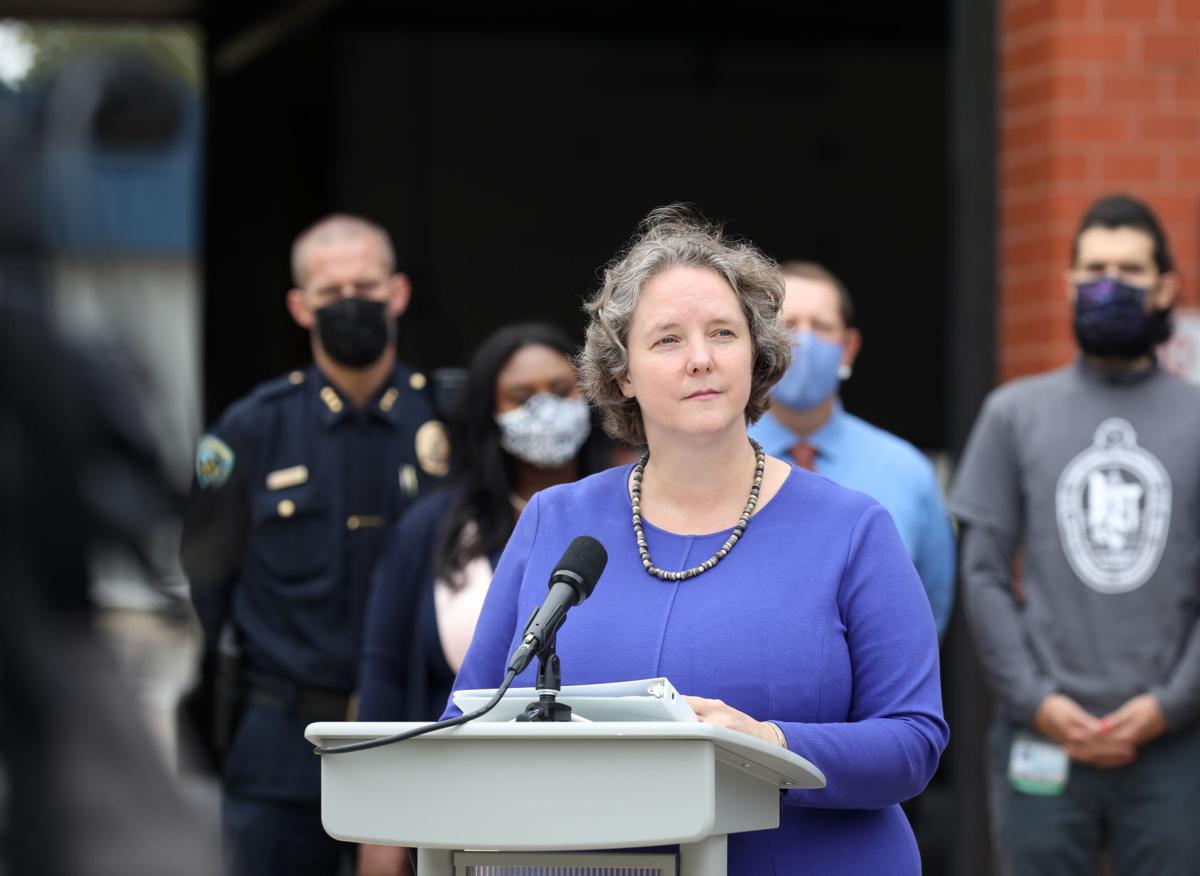 Madison Mayor Satya Rhodes-Conway said a taxpayer-funded partisan investigation into Wisconsin's 2020 election is "corrosive to our democracy" and called for an apology to city clerks from the former state Supreme Court justice leading the probe.
The mayor's comments followed the news on Thursday that former state Supreme Court Justice Michael Gableman has backed away from subpoenas and interview requests issued to officials in five cities regarding their election administration. Gableman was selected by Assembly Speaker Robin Vos, R-Rochester, in June to lead the investigation and given a budget of $680,000.
"I was shocked to read that Attorney Gableman says that he doesn't know anything about how Wisconsin's elections are run. Apparently he doesn't know how investigations are run, either. But it is absolutely true that our clerks have been through the wringer," Rhodes-Conway said, referencing comments Gableman made earlier this week to the Milwaukee Journal Sentinel.
Gableman told the Journal Sentinel that "most people, myself included, do not have a comprehensive understanding or even any understanding of how elections work."
In the last week, Gableman issued subpoenas demanding a broad range of election-related materials — amounting to hundreds of thousands of pages of records — from city officials in Madison, Milwaukee, Green Bay, Racine and Kenosha. He also demanded interviews with mayors and city clerks from those cities, although mayors are not involved in election administration.
Madison City Attorney Michael Haas said he and other city attorneys were notified on Thursday that the investigative team would no longer require interviews nor seek the wide swath of materials initially requested in the subpoenas.
Instead, Haas said, cities will only be required to submit copies of records they have already made available to others in response to requests under the state's open records law. Investigators have reserved the right to ask for additional materials and reschedule interviews with city officials, he said.
"It doesn't seem to show that they really have a focus on anything in particular, which to me makes sense because there isn't really anything to investigate about the election," Haas said.
Madison election officials have responded to about 20 open records requests, Haas said. Requesters have sought information about poll workers, the city's "Democracy in the Park" program, absentee ballot certificates and ballot images. Officials will compile the responses to those requests, put them on a thumb drive, share it with investigators and await further communication, Haas said.
Rhodes-Conway said both Vos and Gableman should apologize to city clerks, and that Vos — who had to sign off on the subpoenas before they were issued — should rescind them.
"It was hard enough to run a presidential election in a pandemic," Rhodes-Conway said. "And then to not be able to put that election to bed and move on to their other work, and to receive harassment and threats as a result of it, and to have people from all over the country including right here in our own Legislature question their integrity and how well they do their jobs — it's insulting. It's demoralizing."
A spokeswoman for Vos did not respond to a request for comment. When the subpoenas were issued, Vos said in a statement that ensuring "the 2020 election was conducted fairly and legally is critically important to maintaining faith in our election system. Justice Gableman is dedicated to finding the truth and has determined subpoenas are necessary to move forward in his investigation."
Of particular interest to Gableman, the subpoenas suggest, is how mayors, election clerks and other officials interacted with the Center for Tech and Civic Life — a nonprofit backed by Facebook CEO Mark Zuckerberg and his wife, Priscilla Chan — which provided millions in grants to help facilitate elections in the state. The funding was split up among 216 Wisconsin communities, but the lion's share went to the five cities that have received subpoenas — the state's largest cities, all of which supported Democratic President Joe Biden in 2020.
In the months since he was tapped to lead the investigation, Gableman observed the election review in Arizona, which showed that Biden defeated former President Donald Trump by a wider margin than initially believed. He also attended an event hosted by MyPillow CEO and conspiracy theorist Mike Lindell.
The former justice's actions, as well as a series of early mishaps in the review — including typos in official documents and failures to serve subpoenas expeditiously — have led University of Wisconsin-Madison professor and election administration expert Barry Burden to call the probe a "three-ring circus."
There is no evidence of widespread voter fraud in the 2020 election. The Associated Press reported based on an open records request in May that local election officials only identified 27 cases of potential voter fraud that they forwarded to prosecutors, out of 3.3 million ballots cast in the November election.
Cap Times reporter Jack Kelly contributed to this story.
Share your opinion on this topic by sending a letter to the editor to tctvoice@madison.com. Include your full name, hometown and phone number. Your name and town will be published. The phone number is for verification purposes only. Please keep your letter to 250 words or less.