Two Madison Democrats are calling on attorney Matt Flynn to drop out of the race for governor over his work representing the Archdiocese of Milwaukee against claims of sexual abuse by priests.
State Reps. Chris Taylor and Melissa Sargent say Flynn misrepresented his record as the Catholic Church's counsel and is not fit to run. They say their call — an unusual move from members of the same party in an election year — is about protecting children, not politics. But Flynn is questioning their motives.
"This is about telling the truth and about letting people know about this history that Matt Flynn has," Taylor said in an interview Monday. "I don't care if it's a Democrat or a Republican, if you have covered up child sexual assault by priests … you should not be running to be the governor of this state."
Taylor and Sargent point to records released in 2013 as part of the Milwaukee Archdiocese's Chapter 11 bankruptcy proceedings. Those documents show while he represented the Archdiocese of Milwaukee from 1989-2004 as an attorney with Quarles & Brady, Flynn played a central role developing and administering a system where priests known to have abused children were kept in ministry, transferred to other parishes or paid off rather than reported to police.
Flynn was adamant Monday that he would not exit the race, which features a large field of Democratic candidates facing off in an August primary for the opportunity to challenge Gov. Scott Walker in the November general election.
"I'm not getting out of this campaign. In fact, we're in a very strong position and I'm going to win on August 14. And frankly, I question the motive behind this," Flynn said in an interview. "Several people close to me were approached by people close to Tony Evers' campaign to try to get me to drop out of the race, and I think Tony might have put pressure on other candidates as well. And if that's the case, Tony Evers may think he's entitled to the nomination, but it's up to the voters to decide."
Maggie Gau, Evers' campaign manager who has also worked for Taylor, said Evers is focused on defeating Gov. Scott Walker in November.
"Anyone who knows Rep. Sargent and Rep. Taylor knows they are very capable of thinking and speaking for themselves," Gau said. "To somehow suggest otherwise is not only tone-deaf but offensive."
Depositions describe Flynn's role
Documents from several cases — memos, letters and internal logs by church leaders documenting phone calls and other conversations about complaints — indicate Flynn advised archdiocese leaders how to proceed in dozens of cases, including limiting investigations into reports of abuse and shielding priests from criminal prosecution. He orchestrated thousands of dollars in payments to priests, signed the checks and was a part of a team within the archdiocese that determined how reports of abuse would be handled, according to the internal policy for how to respond to abuse reports. During Flynn's 15-year tenure as legal counsel, 23 priests with prior abuse records were transferred to other parishes, according to the records.
"Flynn was a central figure in the cover-up of abusive priests, the transfer of abusive priests. For these 15 years he worked for the archdiocese he was not an incidental figure, he was not giving some side advice," said Peter Isely, a survivor of childhood sexual assault by a Wisconsin priest and one of the founding members of Survivors Network of those Abused by Priests, or SNAP. "These are very specific claims and they're backed and documented."
Criticism of Flynn's work representing the archdiocese has dogged him not only throughout his campaign for governor, but in previous political endeavors. Isely was also critical of Flynn's work defending the church during Flynn's unsuccessful 2004 congressional campaign.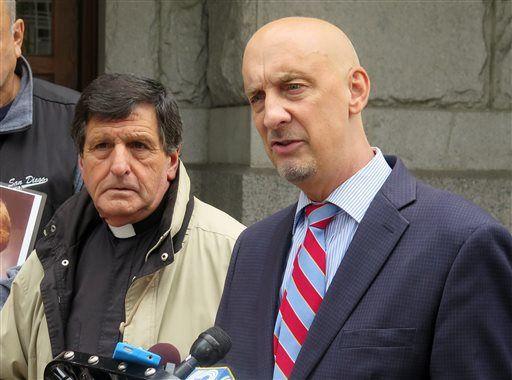 Flynn, 70, has been involved in Democratic politics in Wisconsin for four decades. Now a retired commercial litigation partner with the Milwaukee firm Quarles & Brady, Flynn served as chairman of the Democratic Party of Wisconsin from 1981 to 1985. Before attending law school, Flynn served in the Navy. He mounted several unsuccessful campaigns for the U.S. House of Representatives and Senate, co-chaired John Kerry's 2004 presidential campaign in Wisconsin and served on Hillary Clinton's finance committee during her 2008 presidential campaign.
"I think it's important to understand that Quarles & Brady, my law firm, was outside counsel to the archdiocese. What that means is when the archdiocese was sued or had some kind of a claim or something directed against it, Quarles & Brady would defend them," Flynn said. "Quarles & Brady was not the administration of the archdiocese, was not responsible or involved in administrative matters of the archdiocese. One of the things I'm proudest of is when it became apparent after lawsuits were filed that transfers had gone on, I worked with others to put in procedures to make sure it never happened again."
Recorded testimony from then-Milwaukee Archbishop Rembert Weakland taken during the archdiocese's bankruptcy proceedings in 2011 indicates Flynn was aware of the extent of abuse cases because he had a list of abuse cases that church leaders consulted.
"Every time I met with my counsel in those years, Matt Flynn, he would have a list, and so at least I would have a list from him. I never kept any of those, but he would always have a list for me," said Weakland, who led the archdiocese from 1977 to 2002.
In his testimony, Weakland acknowledged he heeded and relied upon Flynn's advice on abuse issues. When asked what course of action he took in the case of alleged abuse from a priest in the Capuchin religious order who worked with the archdiocese, Weakland said, "I accepted whatever the lawyer was telling me was going to happen. That's all I know."
In another record of testimony from 2011, Dr. Barbara Reinke, who worked for the archdiocese coordinating victim services from 2001-2004, noted her concern with the archdiocese reporting protocol, which involved Flynn's authorization, before cases were reported to the Milwaukee County District Attorney's Office for potential criminal charges.
"I realized that I'm very uncomfortable with that procedure, and as far as I'm concerned, it's not right, it's not working, okay, so this would be approximately, you know, when I go to Archbishop Weakland and say, 'Look, I think all of these should get turned over directly to the District Attorney's Office.' He agreed," Reinke said.
Some priests shielded from prosecution
According to records, Flynn limited an internal abuse investigation of Joseph Collova, who continued to serve as a priest despite reports of abuse beginning in 1985 at St. James Parish in Franklin and St. Rita Parish in Milwaukee. After Collova was charged with sexual assault of a 14-year-old in 1985, followed by another report of abuse in 1992, he was put on leave to enter a church residential treatment program. According to church records, he later returned to St. Rita's against orders and began spending time with minors again.
According to church records kept by Bishop Richard Sklba, who detailed the archdiocese's response to sexual abuse complaints, Sklba took a call in 1993 from Liz Piasecki, a church counselor, who "expressed great concern" over Collova's contact with victims and young people at St. Rita's.
Piasecki wanted an internal investigation and stated: "Flynn was unwilling to authorize any investigation, (but) a subsequent conversation with Matt himself resulted in Matt's approval for the investigation … with the understanding that it was not an extensive inquiry in the parish but contact with a group of young adults with whom Joe had been socially active over the past 10 years," according to Sklba's log.
Flynn was briefed and offered advice in multiple cases of abuse by Michael Neuberger that spanned decades at the Archdiocese of Milwaukee.
It was known by archdiocese leadership and Flynn that Neuberger, according to church records, targeted "marginalized and very vulnerable individuals … including foster children and the developmentally disabled." In response to court documents filed in one of several civil suits against him, Neuberger said he only acted out with African-American children, stating, "I didn't do white kids," according to church records.
In the official account of conversations regarding Neuberger, Flynn's involvement was noted.
"Michael Neuberger called to say that a private investigator Norbert Kurczewski tried to make an appointment with him to discuss a personal matter without identifying himself. Mike knew the name because a friend of his contacted by Norbert informed him. Mike had talked to Matt Flynn, so was able to just refuse comment. He said if he hadn't talked to Matt he might have talked to Norbert. Mike was concerned that other priests be informed of the way the press and others are seeking information, especially with hidden mikes and cameras," according to the log.
In 1993, another civil suit was filed by a victim against Neuberger. Flynn was a part of the team at the archdiocese that determined how to respond. The team acknowledged at the time that "it became apparent that Father Neuberger by his own admission had a personal pattern over many years of his ministry in which he had any number of personal relationships of all kinds with minors, including the care of multiple foster children," according to church records.
At that time, the case was not brought to police. Instead, the team decided Neuberger would undergo a series of tests by sex offender experts to "come to an understanding of the scope of the problem which the archdiocese might face because of Father Neuberger's sexual behavior."
Flynn consistent in his response to critics
Flynn launched his campaign for governor last fall and his response to this line of criticism has been consistent: he was proud to represent the Milwaukee Archdiocese, he did not represent individual priests accused of abuse and his goals were to treat victims with compassion and to ensure the abuse never reoccurred. 
That response wasn't enough to prevent the Wisconsin Women's March and the Madison and Wisconsin chapters of the National Organization for Women to call for him to end his campaign. Wisconsin Women's March co-chair Sarah Pearson confronted Flynn at a candidate forum in May and, with Isely, has since led the charge against him. 
When asked last week about that comment, Flynn noted that the Wisconsin chapter of NOW endorsed one of his Democratic opponents, former state Rep. Kelda Roys, shortly after calling for him to drop out.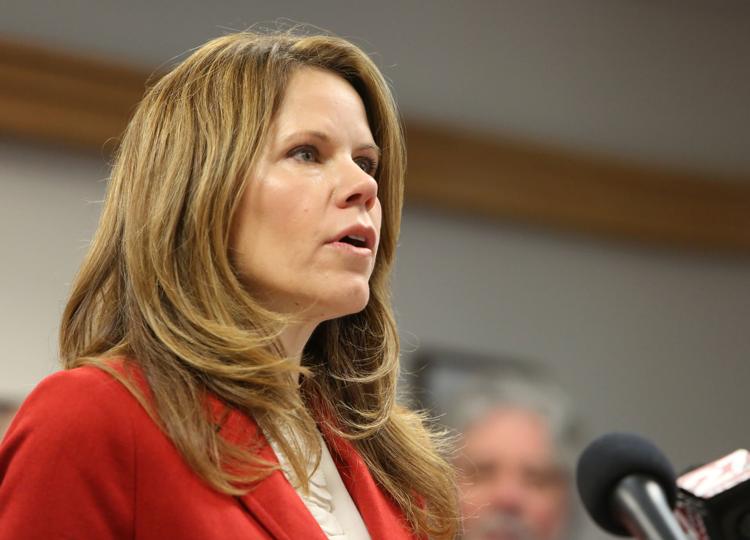 "These were groups who were about to endorse one of my opponents and they thought they would help her by just taking one of the leading candidates and telling him to get out of the race. Well, you know, we didn't get pushed around in the Med by the Russian fleet when I was in the Navy, and I'm not getting pushed around by anybody," Flynn said in an interview. "So I said, 'jump in the lake.' I don't think it's legitimate to tell a former party chairman, partner at Quarles & Brady, Navy veteran, because he had a client, that he should get out of the race because they want to endorse somebody. So frankly, that's my feeling." 
Sargent said Flynn's "jump in the lake" response was a "turning point" for her as she considered whether she could support him as a candidate. 
She was concerned about his work representing the church, and heard from constituents with similar concerns, she said. After reading case files, Sargent said, she was not comfortable with the way Flynn came across. 
"I think it's important that, whether or not Matt is a Democrat or a Republican, I would have concerns here. But the fact that he's a Democrat — quite frankly, if he were a Republican I think all sorts of people on the Democratic side would be calling him out on this," said Sargent who, like Taylor, has not endorsed a candidate in the primary. 
That he dismissed his critics so brusquely was "offensive" and "hurtful," she said. 
"I appreciate his stance on many, many issues, but I think that his character is defined by this scandal in a way that's very concerning to me. It's putting me in a position where I'm standing up and doing something pretty unprecedented," Sargent said. 
As the heat on Flynn continued to rise, his campaign launched an effort to refute his detractors. On a call with reporters last month, Flynn campaign manager Bryan Kennedy said the candidate was the subject of a "smear campaign."
Flynn's campaign website features a page called "Setting the Record Straight," which includes video testimonials from Piasecki, former Milwaukee LGBT Community Center director Karen Gotzler and Planned Parenthood of Wisconsin emeritus board member Bonnie Joseph. 
"Don't believe the Republican lies," said Joseph, who described herself as a longtime friend and supporter of Flynn's, in her video. "Matt Flynn never represented an abuser. He got rid of them." 
Piasecki oversaw the archdiocese's program responding to sexual abuse allegations. 
"(Flynn) is always pretty much the consummate professional lawyer, who absorbed a lot of pain from hearing victims' stories, who lived with anger toward some of these perpetrators," Piasecki said in her video. "I think he was just, he was wonderful." 
Flynn has named his representation of the archdiocese as one of his proudest professional accomplishments. 
"The archdiocese is a wonderful institution which does much good work for schools and for the poor, and I was representing the good priests," Flynn said in December. "I will always represent good priests, always."
In his work with the church, Flynn said, he helped settle cases with victims dating back as far as the 1960s, in some cases providing funding for therapy and tuition. 
Because of policies he enacted, Flynn said, complaints of alleged abuse are now immediately reported to police, who will decide whether the archdiocese should pursue an internal investigation or turn the case over to law enforcement. If a complaint is verified, Flynn said, the priest is "immediately removed from ministry and removed from the priesthood."
Child abuse and the governor's race
Under current law, an adult who was a victim of sexual abuse as a child cannot file a civil lawsuit after he or she turns 35. The Child Victims Act would eliminate the statute of limitations on such cases. The proposal would also open a three-year window during which victims barred under the existing limitations could file lawsuits.
Roys, Evers, state firefighters union head Mahlon Mitchell and state Rep. Dana Wachs, who has since ended his campaign, came out in support of the proposal.
The legislation earned some degree of bipartisan support when it was previously introduced, but it faced opposition from church officials and insurers. Catholic Church officials in particular argued its passage would put the Archdiocese of Milwaukee into bankruptcy; however, the archdiocese filed for bankruptcy in 2011 even without the law's passage, after hundreds of claims of abuse were brought against it. 
As governor, Flynn has said he would support extending the statute of limitations for civil claims for sexual abuse of minors to mirror those of the corresponding criminal claims and strengthening penalties for those who don't comply with mandatory child abuse reporting requirements. 
He said he would also require that a court commissioner be present for depositions of child abuse victims, to "protect victims from abuse by bad lawyers" and to "shield good lawyers from untrue allegations of misconduct in the depositions." If the abuse allegations were upheld, the perpetrator would pay for the court commissioner's work. If they were dismissed, the payment would come from a court fund and not the victim.
"I learned a lot in this, and most politicians have kind of a swelled head about themselves, and a lot of them think they're smarter than a tree full of owls, and the truth of the matter is you learn all the time," Flynn said. "What I learned is that we had to change the law."